Ahmedabad is one of the popular and culturally rich cities of India. Located in the state of Gujarat, it is known for its diverse variety of food and people with friendly nature. This city comes to life with amazing lightings and music during festivals like Navratri and Diwali. Furthermore, when it comes to authentic and amazing taste, Ahmedabad's food culture is incredible.
Hence, you will get a variety of food whether you are pure veg or non-vegetarian. Overall, it is a heaven for foodies across the cities. Some of the delicious and popular food items you must try in Ahmedabad are Kadhi, Undhyu, Khandvi, Dhokla, Drihand. However, there are a lot more dishes in the top restaurants in Ahmedabad.
Starting from Indian, you will also get delicious Chinese, Italian, Mexican, and other International dishes. There are various restaurants in Ahmedabad that serve lip-smacking North Indian food. So, do you want to know about them? Then, this article is just for you. Here is a list of Top Restaurants in Ahmedabad offering a variety of food at an amazing rate. Therefore, please read below to know about them in detail.
10 restaurants that serve the best north Indian food in Ahmedabad
These are the 10 Top restaurants in Ahmedabad that you must try out. Have a look at them below.
1. Coriander Restaurant
Firstly, if you are looking for an amazing fine dining experience, then Coriander Restaurant is the best. This place serves the best North Indian food in Ahmedabad. Apart from that, you can also find various Chinese and Continental food items. So, if you are a vegetarian or Jain, then you get that option too.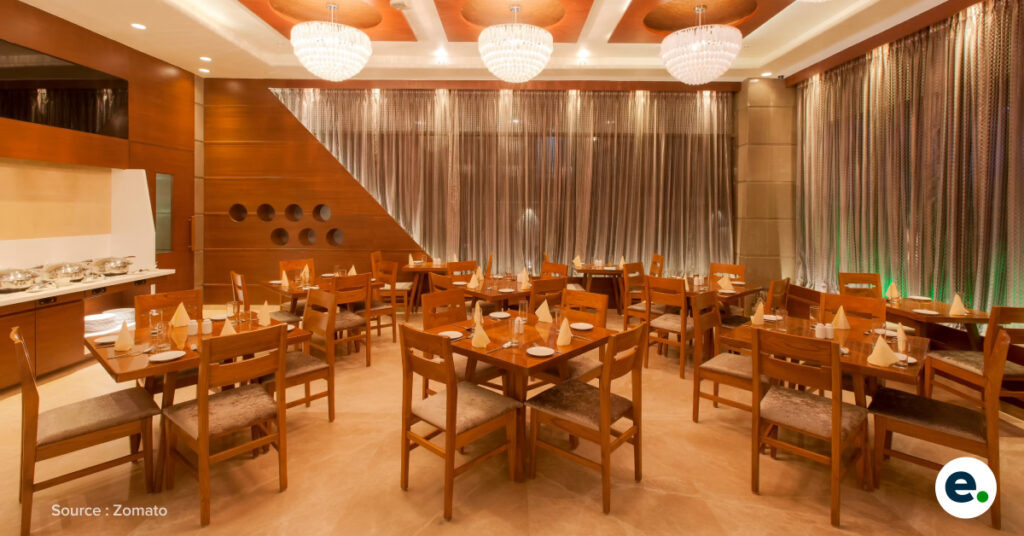 Some favourite food items of this place are Paneer Tikka, Hara Bhara Kabab, and many more. Also, don't forget to try the Paneer Bhurji of Coriander Restaurant. You can also opt for takeaway services. Apart from all these, it has a vibrant ambience with perfect bright lighting. Furthermore, the wooden seating arrangements accentuate the overall feel.
2. Vishalla
Secondly, the next stop is Vishalla which is undoubtedly one of the Best North Indian restaurants in Ahmedabad. Here, you get the best experience while enjoying the succulent dishes with open air setting. This restaurant is the perfect blend to experience the village life of India. Apart from the food, you get to see the Indian puppet show and Rajasthani dances as well.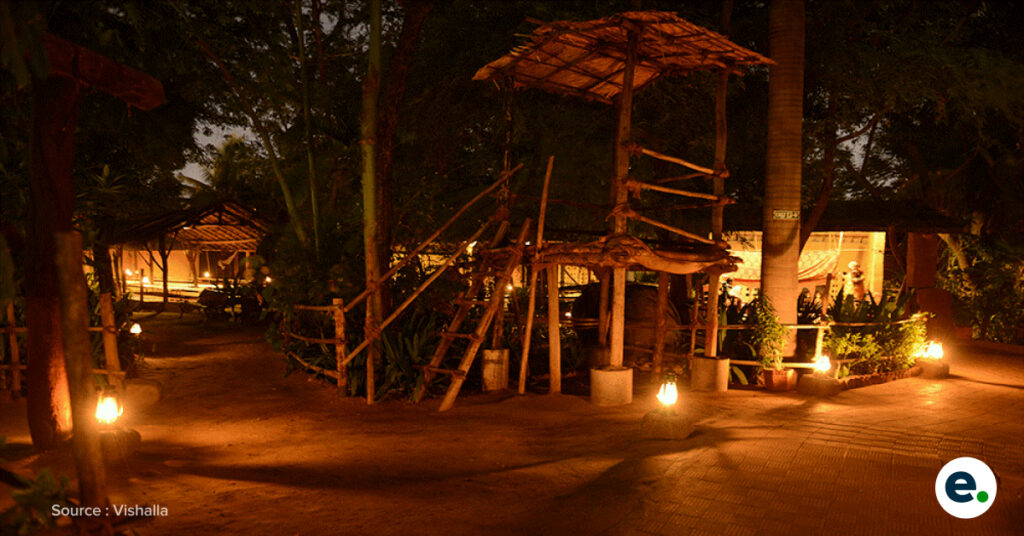 Here, the menu covers all the popular dishes of North India, be it Punjabi, Gujarati, or Rajasthani. Hence, some of the popular food items of this place are Gujarati Thali, Thepla, Jalebi and many more. They follow strict safety guidelines for COVID-19, and you must wear a mask to enter.
3. 650 The Global Kitchen
Want a great lip-smacking Gujarati as well as North Indian taste at one place? Then 650- the Global Kitchen is here. You cannot miss trying out their delicious meals when you are in Ahmedabad. Whether you are going with your friends and family or on a romantic date, this place is just the right one.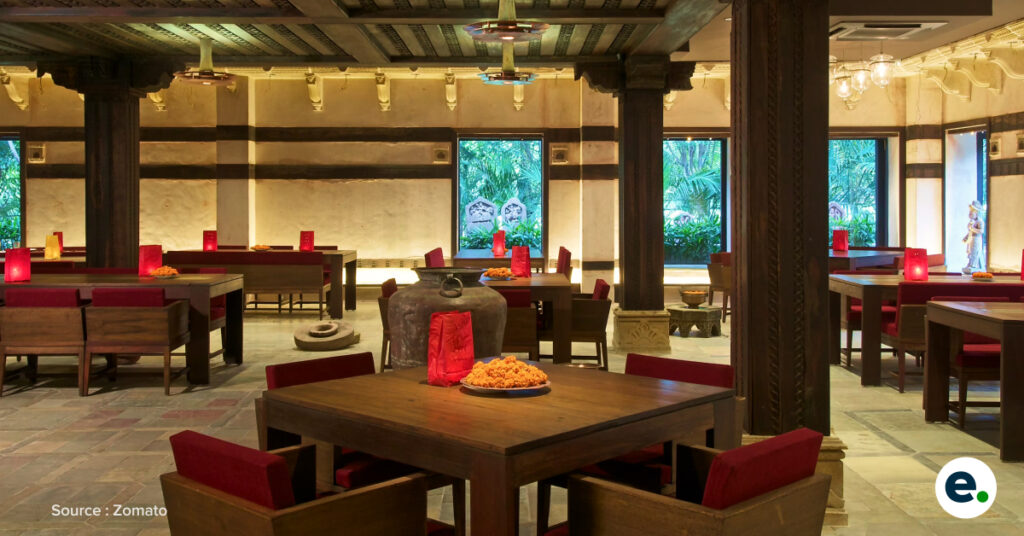 So, if you are a vegetarian, you don't need to go anywhere else. It is because this is one of the Top restaurants in Ahmedabad. You can also try other cuisines such as Thai, Mediterranean, Chinese, Mexican, etc. Thus, the average price to eat at this restaurant can cost you around Rs. 1000. So, go ahead and enjoy your precious leisure time here.
4. Earthen Oven
Are you looking for non-vegan restaurants? Then Earthen Oven offers the Best North Indian Food in Ahmedabad. You get an amazing view of Ahmedabad city while having fabulous dishes. Also, the simple and classy décor gives a soothing experience. Their signature Biryani just stands apart from other restaurants. So, whenever you come here, trying it is a must.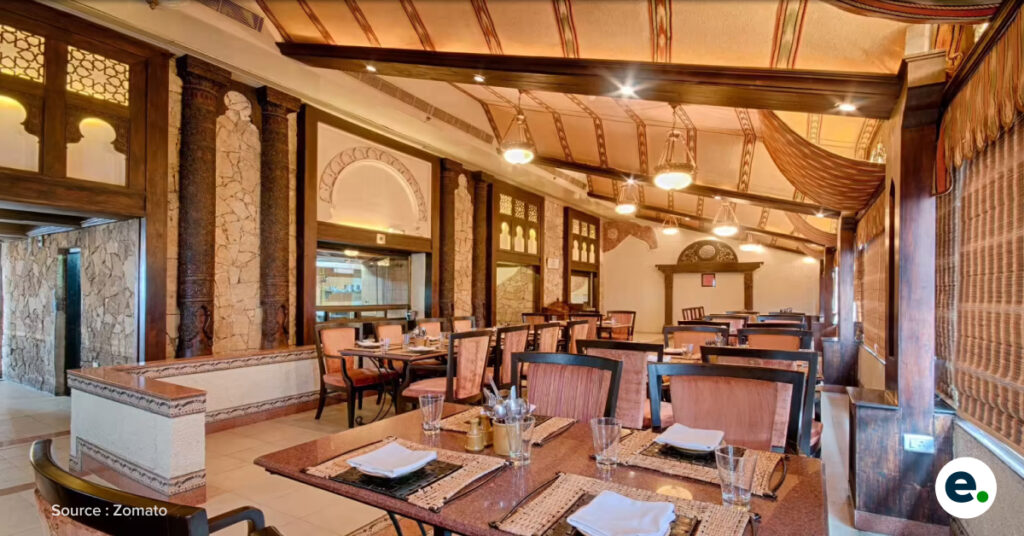 Along with the food, you get an amazing live music experience, which can make your date a perfect experience. However, other than Biryani, you must try items such as Paneer Khurchan and Chicken Shorba, which are quite popular. Apart from North Indian food, you also get the option of other cuisines such as Mughlai and Continental. Lastly, the average price for two persons can be around Rs. 1500.
5. Neelkanth Patang Restaurant
Additionally, this restaurant is located at the Nehru Bridge. It gives you a wide picturesque view of the city as it is situated around 221 feet above the ground. Its delicious lip-smacking dishes make it one of the Top restaurants in Ahmedabad. Here, you get a wide range of North Indian, Chines as well as Continental food options. So, if you are a foodie and want to have a unique experience, then you definitely need to come here.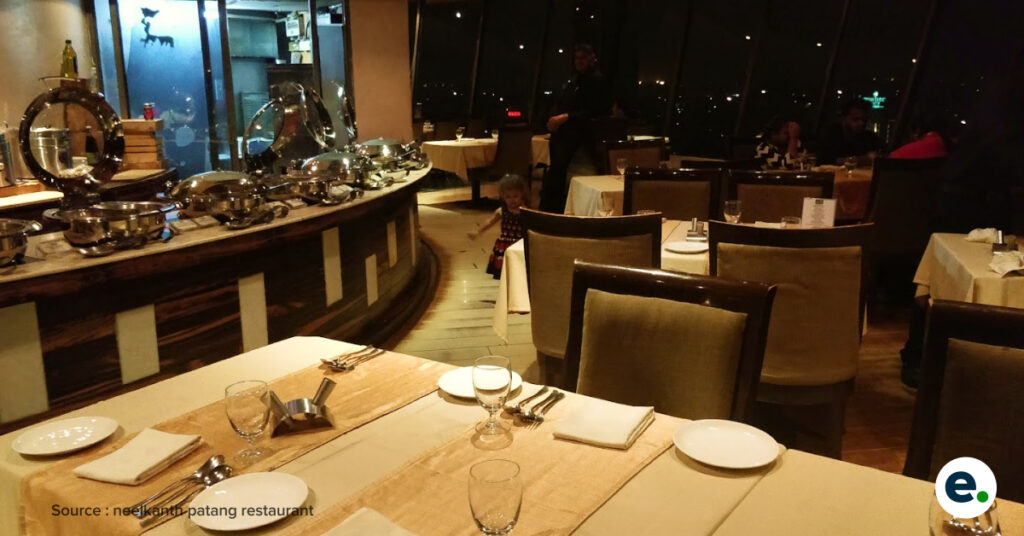 Along with that, you get Gluten-free as well as vegan options for your food choices. Hence, the perfect ambience with comfortable seating arrangements ensures that you have a great time. This place is also popular among locals who regularly arrive here with friends and family.
6. Agashiye
Moreover, when looking for North Indian restaurants near me in Ahmedabad, then Agashiye is the best choice. So, if you want to have a royal experience, then this restaurant is the place. This restaurant has been serving authentic Gujarati dishes since the 1920s.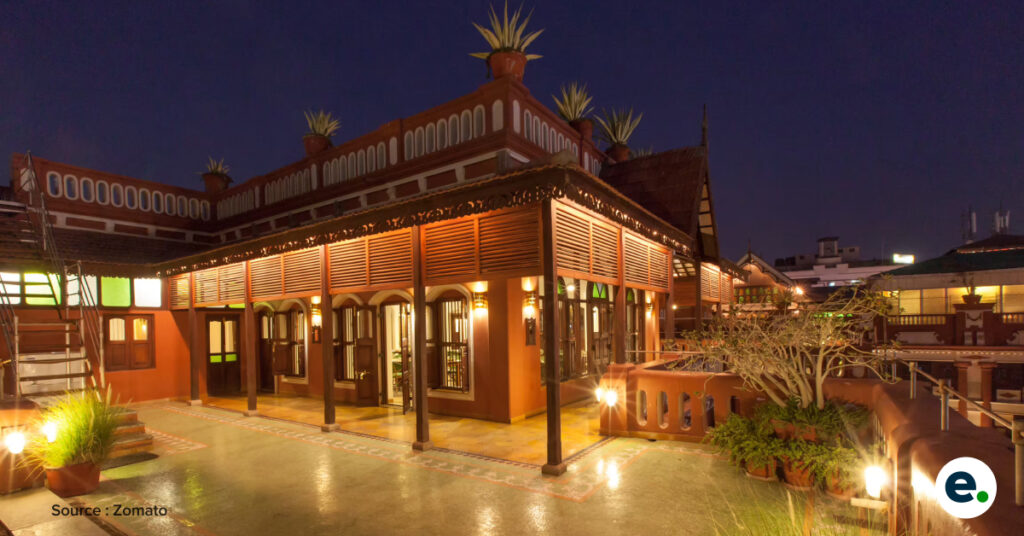 Do you know that this restaurant is popular and has been known for offering Gujarati Thali in India? Yes, that's true. So, if you want to try, then step in here. Its amazing food quality with the perfect balance of flavour is what everyone wants. Furthermore, it is located on a terrace that gives an amazing view of the city life.
7. The Eatery
This is a multi-cuisine restaurant which is situated in the Four Points of Sheraton Hotel. By visiting here, you will get an amazing variety of various tasty diseases. It has a simple and casual setting, so you can also enjoy your free time here. The Eatery is most popular for the breakfast buffet, making it the Best North Indian restaurant in Ahmedabad.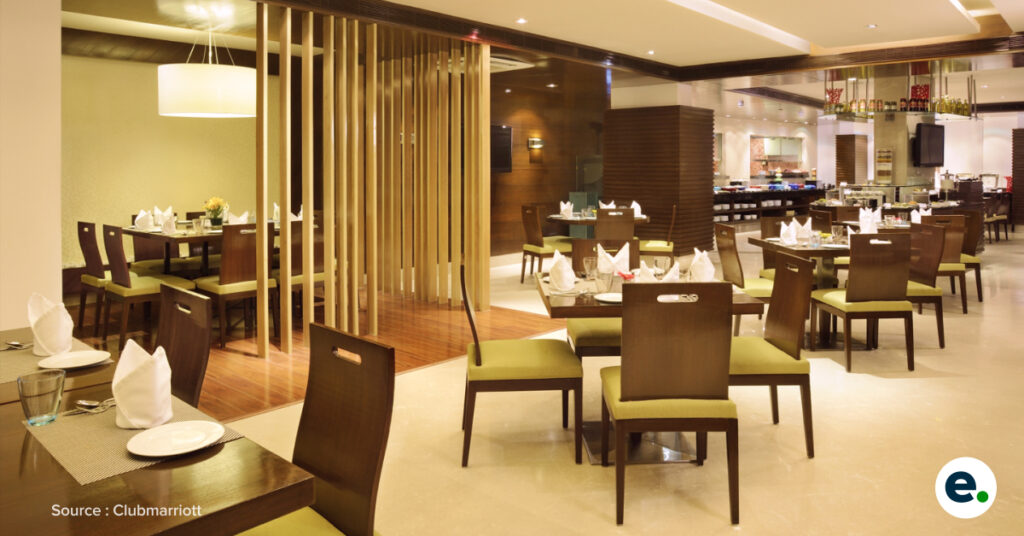 Therefore, you get continental treats Gujarati delicacies with other extensive cuisines. Also, if you are a hardcore non-vegetarian, then you must try this place once.
8. Hotel Moti Mahal
Are you a fan of Mughlai food items? Ten, you must visit this restaurant which is located in the middle of the city. Hence, if you want to select North Indian restaurants near me, Moti Mahal is the place. Starting from Biryani to foil chicken, rolls, and many more are worth trying. Hence, this place is so popular that you need to wait in long queues.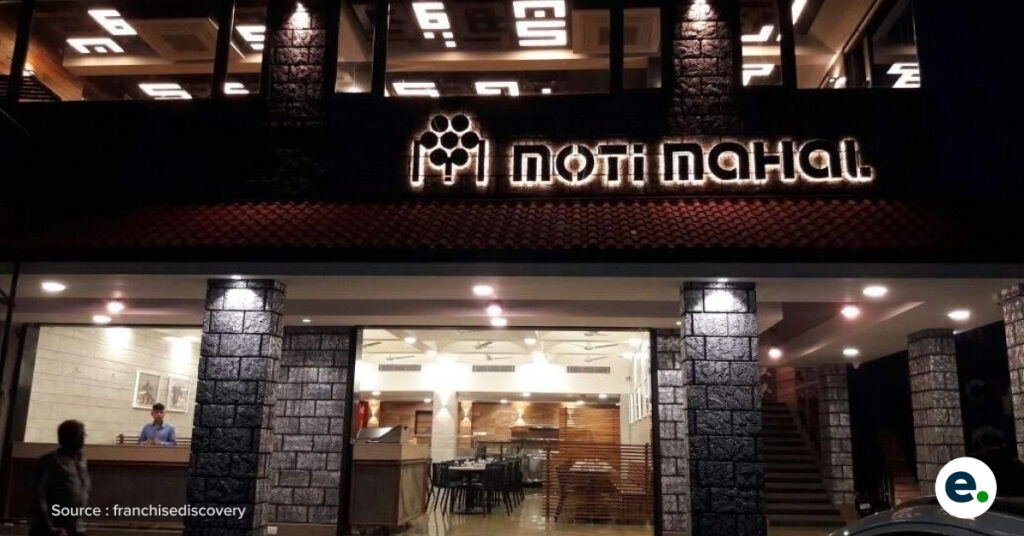 Also, the best part is that you can enjoy these succulent foods at extremely reasonable prices. You can also try Continental and Chinese food items in this restaurant. Also, the minimum price for two people at this restaurant is around Rs. 1000.
9. Collage Restaurant
For vegetarians and non-vegetarians, Collage is considered another Top restaurant in Ahmedabad. Most importantly, this place is just heaven for non-veg lovers in Ahmedabad. It is one of the best and Instagram-worthy restaurants you must visit once. You sit alongside the view of a perfect lake that gives you a cool breeze.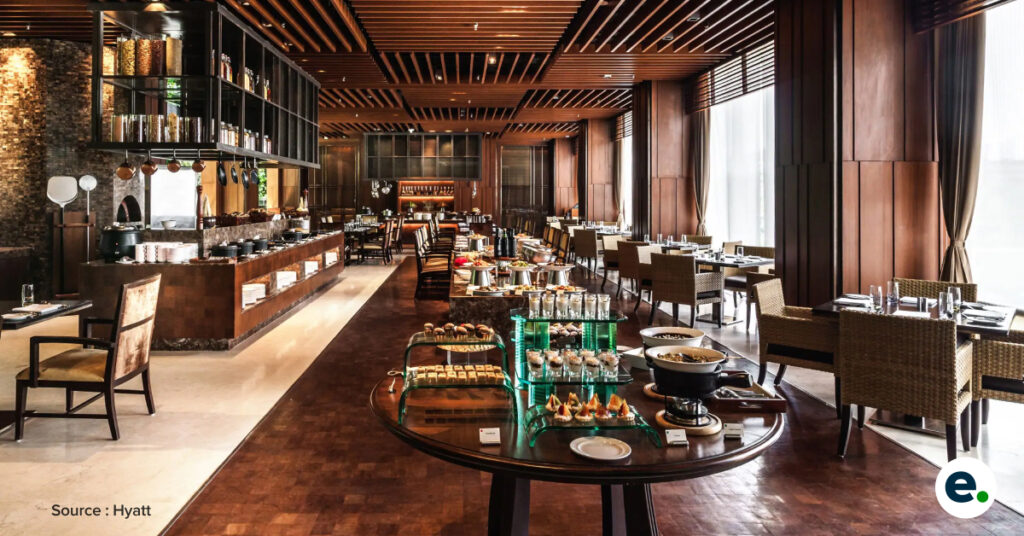 Also, it is a multi-cuisine restaurant so that you can taste different delicious international food every time. Furthermore, you can visit here anytime from Monday till Sunday. Some tasty foods that you must try here are Mutton Roghan Josh, Murgh Angare, and Poached fish as well. The minimum price for the meal at this restaurant is around Rs. 2,000. So, make sure you come here and try them out in Ahmedabad.
10. Gordhan Thal
This exquisite restaurant offers a wide range of Gujarati Thali that tantalises the taste buds. If you are a fan of trying local cuisine, then you need to visit here. All you need to do is come here and relax while enjoying those savoury and sweet dishes. Here is the ambience is extremely great to come here with your friends and family.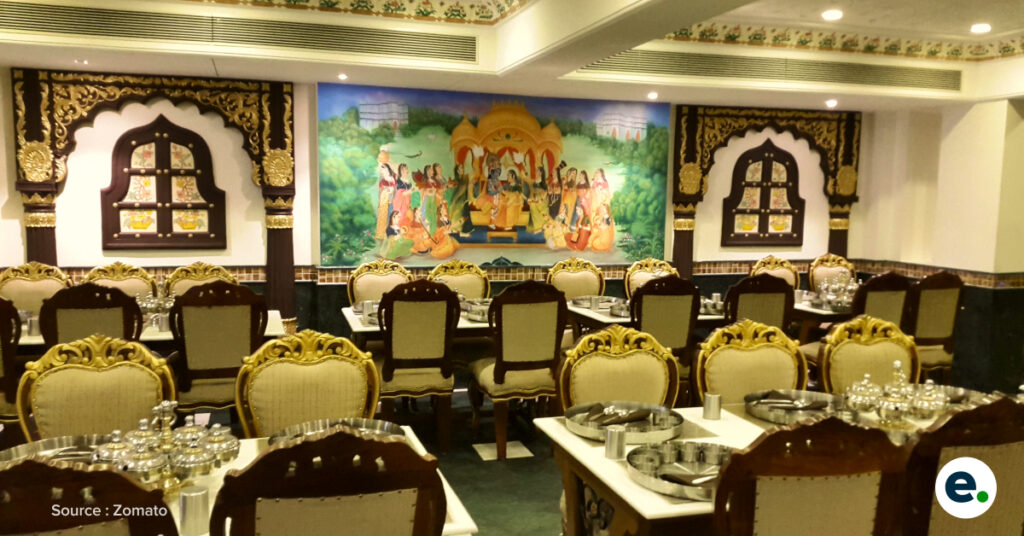 So, it is best to go on an empty stomach because you will definitely eat up the most. The minimum price for two people will be almost Rs. 700 for two people. So, you must try the Best North Indian Food in Ahmedabad.