According to a recent survey, 67% of US consumers prefer to order food from a restaurant's own app compared to 33% who favor third-party platforms.
Also, diners who download a restaurant's mobile apps order twice as often as customers who don't. This means more orders on the way! 🤩
However, before you start getting orders, your potential customers need to know that you have a mobile app. And, you also need to retain them to increase customer lifetime value. So, how do you do that? By following the tips mentioned in this article.
1- Encourage Your Website Visitors to Download Your Mobile App
If you have an existing website, use it to inform and encourage your customers to download your app. If you don't have a website, choose the restaurant food ordering website version of the Eatance. We will help you create one for free.
We will also help you incorporate app promotion on your website to drive more downloads.
That said, here are some ways to promote your app on your website:
Add a banner at the top that highlights that you have a mobile app.
Add a link to your mobile app at the right top corner of the website.
Display a popup after the customer places an order, mentioning that online ordering has just become easy with your mobile app.
2- Include a Flyer Promoting Your App In Every Takeaway Order
It is essential to promote your mobile app in every customer interaction, which includes takeaway orders.
Every time someone orders food from you (website, third-party, or takeaway), include a flyer highlighting that you have created a mobile app. Also, mention the key benefits of the app (e.g., hassle-free ordering, simple checkout, easy re-ordering, etc.).
You can also consider creating a QR code that takes customers to the app store, making it easier for them to download it.
Additionally, you can create a custom packaging box, so every customer stays updated about the app. Plus, creating packaging boxes isn't expensive.
3- Advertise Your App on Social Media
When it comes to app promotion, social media can be a game-changer. It allows you to reach people who are highly likely to download your app.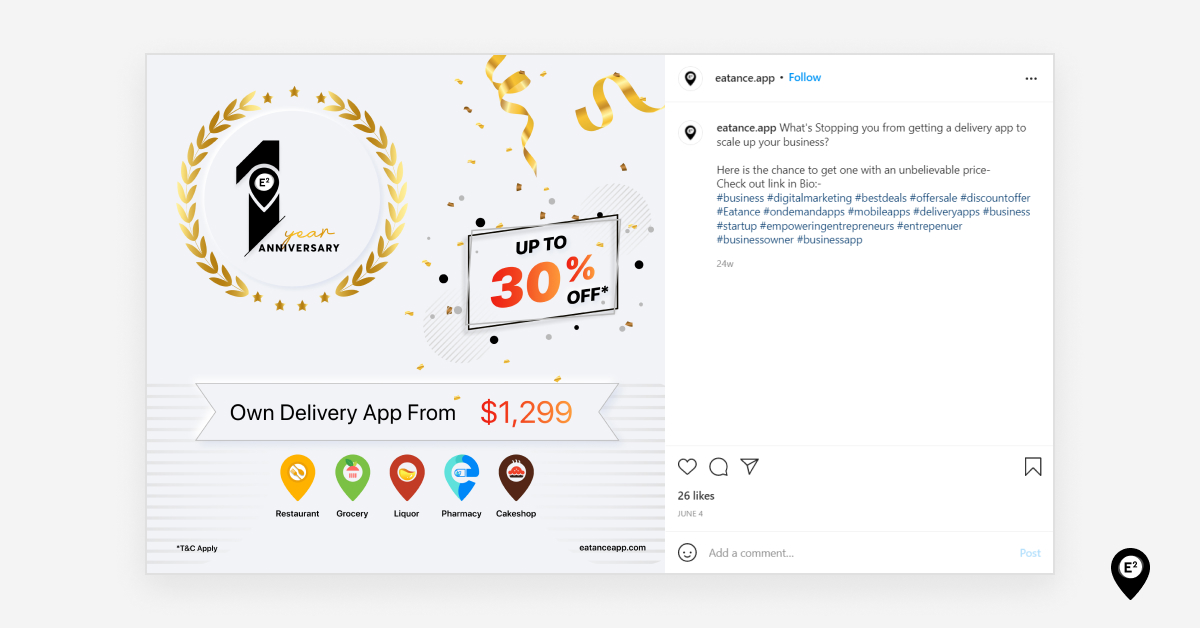 Here's how to leverage social media to boost app downloads:
Begin by creating a post that tells your followers that you have launched your mobile app. Highlight the key advantages of your app to entice users into downloading it (e.g., app-only deals).
Share the post across platforms (Facebook, Instagram, and Twitter).
Reshare the post as a story after a few days. Since stories appear at the top of the platform, your followers are less likely to miss them. Also, it will act as a reminder to download the app for those who have already seen the post.
When you post mouth-watering dishes on social media, add a link to your Android and iOS app so users can order the item instantly.
Run location-based advertisements on Facebook and Instagram to target people in your area and spread the word about your app.
4- Leverage Email Marketing
Email marketing is one of the best ways to reach your customers directly. Inform your existing customers that you have launched the app and made the ordering process seamless.
Once you adopt Eatance multi-restaurant food delivery app, you will be able to capture customers' email addresses. You can also see other customer details, such as what they order the most, how frequently they order, the time of their orders, etc.
Use these details to create a personalized email campaign to get more downloads. For example, if you see a customer who usually orders during the weekend, send them an email on Friday evening with a discount code applicable throughout the weekend. However, mention that they should download your app to redeem the coupon.
This will increase your app adoption and convert your customers into loyal ones.
Even when your initial promotion is over, include your app's link in the email footer. This will help keep it atop the customers' minds and inform new customers about the app.
5- Don't Ignore App Store Optimization (ASO)
All the tips mentioned above were related to how you can promote your restaurant app on different platforms. But, this point talks about how you can get more downloads from the app store.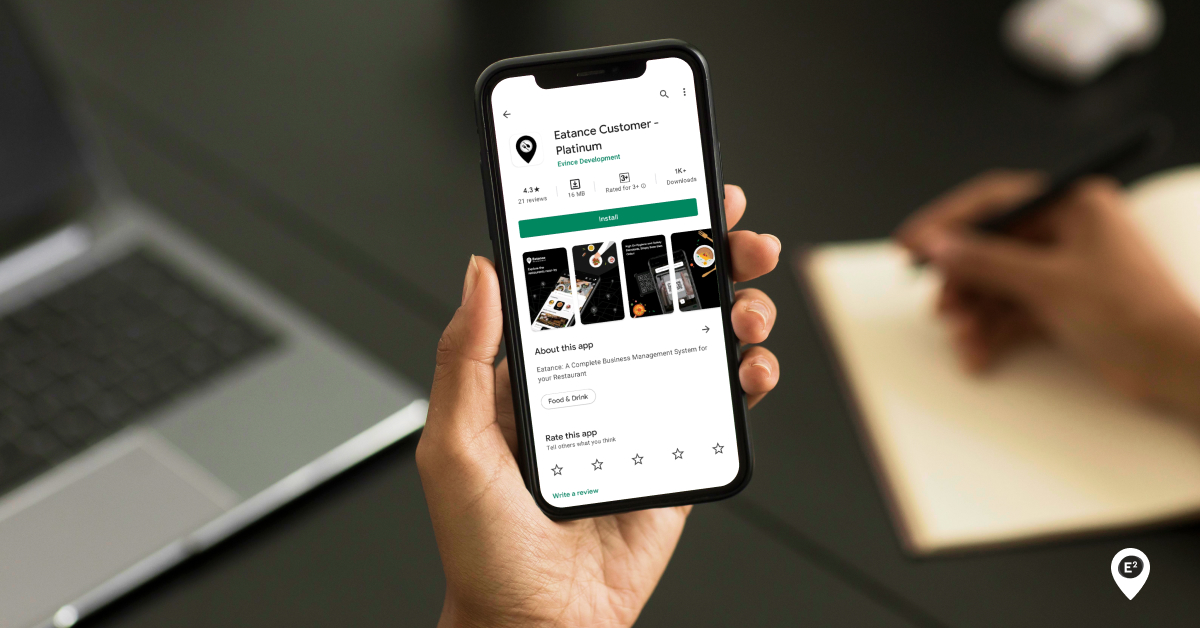 ASO refers to optimizing your app to increase its rankings in app stores. This works wonders because when customers see your app at the top of the page, they will be more motivated to download it than if it is after 10-15 results.
Here are some tips to help you excel at ASO:
Do your keyword research before writing the app slogan and description. Ideally, the keyword should include "best + your primary cuisine + location." For example, Best Italian food in New York.
Highlight your services (home delivery, takeaway, dine-in, etc.). This will also act as keywords for relevant searches.
Include keywords in short app descriptions to increase your rankings.
Include your restaurant, cuisine, location, and services again in the long app description.
Display a few screenshots of your app (probably how to use it, from signing up to ordering food). You can also create a video of your app.
Note : When you sign up with Eatance, we take care of all the ASO needs to increase your chances of ranking higher in app stores from the beginning.
3 Tips to Prevent Users From Uninstalling Your Restaurant App
Now that you have got people to download your restaurant app, it's time to retain them. This will help bring consistent revenue from existing customers. Here are three ways to do that.
1- Ensure Your App Runs Smoothly
When hungry, we tend to get frustrated more easily. If it is difficult for users to place orders (even during peak hours), it could hurt the customer experience. Most users will go ahead and uninstall your app and choose another restaurant.
To make sure your app runs smoothly, constantly improve it and prevent any bugs. If you don't want to spend too much of your time doing so, choose a branded mobile app from Eatance.
2- Make the Re-Ordering Process Seamless
The more steps a user needs to take to order, the less likely they're to order frequently.
Therefore, make the re-ordering process as easy as possible. One way to do that is by adding a tab that shows customers their past orders along with a re-order button.
Also, save their preferred payment methods to make it easier for them to pay for the order.
3- Engage Users With Push Notifications
Push notifications are a great way to engage users into opening your app frequently.
Send humorous messages right before lunch or dinner to entice users into ordering their favourite food from you. However, don't send too many notifications, or you might end up annoying customers.
Creating a mobile app for your restaurant is just the beginning. You also need to promote it frequently to attract customers and get more orders. Follow the ten free strategies mentioned in the article to boost brand awareness and expand your customer base.
Conclusion
Also, don't forget to leverage Eatance Multi restaurant food delivery app to get an ASO-optimized app for your restaurant. We will create a custom app for your restaurant that reflects your brand voice and convert more customers. Talk to one of our experts today!