The mobile app industry is increasing. People are downloading more apps than ever. By the end of 2021, consumers are projected to download 147 billion mobile apps. The number is expected to grow to 184 billion by 2024.
However, building an app for your restaurant is just the beginning. You will need a robust Restaurant POS System to avoid duplication and errors. Plus, you will have to optimize and market your app effectively to boost its popularity and sales.
In this article, we will discuss ten tried and tested ways to optimize your mobile app strategy to get more conversions. Let's get started!
1- Make it easier to order from you
The easier it is to order from you, the more orders you will get. So make sure customers can place food orders in just a few clicks.
Here are some ways you can make it easier for customers to order from your app:
Highlight your exclusive items and best sellers.
Allow customers to add/remove foods in a single click.
Let consumers save their address and payment details for faster checkout.
Categorize food items based on cuisine and other factors (veg/non-veg, starter, bread, main course, etc.).
Add a search button to help customers find the food they want instantly.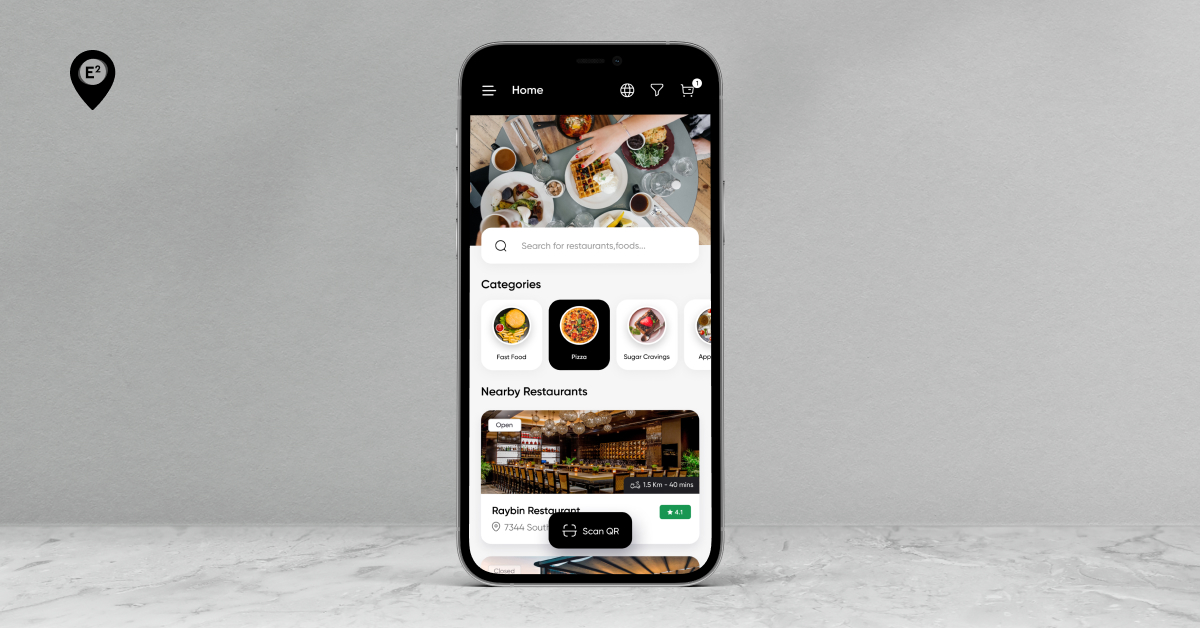 2- Use mouth-watering pictures
Showing someone mouth-watering food images when they're already hungry can boost the conversion rate. Upload pictures of items on your menu and display them beside the name. Let customers click and zoom the image for better reference.
Additionally, follow these best practices to increase conversions in your app with pictures:
Use original images (avoid stock photography). This will allow you to set realistic expectations and look authentic.
Hire professional food photographers if the need be.
Use hands in the frame (if possible). This will make your pictures more appealing.
Keep the food in focus (should cover more than 33% of the picture).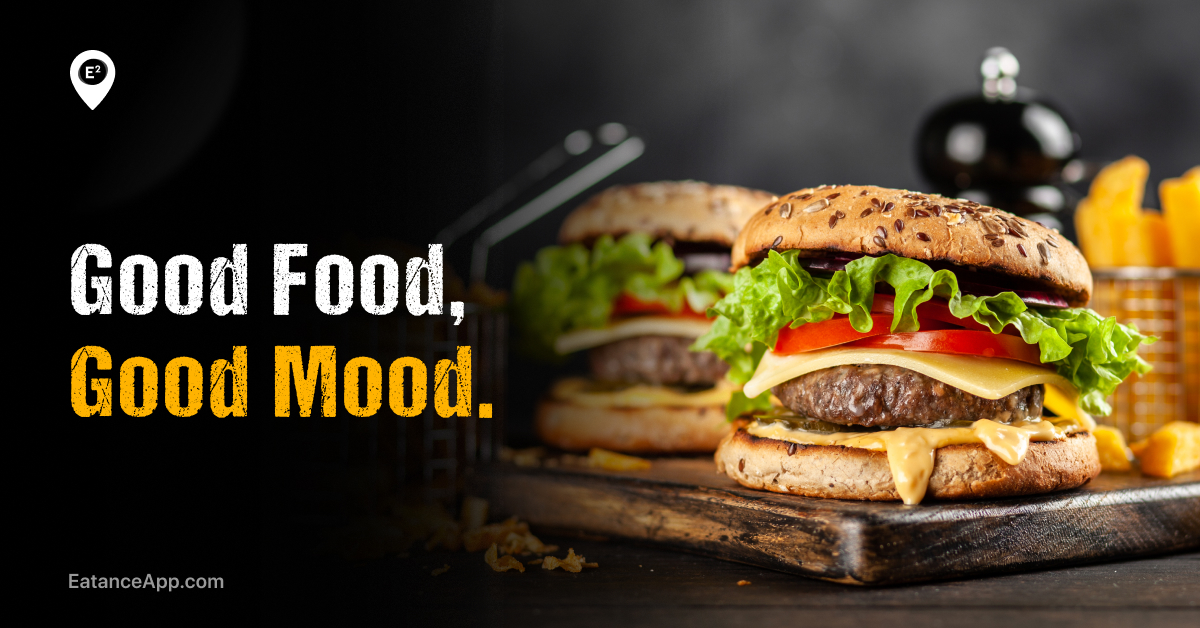 3- Make reordering seamless
There will always be a few food items that most of your customers like (i.e., your specialities). Therefore, it is crucial to capitalize on it and encourage consumers to purchase your best sellers.
However, to do that, you need to make reordering seamless. There are a few ways to do so:
Show previous orders at the top of the homepage.
Let customers mark the items they like as favorites.
A good food delivery app offers both these options, making it easier for customers to reorder. Customers can visit the order section and buy items they have eaten previously in a single tap.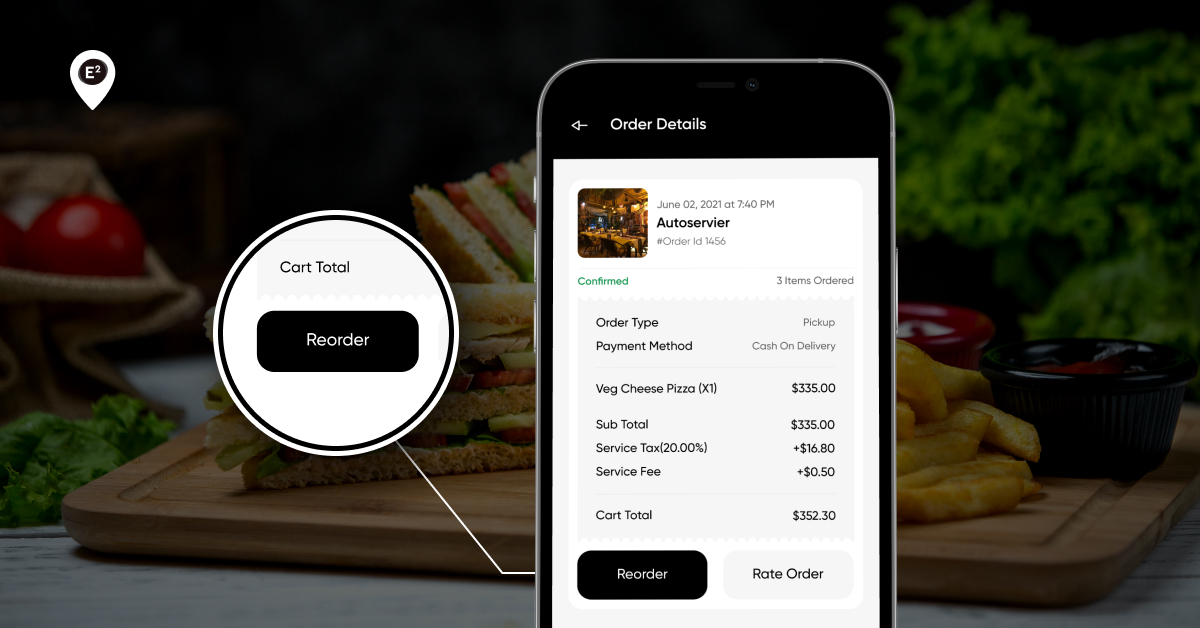 4- Leverage social proof
While social proof has to do more with your restaurant as a brand, it can increase your online conversions. Moreover, it helps build trust with potential customers and encourages them to give you a try.
Within the food delivery app:
Highlight foods with the highest rating.
Showcase most ordered foods.
Display trending food items (the ones which more people are ordering today).
Outside the app:
Share what people are talking about your restaurant on social media (along with a link to download the app).
Encourage customers to rate your app and services on Play Store and AppStore.
5- Send compelling push notifications
With people spending hours on their smartphones, there are high chances that they'll read the push notification. First, however, it has to be compelling enough to make people open your app and order something.
The best food delivery apps send persuasive, quirky push notifications to encourage customers to open the app and order food.
Here are some tips to get the most out of push notifications:

Always keep it relevant and interesting. For instance, if a customer orders Italian cuisine regularly, recommending Chinese food might not lead to sales.
Nudge users when they haven't ordered from you for a while.
Create a sense of urgency to entice users into ordering instantly.
Use emojis to lighten the message.
Limit the number of push notifications you send every day. You'll have to do an A/B test to find the ideal number.
6- Don't ignore email marketing
Using email marketing to promote your restaurant can prove beneficial in the long run. Segment customers based on their ordering habits and create email campaigns accordingly.
All your emails don't need to be promotional. Instead, it should engage customers and keep your restaurant on the top of their minds always.
Follow these email marketing best practices to encourage customers to order food.
Highlight how hygienic your services are (food, preparation, etc.).
Offer discount and coupon codes to increase sales.
Send feedback surveys to understand how satisfied customers are with your services.
Include compelling visuals to trigger appetite.
Use a call-to-action (CTA) button to highlight what action you want users to take.
Send weekly newsletters that offer value to customers (and don't focus on sales).
Always add your food delivery app's download link at the end.
Here's an example, Combine compelling text with professionally clicked images to entice users into ordering. Also, add a download app link at the top. Users who already have the app installed can click on order now button to buy the salad instantly.


7- Use social media to your advantage
With the right social media strategies in place, restaurants can increase app sales quickly. Gen Z and millennials are 99% more likely to rely on social media and online reviews when choosing a restaurant.
Here are some restaurant social media best practices:
Post regularly and respond to your customers quickly.
Invite food bloggers and influencers to try your restaurant. Ask them to share their detailed review on social networks and repost them from your official handle.
Share irresistible pictures of your delicacies along with a link to download your app.
Use hashtags to increase the visibility of your posts.
Show your restaurant's behind-the-scenes (kitchen, food preparation, etc.) to build trust with potential customers.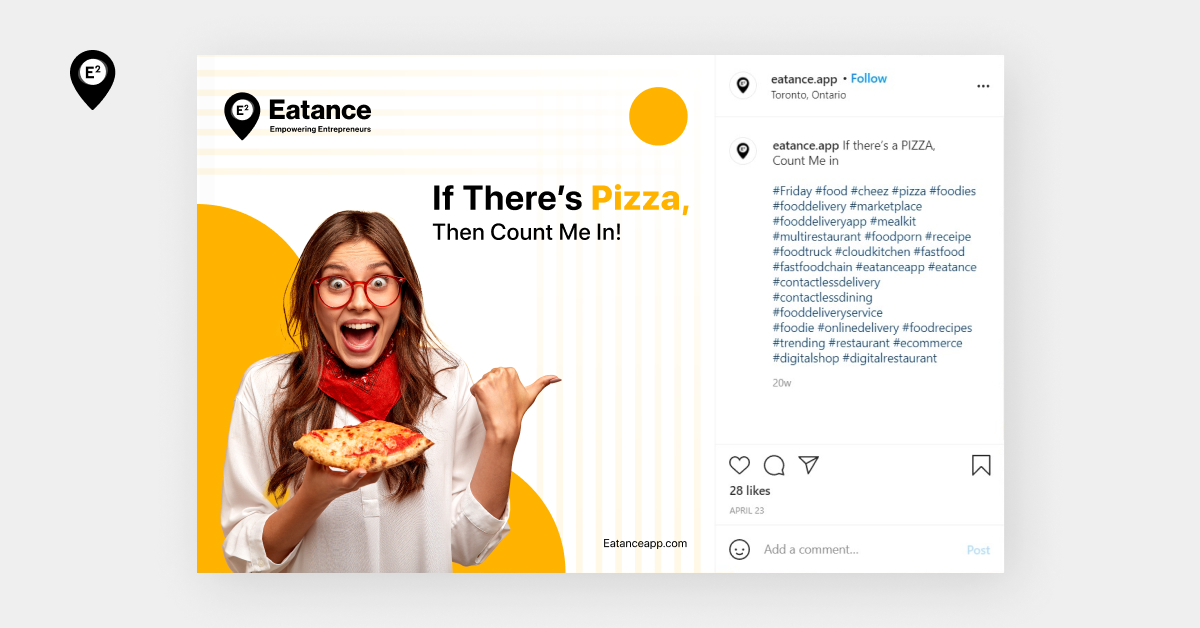 8- Offer services in local languages
If you offer food delivery in areas where English is a second language, consider providing your services in local languages. This will help build a personal connection with customers.
Leading food delivery apps has localized their services to build rapport with potential customers. The idea here is to attract customers who might not be comfortable with English or prefer their mother tongue over other languages.
9- Invest in SEO and ASO
Search engine optimization (SEO) and app store optimization (ASO) can boost your food delivery app's visibility and discoverability.
Follow these ASO and SEO best practices to attract users to your food delivery app:
Use the right keywords on your website and app description (that's uploaded on App Store).
Encourage users on your website to download your app.
Keep a user-friendly URL structure, add sitemaps, and image alt tags to help search engine crawlers understand your site better.
Claim your Google My Business (GMB) profile.
Run geo-targeted ads on Google to attract customers who are searching for restaurants in your locality.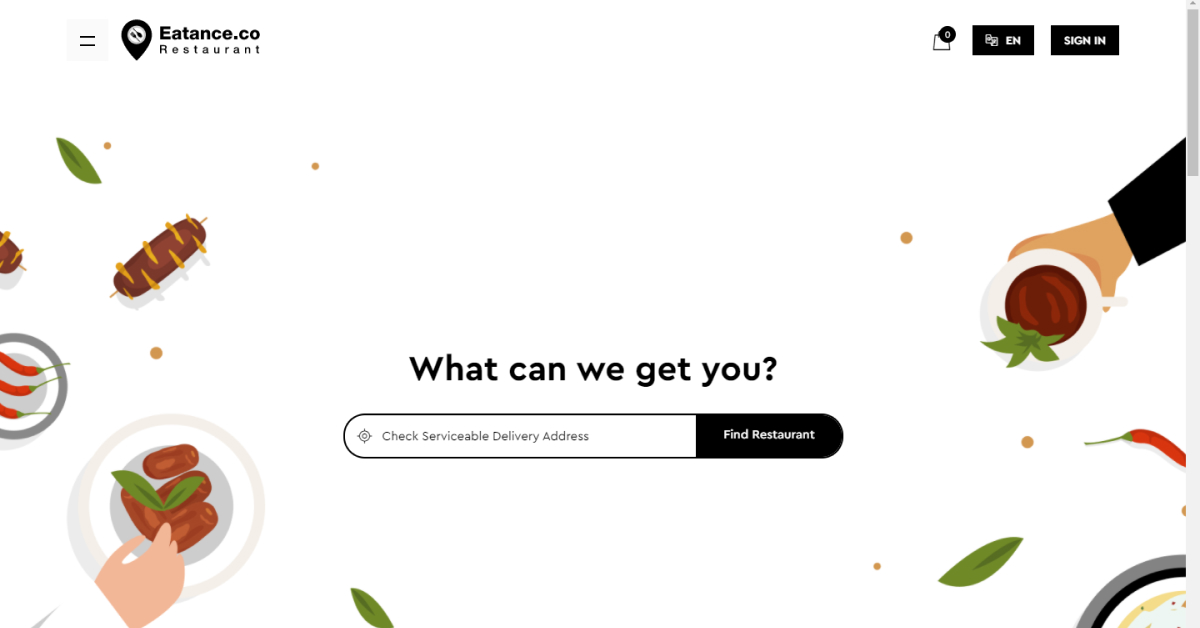 10- Offer app-specific discounts
Food is one of the most competitive industries. As a result, restaurants offer discounts very often to increase sales. Customers, too, want the best deal in the area. So when coming up with an exclusive offer for your consumers, consider keeping it app-specific.
App-specific offers and discounts are highly likely to encourage customers to download and order through the app. This could be more cost-effective than driving people to third-party aggregators who charge high commissions on every order.
Wrapping Up
Increasing the conversion rate of your food ordering app requires the right strategy and consistency. Make sure you've created a top food delivery application that makes ordering and reordering seamless.
If you need help creating the best food delivery app for your restaurant, we're here for you. With more than a decade of experience, Eatance completely understands your business and provides a tailored solution to boost your sales. Connect with us, and our experts will do the rest!