We all live in a world that is digitized to a great extent. The technology continues to grow, impacting the flow of money and business functions of all industries, including the restaurant business. It is also profoundly impacted by digitization. But has the impact been positive? The answer is YES! Food delivery apps have paved the way for the food sector to bloom.
According to Statista, the revenue in the online food delivery segment is projected to show annual growth with a volume of US$ 182,327m by 2024. In the USA, the food delivery segment is expected to grow with a projected market volume of US$32,325m by 2024.
An online ordering solution is a brilliant tool for customer convenience. Having a mobile app for your food business will allow you to scale up your food business at the next level with the following immediate benefits.
Build Strong Customer Relationship with Multiple Digital & Convenient Communication Channels.
Engage Your Customer by sharing updates.
Get Superior Customer Loyalty By understanding their needs.
Send Custom Promotional Messages & Offers Via Notifications.
Showcase Your Food Offering With Celebrity Visit, Featured Dishes & Top Categories.
Chef Style Menu will help customers to know more about food product with Food Images, Ingredients & a Description.
It can help to Reduce Operational Cost & Improve Customer Services.
Expand Your Food Business Reach by using Social media, Digital platform.
This blog will walk you through more about Restaurant Food Delivery App Benefits and must to have Features, Cost, and Efforts it will take.
Benefits of owning Food Delivery Software:
Ordering from homes or offices allows customers to place an order conveniently. Hence, they spend more time exploring the menu and choosing food items that appeal to their taste buds. With more exploration of the menu, customers are also likely to order more than usual. Mobile Solutions works wonderfully for both customers and restaurateurs. According to one research by the second measure, in March 2021, sales of meal kit delivery services grew 116% year-over-year, collectively.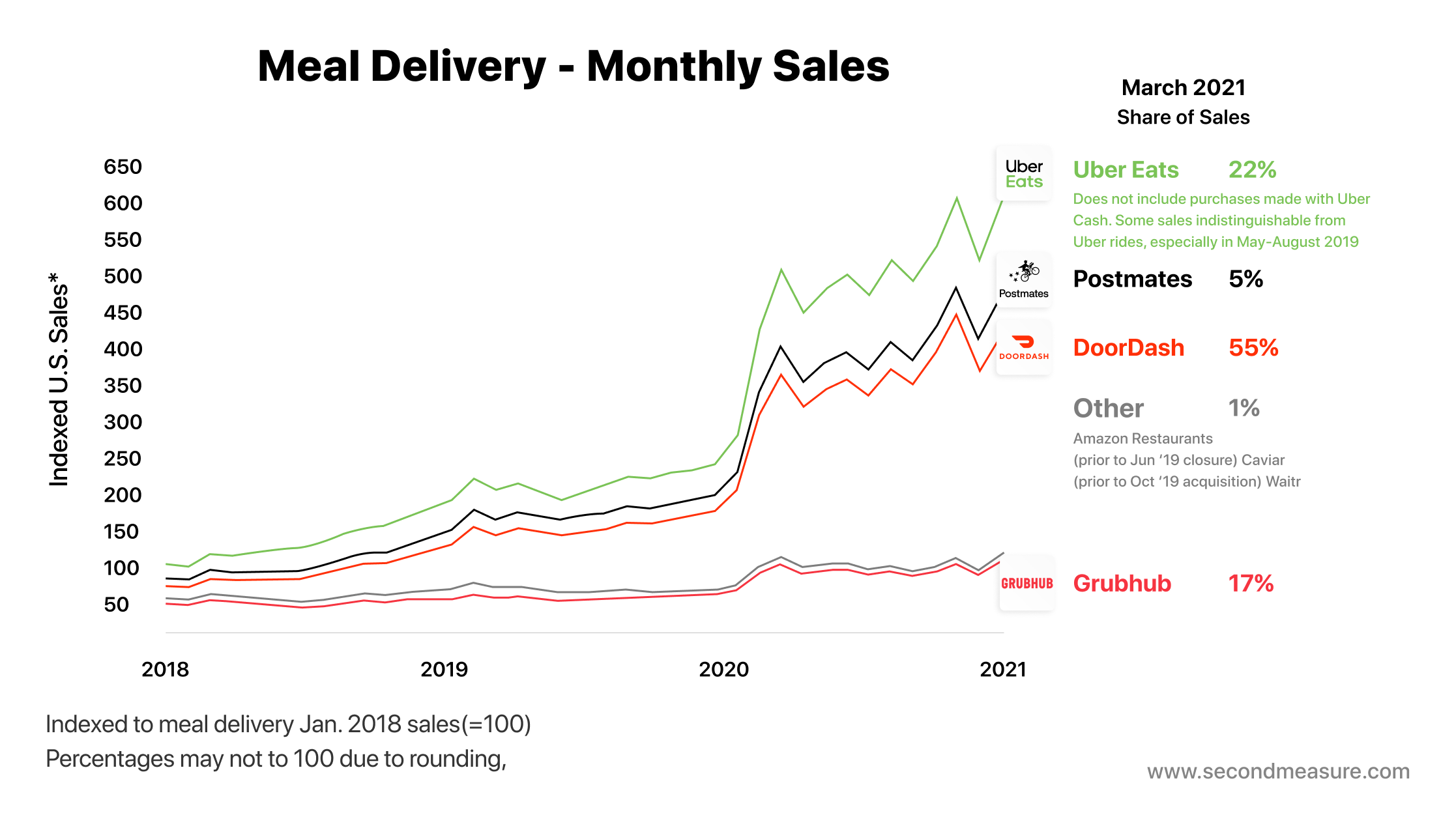 There are multiple benefits of running a Food Delivery App:
Cater to a Large Audience: The FOOD DELIVERY APP SOLUTION allows you to cover a broad and different audience segment. Since online business is not limited to only customers living nearby, you can go the extra miles ahead to make new customers. More customers, more revenue!
Better Management: The food delivery app is integrated with the admin panel, through which the manager/owner can easily accept and manage food orders and customers.
Hassle-Free: Online orders with food delivery app software can drastically save time, reduce mistakes in taking the orders, boost efficiency, and ease managing customers and staff.
24x7 Convenience for Customers: The food delivery app facilitates the customer to order their favourite meal at any time of the day.
Overhead Cost Reduction: Running an offline restaurant or eatery is a costly affair. It involves considerable expenses, like the salary of staff, Rent of the place, electricity, other Services, and maintenance costs. But the online food business cuts down most of the expenses- you won't need a more significant place or staff to operate a business.
Revenue Maximization: Expanding business online will create a pool of new opportunities. Online food business will let you cater to a broader customer base and generate attractive revenue.
Essential Features to Look for in Food Delivery App:
Since the online food business has a substantial market, it is crucial to have compelling features to survive the competition. To identify your business and achieve profits, you need to provide app features that are advanced and suit modern-day customers' requirements.
Customer App: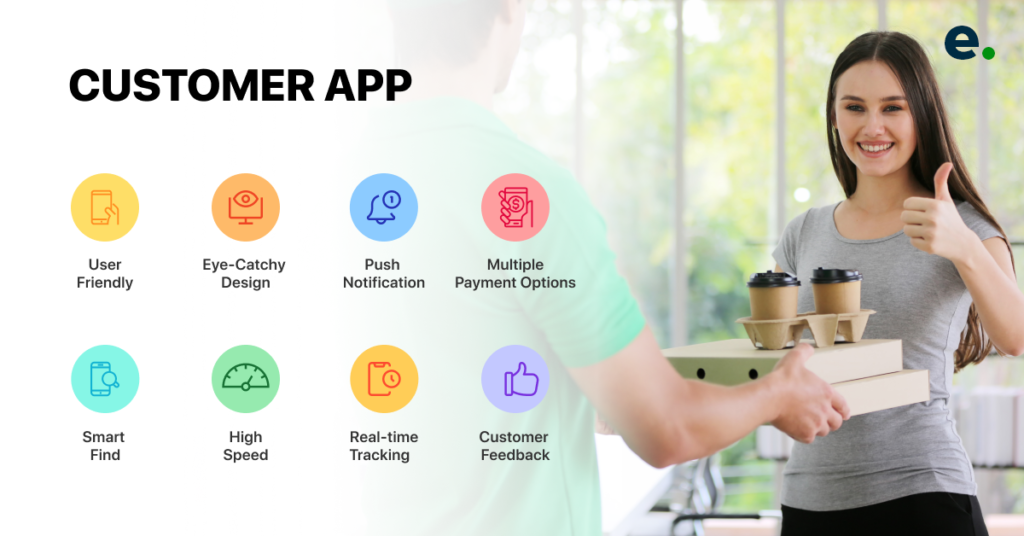 User-Friendly: Customers usually look for food apps that are easy to use, highly responsive, and navigate food items easily.
Multiple Payment Options: With increasing online payment trends, customers go for apps that offer multiple payment options such as debit card, credit card, e-wallet, POD, COD & other payment gateways.
High Speed: No one likes waiting, particularly when they are looking for something eagerly. If the app takes too long to load, then the customer may seek a better option. The speed of the app can make or break the success of the app.
Eye-Catchy Design:

Appealing design and graphics attract customers to use the app more often. The color scheme, placement of features in the app, etc., also define usability and success.

Push Notification: Sending personalized notifications about the deal of the day, food combos, and discounts to customers in the form of text, graphics, or a combination of both keeps them intrigued.
Smart Find: Equipping customers with a filter option for quick navigation of food items allows them to place an order in less time.
Real-time tracking:

This process is one of the essential features that the food delivery app must-have. It allows customers to keep track of the order location in real-time.

Customer Feedback: Feedback allows the customer to rate and review food and experience on the app and helps them make better choices.
Driver App: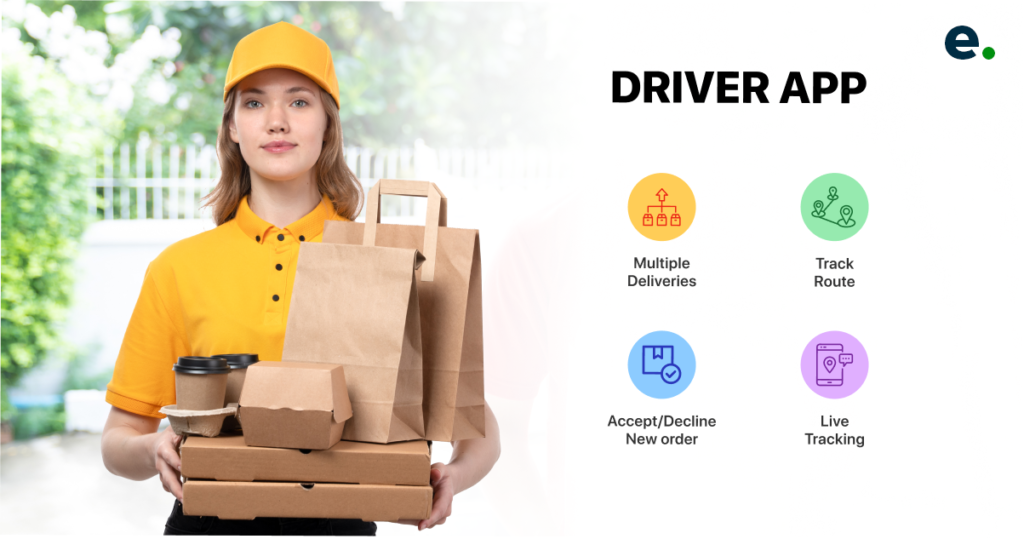 Multiple Deliveries: A food delivery app must have multiple delivery options to cater to a large customer base with efficiency.
Track Route: You need to include a GPS track location feature in your app to boost accuracy and fast-track deliveries.
Accept/Decline New Order: Sometimes, delivery executives cannot avail themselves

of

delivery. An option to accept/decline delivery orders gives a choice to the executive.
Live Tracking: Equipping customers with the live tracking feature of the delivery executive's vehicle allows them to learn how far their meal is.
Admin Panel: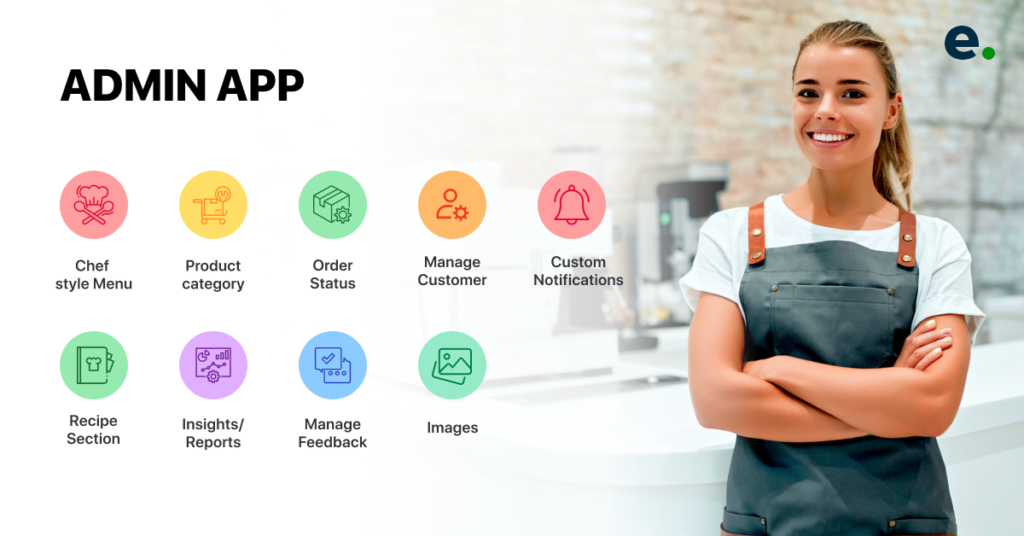 Chef style Menu: Make your menu irresistible for customers by adding creative food descriptions & ingredients.
Product Category: Admin able to create multiple categories/ sub-categories based on the food items they offers.
Order Status: If you want to keep a tab on sales daily, your app must have an order notification feature for admin. So, whenever a new order is placed, processed, or delivered, the admin or customers are updated.
Manage Customer: The admin should track entire user activity, including order history, transaction, comment, etc. Moreover, the admin should be able to create, edit, delete or deactivate the account.
Custom Notifications: A required feature to update customers and partners about deals, discounts, and other offers and keep the audience engaged.
Recipe Section: Increase engagement with your customer by regularly sharing recipes and food blogs on the app. This feature could be critical when offering Meal Kit or DIY (Do It Yourself) meal plans.
Images: Add attention-grabbing pictures of your restaurant food, celebrity visits & featured dishes that will help customers to engage more.
Manage Feedback: To maintain the food business quality, the admin should have a feedback management option.
Insights/ Reports: Admin can measure the traffic, Orders, and customer satisfaction by generating reports to make informed and data-backed decisions.
How much time does it take to develop a FOOD DELIVERY APP?
While estimating FOOD DELIVERY APPS' development time, such as Uber Eats, Postmates, or ChowNow, several factors have to be considered. First, it is crucial to have a clear idea of what kind of application features you want. What would be the design, and how many additional features are required? Then next is- how many platforms you want to launch the app on?
Apart from the above factors, the time and cost are estimated considering the hours spent conceptualizing and developing the app. We have listed down the hours needed to build Food Order App for iOS and Android, Food Delivery App iOS and Android for Delivery Executive, Web API, and Order/Admin Management POS.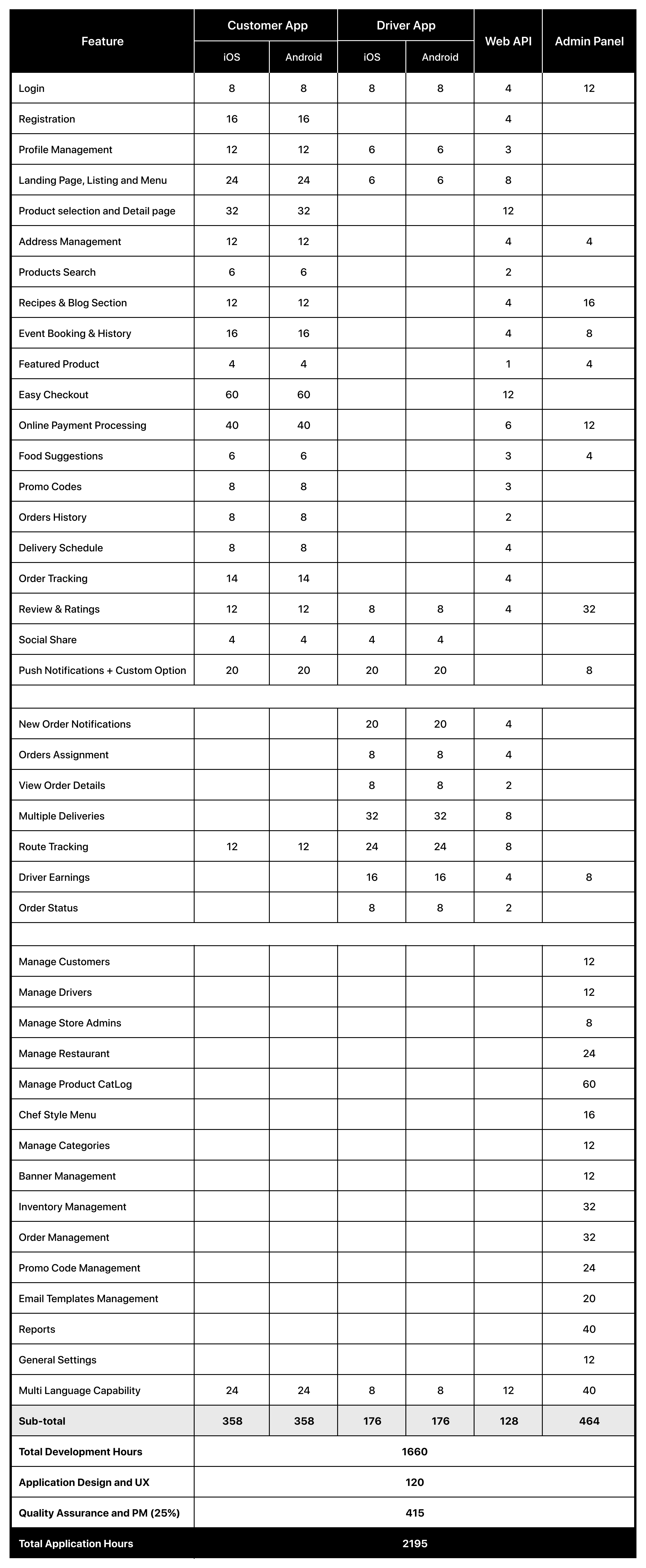 The app development charges vary from country to country- to give you a brief idea, we have listed down the budget estimation of different countries as per hours.
However, if you want to skip the hourly-based cost and terrible development efforts, in that case, you can choose the bespoke / Tailor-made option of Eatance Restaurant & Food Delivery App, which provides all the listed features at nominal costs with better quality and fast delivery.
What Eatance - Food Delivery App Development Company has to offer you?
Eatance offers custom/tailor-made Food Delivery app solutions with all enhanced standard features, a better User Interface & complete support.
Eatance aims to build a small business community by empowering startups, Restaurants, Food Businesses, Meal kit providers, Food trucks, or Food kiosk owners to take off their online business journey digitally, which also helps society generate new Jobs.

Developing custom mobile apps can be costly and time-consuming. Still, it can drastically reduce development cost and time if you opt for a Bespoke / Tailor-made Eatance Multi-Restaurant & Food Delivery App. It also offers customization to meet your business model and helps you save 85% on development costs.
USP of Eatance Restaurant & Food Delivery App
Customer Engagement: A mobile applications (Customer Ordering and Delivery) built with customer-focused engagement and superior user experience.
Implementation Support:

Our purpose is to provide the app up and running as per your requirement. We provide implementation support, and you can use our IOT training video, FAQ sections and support system at any moment.

Scalable Quality Code:

Eatance Restaurant & Food Delivery App is built to adapt modification quickly with a few new coding requirements.

Tested With 7000 Orders: The on-demand Food Delivery app can withstand up to 7,000 orders per day.
85% Cost Saving: You save 85% overall development cost by choosing Eatance Restaurant & Food Delivery App.
Cutting-Edge Technology: The app is built using the latest technology to allow customers to have an enhanced experience.
 Appealing Design: The app is designed with attractive components and the latest market trends.
 Customization: To suit your business model, we can add or eliminate features from on-demand food delivery apps.
To Sum Up!
The evolution of e-commerce has transformed the way people do business and customers' choices to eat, travel, and shop. The incorporation of technology in the food sector has immensely benefited the online food market. It is one of the fastest-growing industries. Opting for FOOD DELIVERY APP DEVELOPMENT with Eatance will help you Scale up your business. Our in-house experienced and expert team delivers robust mobile application solutions that your brand needs at less time and competitive pricing.