What's round and can be triangular also? It has pepperoni on it, and maybe not. It may have olives, sweet corn, capsicum, onion, mushroom, etc. It's all your choice, but one certainty is that you are craving it right now. I know that's not such a great puzzle as people know more about Pizza than Italy itself. But, this lifetime cheesy gift of Naples to the world rules the taste buds globally and from toddlers to reverse toddlers (senior citizens you know), everyone simply loves it.
People love pizza is just an understatement as almost 3 billion pizzas are sold annually around the world. So a more accurate statement would be, 'People are mad about Pizza'. Out of all the online food deliveries, pizzas hold a significant proportion.
Though Pizza Hut and Domino's dominate the Pizza delivery industry, there is always room for new flavors, types, and of course, brands for pizza. Many new startups and passionate foodies are entering the Pizza industry (Yeah! 3 billion sales absolutely make it an industry). But going by the latest stats and trends, you don't have to play just on the taste of your pizza but technology, too .
If you want your business to grow, A pizza delivery app can be one of the most significant technical ingredients that can spice up your Pizza restaurant business. The pizza delivery app can help you in multiple ways and can be one of the best decisions for your business.
So, here is all you need to know about your online Pizza delivery app like Pizza Hut and Domino's.
The Need for the Delivery
Some humans are lazy, some are busy, and some are really smart. And those smart humans tricked out the idea of home delivery for the lazy and busy humans. We all are witnesses to how the idea revolutionized commerce globally. Now, if we talk about pizza then pizza delivery has its own history dating back to the 1800s, when celebrated pizza maker Raffaele Esposito delivered it to Italian Queen Margherita. And since then, pizza delivery has been curated various times, landing it the fastest online delivery through mobile apps.
Delivery of Pizza to doorsteps is a treat in itself. After all, who would not love to have a steaming hot pizza at their doorstep to enjoy it sliding on their couch? So, if you are adamant about the dine-in option for your pizzeria, please don't be. It can cost you more than 60% of your customers as more than 60% of pizza orders are for online deliveries only.
Why a Pizza Delivery App?
We heard you! See, we influenced you to be open to online deliveries of your pizza, right? Now you must be thinking of collaborating with some third-party delivery app. Why to spend time and money on a personal app? Yes, you can collaborate with a third-party app, but it's like sending your kid to school only. No matter how much attention it gets in school, there are other kids to share it. Having a personal app is like sending your kid to private tuitions, where he is the only centre of attraction. Got the point? Okay, we went too metaphoric. Let's go realistic. Here are some key benefits that you can get after launching your pizza outlet's pizza delivery app:
Enhanced Customer Experience and Expectations- We can't argue over the fact that having an app will make it easy for your customer to order directly from you. It also eliminates any mid-party and their miscellaneous add-on charges. Not just this, it will also help them to explore your menu vividly without popup suggestions from other outlets that might make them change their mind.
Increased Brand Awareness- Your app is your territory, and you can play your field as you wish. A Pizza delivery app will allow you to be independent about your offers, discounts, and marketing. It will eventually increase your brand awareness among the masses.
More Revenue Generation- You can increase your revenue with your application as the delivery fee, subscription charges, surge charges, etc., make up for good profit. In fact, having your own app will fetch you your customers from third-party delivery apps too.
Monitored Deliveries and Increased Customer Retention- With your pizza delivery app, you can monitor your sales and deliveries. In addition, you can take up the actions required for boosting customer retention by studying consumer behaviour through app-collected data. Moreover, you will have a centralized system to monitor all your pizza outlets functioning.
So, now, if you have decided to launch your pizza delivery app then let's jump on how your online pizza delivery app should be in the next section.
Features that you must have in your Pizza Delivery app
Having an app is good but having a good app is best for your business. Food delivery app development is not just like developing any other app. To give tough competition to pizzeria giants like Pizza Hut and Dominos, you need to have an app of their standard, rather better. If we go analytical, then there are three attributes of an app- the customer interface, the delivery person interface, and the admin interface. All these interfaces collectively account for a good app; lacking any of them can cost you your time, money, and customer base.
If you also want to have an app like pizza hut or Dominos pizza delivery app, then here we will help you with must-have features in each app section.
1. Customer Interface
The customer interface is what is there in your app for the customer and how they will experience it. Your seamless and comprehensive customer app will add to your brand reputation and customer retention. Following are the features that you must consider in your online pizza delivery app customer interface: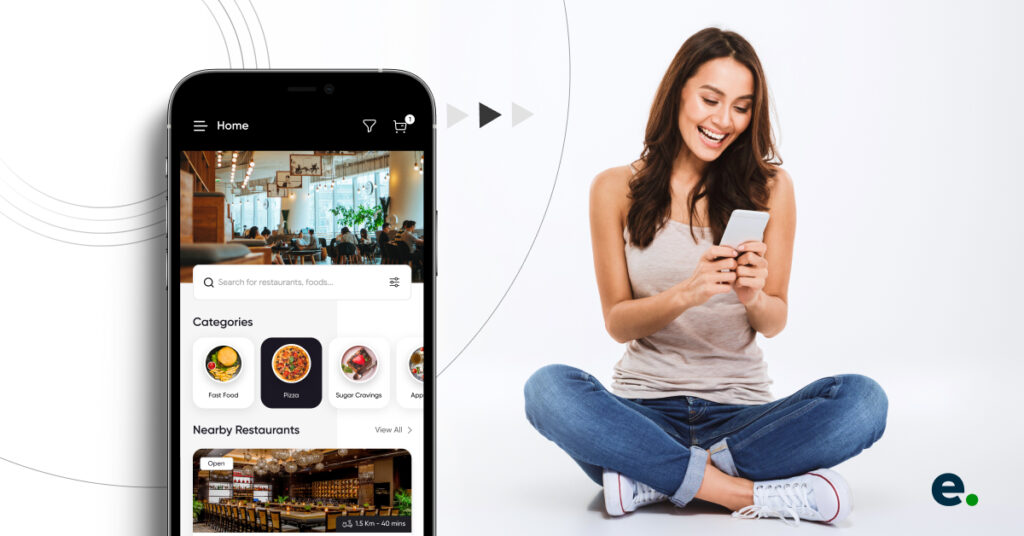 Key Features
Registration- This will allow your user to have a personal account with all the history of his orders. You can also personalize the accounts by providing suggestions based on his previous or most frequently ordered pizzas.
Search & Filter options- It will steer your customer to the pizza they like.
Add to cart and wish list feature.
Real-time Navigation- It will allow your customer to track the order.
Multiple payment modes with secured transactions.
Instant order status before and after delivery.
In-app alerts and notifications.
Ratings & Reviews of the menu, delivery agents, and the app.
Advanced Features
Multiple sign-in options through FB, Google, Apple, Phone Number & email
Online table/ event booking
Multi-lingual Support
Multiple currency support
Coupons, offers, and discount section
Easy re-order
Product recommendation
Customizing options
2. Delivery Person Interface
Your delivery person will also have to use the app for order details and features delivery credentials. Your on-demand food delivery app must be very crisp and fast to save your delivery agent's time.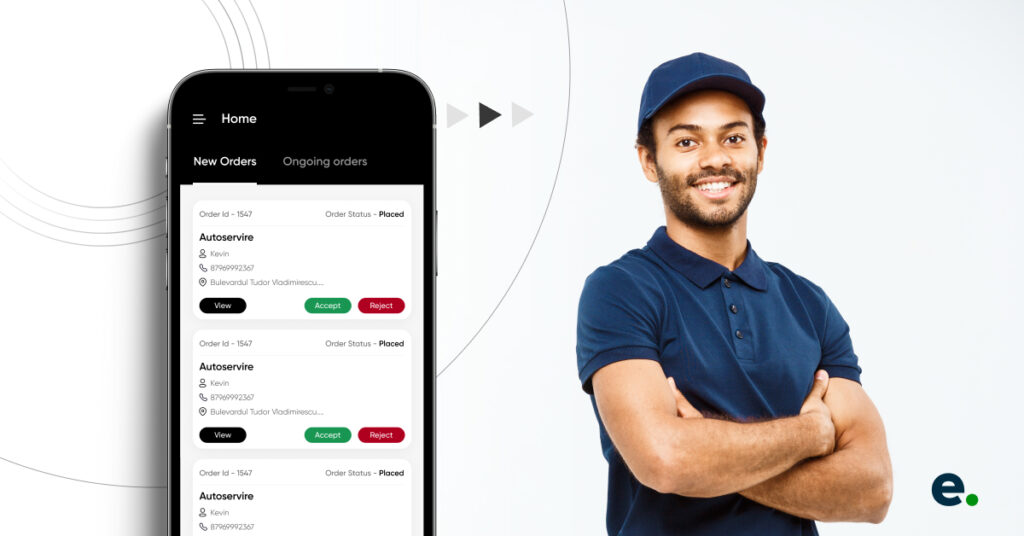 Key Features
Registration with verification
Accept/reject orders
Update order status
Driver profile
Ratings & Reviews
Advanced Features
Track delivery earnings
View current, assigned, and past orders
online/offline status for order assignment
3. Admin Interface
This app panel is for the owner or the admin team, who sits back and receives and processes orders. This interface needs to be very accurate and precise as the whole journey of the pizza is decided here only. This app panel must be impeccable for fast deliveries, happy customers, and efficient delivery agents. The main features that it must have are: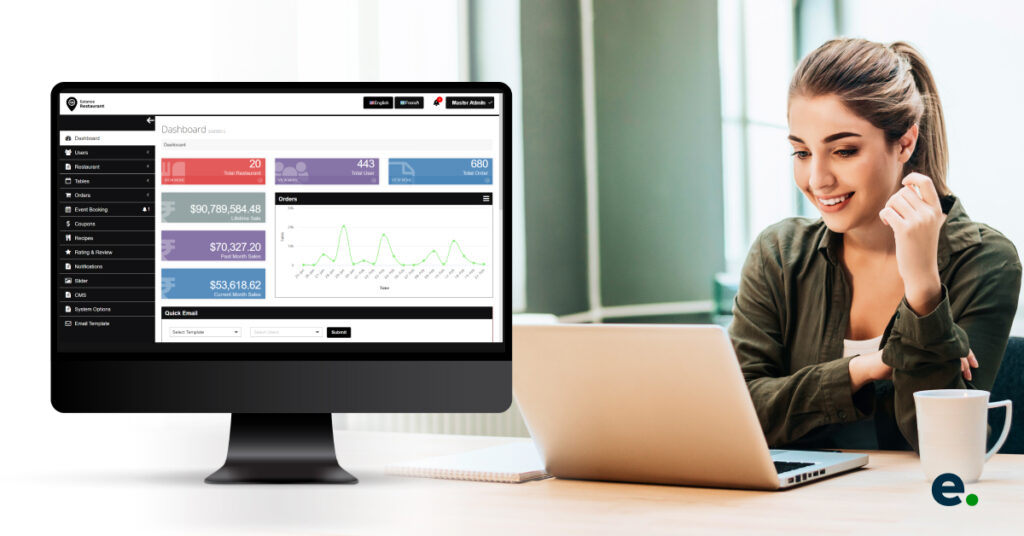 Key Features
Dashboard
Manage drivers
Customers management and grievance redressal
Manage pricings
Real-time analytics
Discounts and offers management
Advanced Features
Manual and auto driver assignment
Event & table booking management
Error report management and quick responsiveness
Driver commission management
Email and custom push notification
Customer reward points management
Digital menu management
Add-ons management
How much would it cost to create an app like Dominos?
We always need to be well prepared for the financial attributes of a venture and getting an app developed in competition of Food order & Delivery apps like Dominos, Subway App, McDonald's App, Starbucks App, Taco Bell App, etc. Then you need to be very systematic and financially ready to get things done your way. To conclude the exact price on the go is critical as there are many factors that drive the expenses you would have to make but getting an app like Domino's needs to be advanced in technology and framework, thus asking for good expenditure.
Overall expenses of the app development also depends on the demographic situations, hourly rates of your developer, backend infrastructure, etc. You choose for the app.The average cost for developing the basic app comes approximately $15000 and the advanced version can be anywhere between $25000 to $55000.
Where can I get a Ready-made Pizza delivery app ?
You can even try the readymade food delivery app that consist of all the advanced features that one can ask for. If you are running short of time then there are many ready to launch options. You can try Eatance for the cause. Eatance Multi restaurant Solutions can provide you with readymade food delivery apps similar to Dominos, Starbucks, etc. The readymade apps have all the advanced features that you can find in the famous food delivery apps.

You need to have a professional developer from a good pizza delivery app development company for your app if you want it to stand and shine out from the crowd. Eatance Multi restaurant solutions can be a perfect choice for you to have your pizza delivery app like Pizza hut, Dominos, Starbucks, etc. The experienced developers of the team are always ready to cater to your expectations of a dauntless app. You must be very particular about the quality of the app as it is undoubtedly the virtual face of your brand Moreover, Your brand's reputation and your services are significantly affected by your app and the user experience it extends.