Running a restaurant is a competitive business. Customers have a plethora of options to choose from, and with online ordering on the boom, they can get the food of their choice from their favorite restaurant at their doorstep.
So, how do you make your restaurant their favorite? Of course, food and service quality is the priority, but you can also stay atop their minds with social media marketing.
An average user spent 2 hours and 24 minutes on social media in 2020. This implies, with social media marketing, you can reach most of your customers. This also means you can encourage them to visit your restaurant (or order online) and turn first-time visitors into regulars.
Importance of Social Media for Restaurants
No matter where your restaurant is located, there are thousands of people who use social media. And the chances are many of them are your customers, while others may not have even heard of you. That's who you can reach with social media marketing.
Don't take my word for it. Instead, take a look at these statistics.
When choosing a restaurant, 99% of Generation Z and Millennials are more likely to rely on social media.
Nearly 72% of customers have used Facebook to make restaurant or retail decisions.
Out of all brands on Twitter, food and drink brands are mentioned the most, with a 32% share of tweets.
These numbers indicate that every restaurant needs to be proactive on social media to survive and thrive.
How Can Restaurants Use Social Media to Their Advantage?
Before we move on to the tips, remember that social media is not a one-time game. It takes time, effort, and money to generate a return on investment. That said, here's how to do it.
1- Create Social Media Profiles for Your Restaurant
If you haven't already created social media profiles for your restaurant, now is the time to do it.
While there are several social networks, you just need to build a presence on three platforms: Facebook, Instagram, and Twitter.
Facebook - 49% of people use the platform to find new restaurants.
Instagram - It has more than 464 million posts tagged #food and 46.2 million tagged #restaurant, indicating the popularity of this content on the platform.
Twitter - Restaurants receive the maximum engagement on the platform as compared to other industries.
When creating your social media business pages, make sure to fill up as much information as possible. For example, it should include your contact information, location, business hours, a link to your website, and a menu.
To take your social media game to the next level, create a digital menu using Eatance restaurant food ordering website. You can then use this menu on your Facebook "order now" button and Instagram bio to redirect users to your order page on your website.
Eatance also allows you to create a QR code for your menu, which you can use on social media to attract customers. These menus are customizable, and the changes reflect in real-time, giving you complete control over your services.
Also, don't forget to add the services you provide (dine-in, takeaway, or home delivery).
2- Publish Mouth-Watering Photos (At the Right Time)
Pictures are an inevitable part of social media. This means, as a restauranteur, you can post mouth-watering pictures that compel users into trying the dish.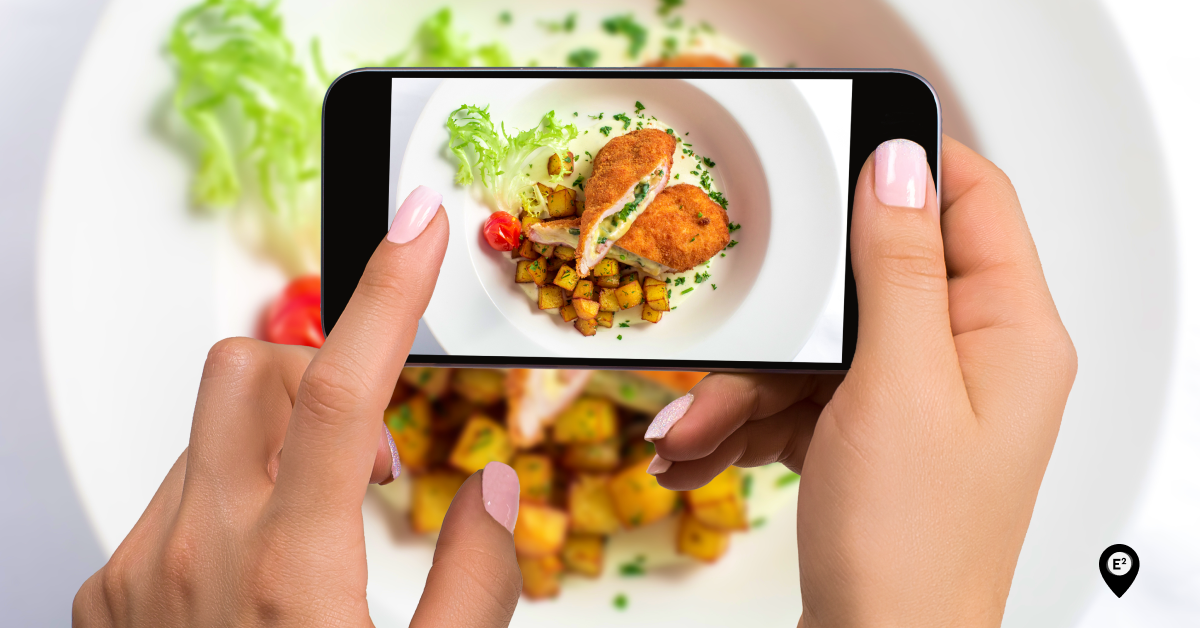 Make sure not to post any pictures from Google or other websites. All the photos should be of your own restaurant.
That said, here are some tips to ace your social media picture game:
Get the lighting right (natural but not direct sunlight).
Pick your most vibrant-looking dishes. You can even consider adding some colorful garnishes.
When clicking the picture, try different angles and see what looks the best.
If you want to click a closeup of your food, move your camera closer instead of the zoom option.
Note: To get the most out of your efforts, post the pictures at optimal times (like between 8-9 am, 12-1 pm, and 7-8 pm).
3- Take Advantage of User-Generated Content
User-generated content refers to the pictures and posts shared by your customers. When you re-share them from your official handles, it acts as social proof.
Another benefit of sharing user-generated content is that you get extra content for your social media (without actually creating them).
Starbucks is one of the brands that always reposts customers' content (and even tags them).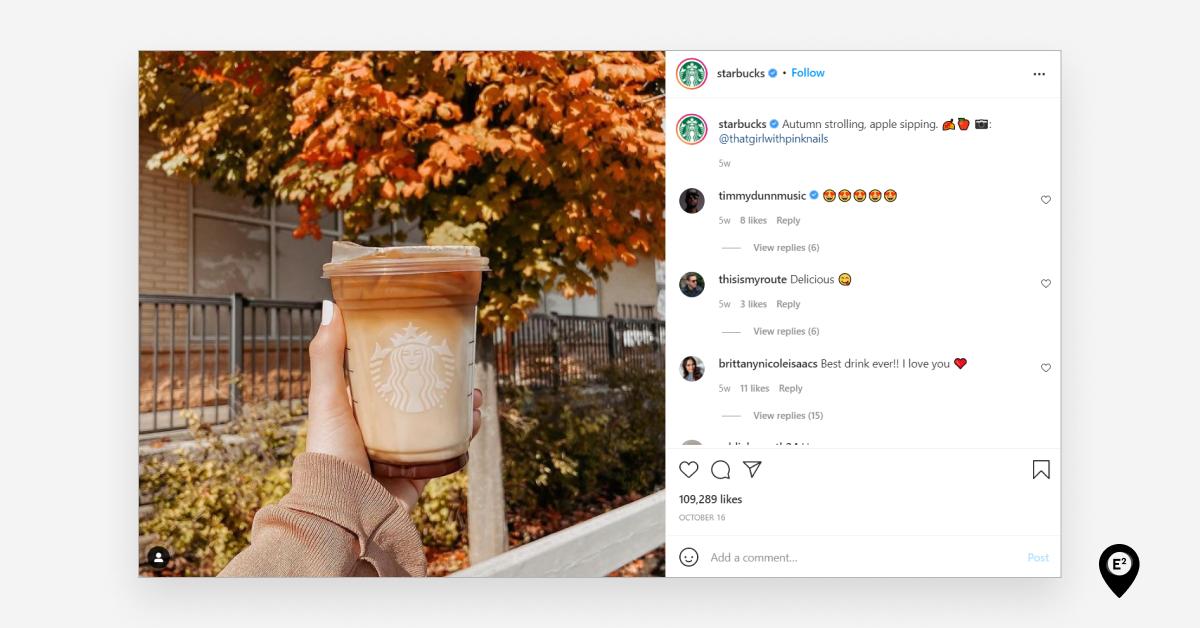 When you repost customers' content, it also increases their trust and loyalty towards your restaurant, increasing the chances of repeat sales.
4- Leverage Location-Based Advertising
Location-based advertising allows restaurants to target people in their area (usually within a certain radius).
For instance, both Facebook and Instagram allow you to select a city you want to target and choose the radius. You can then choose people's interests (e.g., food, foodie, restaurant, cuisines, etc.).
Once your ad is active, people matching the description will see it, increasing the chances of sales. This helps reach customers and tourists in your area who haven't even heard of your restaurant.
5- Partner With Food Bloggers In Your City
Food bloggers have become popular in recent years. They usually have thousands of followers, and most of their followers are food-lovers (people who love to try new dishes and restaurants).
By partnering with food bloggers in your city, you can easily reach their followers and expand your customer base. Since their followers trust them, they will also trust their recommendation of your restaurant.
However, make sure that the food blogger resides in your city and has a high engagement rate (at least 3-5%).
Depending on the food blogger, they might charge you for visiting your restaurant and giving a shoutout or work in a barter system (free meal for shoutout). You need to clear this before you partner with them to avoid last-minute hassles.
6- Show What Goes On Behind the Scenes
You don't always need to share food pictures or promotional deals on social media. You can even post what goes behind the scenes, such as chefs making one of the popular dishes of your restaurant, employees having fun or game time in the restaurant.
You can even highlight how you take care of cleanliness and hygiene to build trust with potential customers. Or how you train your employees to ensure online deliveries are handled with utmost care.
7- Host Social Media Contests
Social media contests are a great way to increase engagement and boost your brand awareness.
There are several types of contests that you can run on social media.
Share to win: In this, users have to share a picture of them dining in or eating a dish from your restaurant to get a chance to win a prize.
Engage to win: In this, users have to like the post, follow your account, and tag their friends to be eligible to win the prize.
Restaurant memories: In this, users need to share their best memories of your restaurant. The best story wins the prize.
Caption this photo: When you share "behind the scenes" pictures, ask users to caption the picture, and the best captions wins the prize.
You can reward your customers with a free meal, discount coupon, or free entry on special occasions.

8- Ask Questions and Run Polls to Increase Engagement
Instagram stories are a great way to increase engagement on your social profiles. Since stories appear at the top of the platform, your followers are very less likely to miss them.
However, to get maximum engagement, you need to ask the right questions.
Instagram allows you to add polls and questions in stories, which customers can reply to.
Here are some tips to get the most out of your efforts:
Publish a picture of a new dish in your restaurant and ask customers to guess what it is (offer multiple choices).
Ask customers to guess the ingredients of the most popular dish in your restaurant.
Ask customers what you can improve in your services (a great way to gather feedback).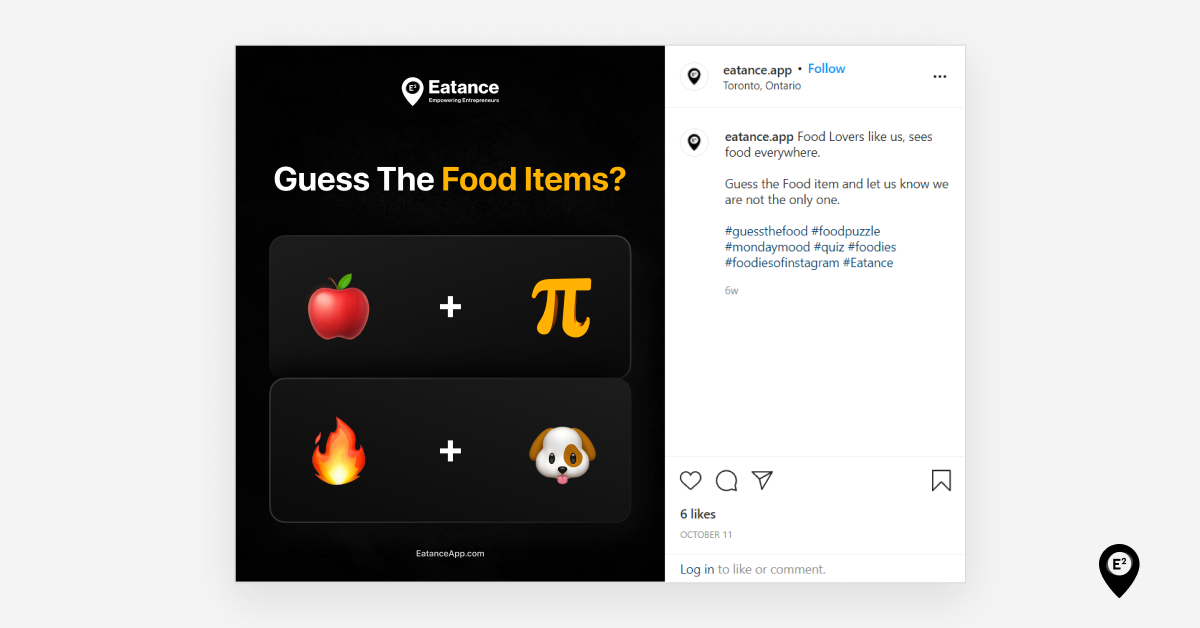 9- Monitor Your Performance and Optimize
It is essential to monitor your social media performance and optimize your strategies accordingly.
After implementing the tactics mentioned above, determine what's working and what's not. For instance, try posting pictures at different times of the day to understand when you get the maximum engagement.
Similarly, try different types of contests and polls to determine what your target audience likes the most. Then, create more of those to get the maximum engagement and drive customers to your restaurant.
Conclusion
Social media marketing is a great way to boost awareness of your restaurant and attract more customers. Use the tips mentioned above to get the most out of your efforts and become the talk of the town.
Also, don't forget to leverage Eatance to enhance your social media game with a Restaurant digital menu. Eatance also allows you to accept online orders and generate more sales. Get started today!