Running a restaurant is easier said than done. The stiff competition combined with the effects of the pandemic has made it difficult for restaurants to attract customers and generate more sales.
Besides, customers today have more options than ever. So, as a restaurant, you need to go the extra mile to attract customers and make them come back for more.
To make things easier for you, we've created this comprehensive guide that covers everything from converting your customers into promoters to online food ordering. Let's get started!
1- Turn Your Existing Customers Into Promoters
Your existing customers are your best bet when it comes to increasing sales. When you treat them in the best way possible, they are highly likely to share their experience with their friends and colleagues.
When someone visits your restaurant for the first time, try to understand how they want their food (spicy, sweet, etc.). Recommend the best dishes to them accordingly. Also, don't ignore the importance of good customer service. Small gestures like this will not only make them happy but also encourage them to keep coming back.
When they revisit your restaurant, try to recognize them and their eating habits. You can even consider giving them exclusive offers to make them feel valued. These actions will entice them to spread the word about your restaurant, thereby increasing your sales.
2- Upselling
Upselling is one of the best ways to increase the average order value per customer. Entice customers into ordering a more expensive version of their current purchase or buy more items.
Additionally, you can consider offering new items in your menu as complementary to build rapport with customers and generate more sales. This will make people notice your dishes and increase the chances of ordering more of these items.
Additionally, use insights from your restaurant food ordering website to determine your top sellers and recommend those to new customers.
3- Improving the Table Turnover Rate
There are times when customers prefer to dine at their leisure. As a result, they take more time to leave your restaurant, making new customers wait longer for their turn to get to the table. As a direct impact of this, you might lose customers as they may plan to go to another restaurant due to the unavailability of tables.
Therefore, create strategies to improve the table turnover rate. Here's how you can do it:
Ensure you have enough staff to greet and manage all the tables.
Assign two or more servers to large tables (>8 people).
Send orders to the kitchen immediately and serve them as soon as they're prepared.
Avoid accepting table reservations on busy days.
You can also consider creating a waiting room for your customers in the queue and offering complimentary drinks to prevent them from leaving. Additionally you can incorporate a contactless dining feature that allows your customer to scan & access a digital menu to order food which further saves time and improves table turnover rate.
4- Social Media Promotions
Around 50% of diners say they have tried a restaurant for the first time because of a social media post. Also, the average spend increases by more than 40% for restaurants that engage with followers on social media.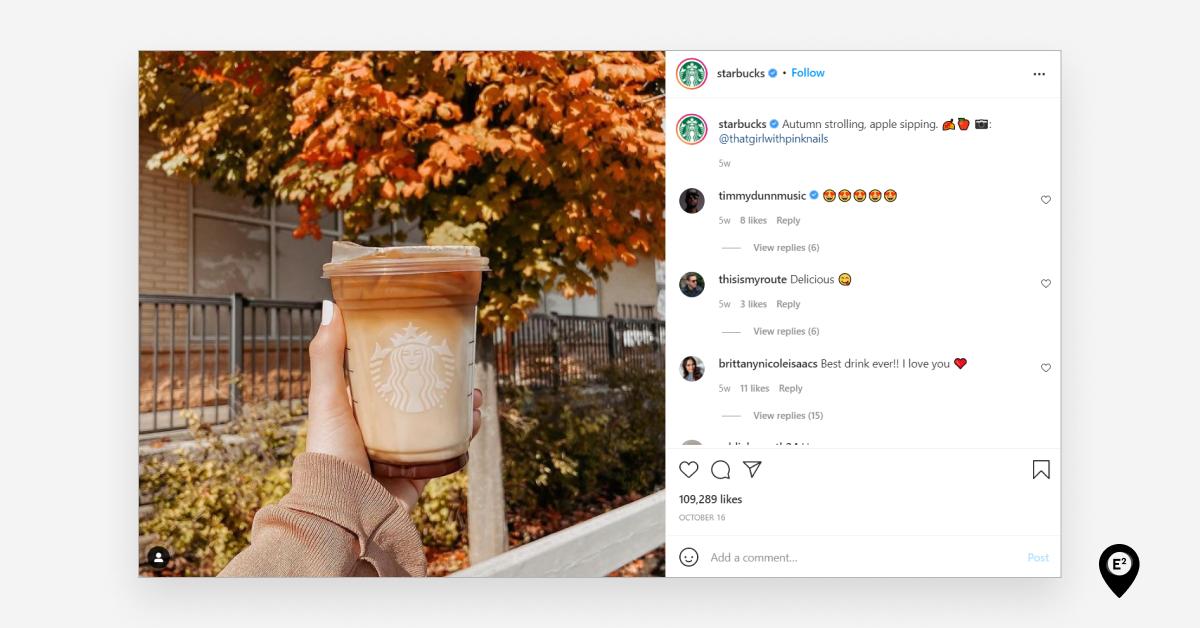 Create business accounts on leading social networks like Facebook and Instagram. Then, post mouth-watering pictures of your food items to attract customers and build a loyal following. Additionally you can place a digital menu link on Social media platforms to allow your customer order food right away from your restaurant.
If you're new to social media, search for the hashtag #food and take inspiration from those posts.
Then, follow these best practices:
Post special offers and discounts for your social media followers.
Upload pictures of every item in your menu.
Show how you ensure hygiene in your restaurant.
Use several hashtags to widen your reach.
Encourage customers to share their experiences with you on social media. Then, repost their content from your social handle to build trust with potential customers.
You can also consider collaborating with food bloggers in your area to reach customers that would otherwise stay unaware of your brand.
5- Providing Offers and Happy Hours
While this is one of the frequently used restaurant promotion ideas, it never fails to attract customers. Provide exclusive offers on festive seasons or weekends to encourage customers to visit your restaurant. Offers do not necessarily mean a discount. For example, you can offer complimentary drinks, cakes, or desserts to satiate customers' sweet tooth after dinner.
If you serve alcohol in your restaurant, happy hours can attract youngsters and adults alike. Since many people want to enjoy drinks in restaurants without spending a fortune, happy hours can prove a boon to both you and them.
You can provide two beers at the price of one or starters at half the price, offer one nachos (or any other item) with every two beers, or even give a flat discount on the total bill. This will help enhance your restaurant's reputation and generate more sales. It could also help in upselling your menu items.
6-Leveraging Online Ordering
Online food ordering has increased significantly during the pandemic. 60% of US consumers order delivery or takeout once a week. Besides, the online food delivery segment is expected to experience revenue growth of 16.6% in 2022.
Offering online ordering can help you widen your audience base and reach customers who would otherwise not order from you. You can use a robust restaurant food ordering website like Eatance to effortlessly manage orders and deliver them to the customer's doorstep.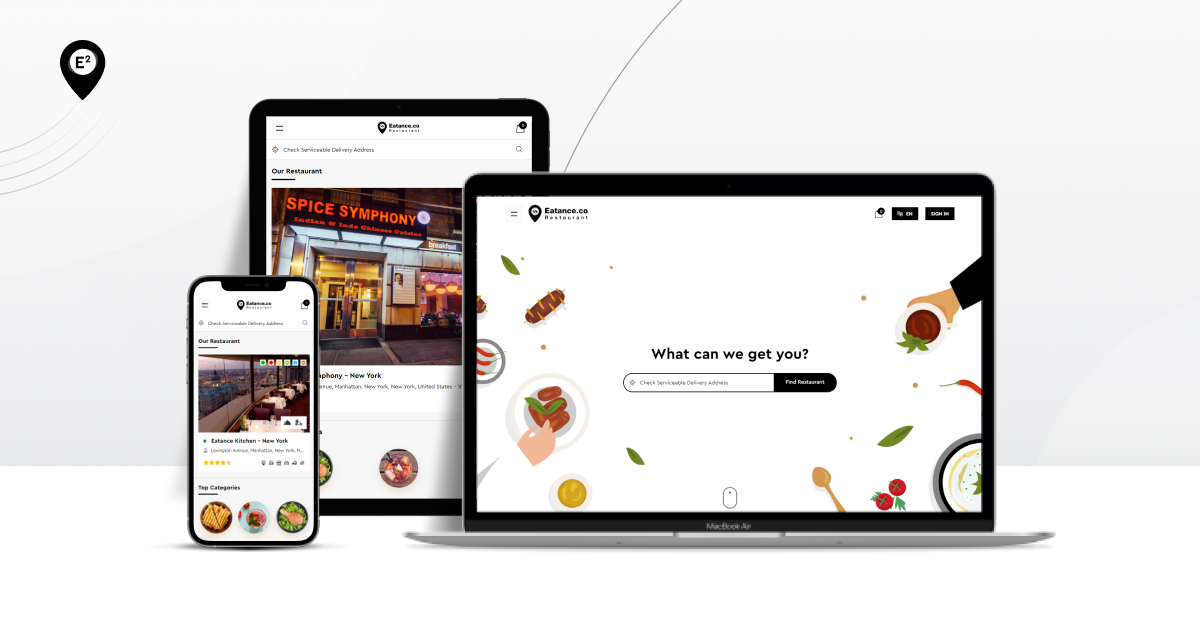 You can even create a separate menu for online ordering to ensure customers only order dishes that are profitable for you.
7- Offering Smaller Plates
The demand for mini-meals is increasing day by day. Instead of opting for full plate meals, customers are choosing mini-meals so they can try several dishes within their budget.
Consider providing a variety of mini options to your customers to choose from. You can even create a mixed plate that consists of multiple dishes that can be eaten as snacks or shared between friends.
8- Hosting Events
Entertainment events can attract customers (usually a group of friends) looking for a change in their daily schedule. You can host various events, such as comedy nights, karaoke nights, or match nights (cricket or football), to attract the crowd to your restaurant.
However, simply hosting events isn't enough. You need the right marketing strategy for restaurants to reach as many people as possible. Though hosting events might not bring many regular customers, it will expose you to many potential customers, increasing your overall sales.
9- Claiming Your Business on Google My Business
Claiming your Google My Business account has become more important than ever. People are actively searching for local businesses that would include your restaurant. This will help potential customers searching for restaurants online find you. They can even locate you on maps and reach your restaurant directly.
When you claim your GMB profile, your restaurant will likely appear in the Google 3-pack for relevant searches.
To claim your GMB profile, go to Google My Business, enter your restaurant's details (name, address, and contact number). Remember, the more information you provide, the better your chances of ranking at the top for relevant queries.
Pricing is as essential as offering delicious food in your restaurant. When deciding the price, you need to consider various aspects like preparation cost, location, and target audience. For instance, if your primary target audience is students, you need to keep prices low to attract them.
You should also consider competition when deciding prices. For example, if other restaurants are offering the same dishes at a much lower cost, you will find it difficult to attract more customers.
10- Offline Marketing
Even in this digital world, offline marketing plays a huge role in attracting local customers. Offline marketing helps reach people who go to the office, visit supermarkets, or travel for leisure within the city.
Consider creating banners and distributing flyers to spread the word about your restaurant in your area. You can even partner with local cab drivers to reach people who take a taxi (as they can easily afford your food).
11- Updated Website – Online Marketing
Leverage technology to reach people who are working from home or are new to the city. Online marketing combined with offline marketing can bring significant results in both the short and long term.
Create a website for your restaurant (if you can't, Eatance can help you with it) that provides all the information to your customers (menu, pictures, upcoming events, etc.). Your website should also allow them to place orders online.
12- Ensuring a Stellar Guest Experience
While good food is vital to attract and retain customers, their overall experience with you also matters a lot. A remarkable guest experience will make them remember you for longer. It also increases their chances of sharing about you with their friends and family members.
Here's how you can ensure a stellar guest experience:
Make the overall vibe of your restaurant positive.
Play good music but at a low volume (so customers can interact with each other).
Live up to their expectations (i.e., take care of their special requests, focus on hygiene, etc.).
Surprise your customers with a complimentary dish or exclusive discount (something that doesn't hurt your profits too much but is valuable to customers).
Ensure your staff is polite even if the customer is angry.
13- Email Marketing
When done right, email marketing can generate $44 for every dollar spent. It can help you reach your existing customers and spread the word about your restaurant.
You can use email marketing to inform customers about the upcoming event, the latest dishes, or even build a long-lasting relationship with them.
Follow these email marketing best practices for restaurants:
Send a weekly newsletter that provides value to customers.
Start email campaigns a week before any event.
Share mouth-watering pictures along with exclusive offers to entice customers into ordering.
Add a call-to-action button to let customers know what they should do after reading the email.
Personalize the subject line and segment your email list based on customers' interests.
14- SMS Marketing
One of the most undervalued restaurant promotion ideas, SMS marketing, can help reach customers on the go. Send exclusive offers along with links to your website (where customers can redeem the discount) to encourage them to order.
You can also consider adding a time limit to your offers and send multiple messages to remind users that the offer will end soon.
SMS marketing is also a great way to collect customer feedback and understand their overall experience with your restaurant
15- Analyzing Reports
A robust restaurant food ordering website can help you analyze and optimize your restaurant sales. For instance, Eatance can provide you with real-time insights into everything happening in your restaurant, even if you're not physically present there.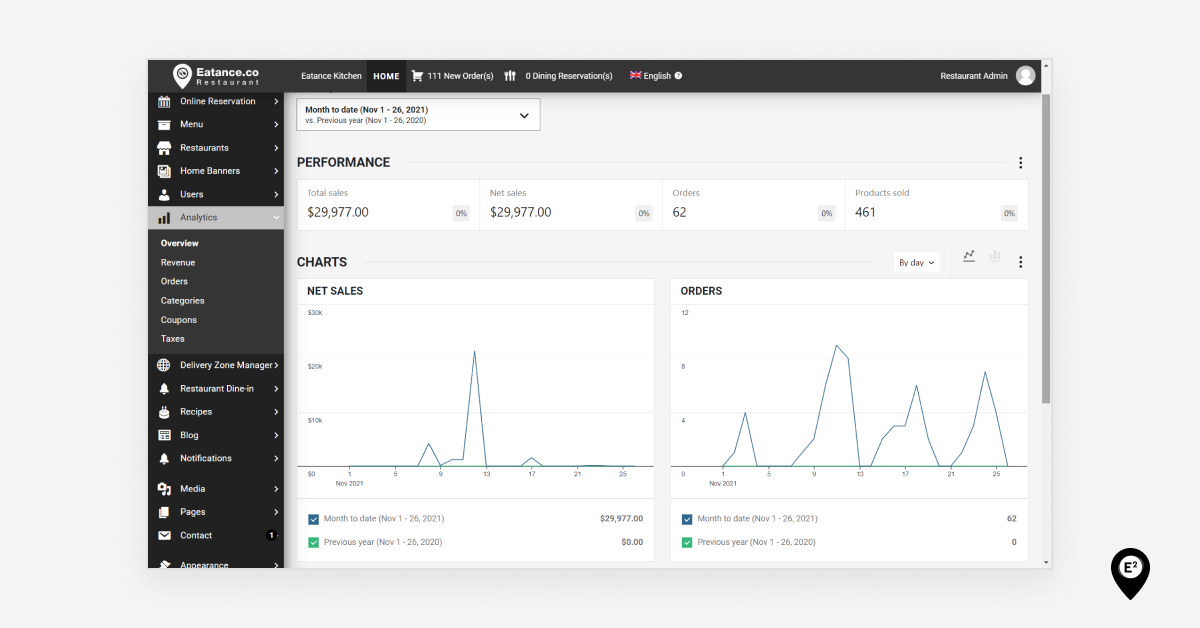 You can check the number of live orders, past orders (dine-in and online), average order value, discounts given, most selling items, and more.
With all these insights in hand, you can optimize your menu and offerings (price, discount, etc.) to meet your customers' expectations. Then advertise the changes to attract potential customers to generate more sales.
16- Creating Combo Meals
Combo meals allow customers to enjoy several dishes at the price of one. Create combo meals that include your top-selling items and a popular beverage. McDonald's is a great example of a restaurant leveraging combo meals. Its combo meals usually include a burger with cold drinks and a burger with french fries & cold drinks.
This helps attract customers with different budgets while increasing the sales of additional items in the restaurant. You can even consider combining your high-profit low-sales items with low-profit high-sales items to improve your overall profit margin.
17- Communicating With Your Employees
Probably the most overlooked marketing strategy for restaurants is asking employees about it. They are the closest to customers, serving them day in and out. Ask your staff what they think should be done to attract more customers. There are high chances that they will give you several great suggestions.
You can arrange an open house once a month where your employees can share strategies and opinions on how to increase sales. This will also help you better understand consumer behaviour, enabling you to make changes accordingly.
18- Make It Easier for Local Customers To Find You
If local customers don't know about your restaurant, you won't generate enough sales. Therefore, it is crucial to make it easier for people to find you.
Use a combination of offline and online marketing to reach customers right where they are. Additionally, invest in search engine optimization to appear high up in search results for relevant queries. You can do that by:
Optimizing your website for mobile
Creating unique content that offers value to customers (recipes, how-to blogs, etc.)
Using the right keywords
Making online ordering a seamless process

19- Evaluate Your Online Ordering Strategy
We are likely to witness an increase in online ordering in the coming years. Don't just take my words for it. Online food delivery is expected to account for 40% of the total restaurant sales by 2025.
For online ordering, consider whether you want to deliver them yourself or partner with third-party platforms. However, keep in mind that third-party delivery services charge 15-30% commissions on every order on average.
With robust restaurant ordering software like Eatance, you can automate delivery charge calculation based on the customer's distance from your restaurant. This will help ensure your profit margins don't get affected even when delivering foods.
Conclusion
Evaluating and optimizing your restaurant's strategy is crucial for its success. As things start to get back to normal, implement these 20 tips to attract more customers to increase restaurant sales.
Also, don't forget to take advantage of the world's leading restaurant food ordering website, i.e., Eatance, to manage orders and understand your business's performance. We also help you build a website and mobile app for your restaurant to accept online orders, further increasing sales.
Contact our experts today!