Online ordering websites are a trend that doesn't show any signs of going away anytime soon. These sites are growing in popularity so fast that there are even mobile apps dedicated to helping you find food truck locations and menus.
Don't believe me? Here are some statistics.
Since such an abundance of options is available, it can be challenging to stand out in the crowded field of catering services. However, making sure your site is user-friendly and easy to navigate. Moreover, adding as many helpful features as possible will give you a leg up on the competition.
But how can a food delivery website help grow your business? Let's understand that! But first, the basics.
What Are The Two Main Types of Catering Businesses?
There are two basic types of catering businesses: one that prepares food on-site and provides the service of setting up, serving, and cleaning up the dishes. The second type is the off-premises catering businesses that prepare food in central kitchens and provide foods that only need to be served.
The first type of catering business is more costly because they have to deal with the added costs of renting and maintaining a commercial kitchen space. Ensuring proper health and sanitation standards are met.
Although the second one also needs to meet hygiene and sanitation standards, they get the freedom to prepare their dishes anywhere, enabling them to reduce expenses.Irrespective of the type of your business, online ordering for catering businesses can help you get more orders and outperform your competitors.
What Makes a Successful Catering Business?
The catering industry is one of the most profitable and popular business ventures you can start. The industry is also showing a strong recovery from the pandemic levels.
According to RCIntel, in 2023, the catering business in Canada is forecast to grow sharply, with sales to $6.4 billion, a 29.4% YoY nominal change (over 2022).
However, it comes with a few challenges, the biggest being finding enough customers to keep your doors open. Fortunately, an online catering ordering website can help you reach new customers and make it easier for existing customers to place new orders.
With a website, you'll be able to reach more customers, no matter where they are located. You can extend your catering reach to customers who only have smartphones — and many people do! Customers can browse your restaurant digital menu, select their desired catering option and easily place their order.
Here are some more things that can help you make your catering business even more successful.

Know your customers
The first step in running any business is understanding who your customers are and what they want from you.
Catering clients come in all shapes and sizes — from small family reunions to corporate banquets — but they all have one thing in common: they want their event to go smoothly and be memorable for all the right reasons.
To do that, knowing what makes each group tick is essential. For instance:
Do they like finger foods or sit-down dinners?
Do they like fancy dishes or simple ones?
Can you accommodate special dietary restrictions?
The answers to these questions will help you figure out how best to serve each group, so they always want to come back for more!
Excellent food
The most critical factor in a successful catering business is your food quality. You must have delicious and exciting dishes that appeal to all tastes but also be able to offer something for every budget if possible.
Ensure you only use fresh, high-quality ingredients and the food is cooked with care to be as appealing on the plate as in the mouth. Your clients will remember how good your food was long after they've forgotten about the venue or other aspects of the event.
Skilled staff
When you hire staff for your catering business, ensure they are skilled at what they do. Make sure they can handle any situation that might arise during an event.
For example, if you're serving alcohol at an event, you may want someone who can mix drinks quickly and accurately without spilling them all over! This person should be well-groomed and courteous but also know when to say no to requests (e.g., when kids want to try the drinks) . And not sounding like a stickler for rules or being rude.
How Can an Online Food Ordering Website Help Your Catering Business Grow?
In fact, an online food ordering website can be the most powerful tool in your catering business arsenal. You can take your business to new heights with a robust online ordering platform and an effective restaurant marketing strategy.
Here are three ways a food delivery website can help you grow your business.
1. Food Ordering Websites Are the New Normal
A website is the most important tool for your catering business. It is your first impression to potential clients and a place where they can learn about your company, services, and products.
A recent study has found that 63% of consumers prefer to order food directly from restaurants, which is expected to rise. This shift in consumer preferences indicates that ordering from a website isn't a novelty — it's the new normal.
More customers want to be able to browse menus and place orders at their convenience. Catering businesses and restaurants that offer online ordering can take advantage of this shift in consumer preferences .
For example, The Lazy Gourmet, a leading catering service provider in Canada uses its website to highlight its services and attract customers.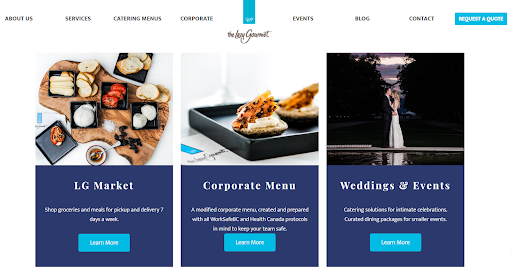 Cole's Catering Services is yet another example of a catering company using a website to promote its business. They have even used compelling copy to drive interest in their services.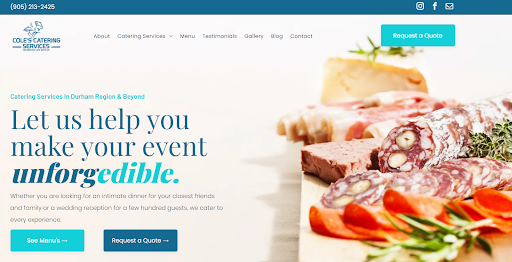 You may also find that online ordering is more convenient for staff members. As a result, you can either reduce the number of employees or give employees a less stressful work environment.
2. Help Build Your Brand and Establish Your Presence
A website is a valuable tool to reach out to your customers and increase their awareness of your business. It is an effective marketing tool that helps improve customer relationships and build brand loyalty. Plus, many online ordering websites have built-in features that make adding your menu items and photos easier.
Besides, many people might not even know that you offer catering services. As a result, you may lose out on catering orders because your customers don't know you're in the business. An online ordering website can help you reach a wider audience and establish your presence as a catering business.
It also makes it easier for customers to find your business and provides them with valuable information about your menu items and catering services. Consumers are more likely to reach out to you if they can easily find information about your business.
For example, a simple Google search for "catering services in Toronto" shows these companies: The Food Dudes, Kiss the Cook, Elle Cuisine, and others.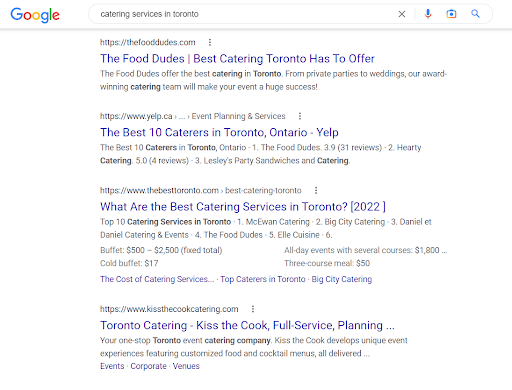 See, what having a website and optimizing for search engines can do for your catering business? Get you to the top of search results. And mind you, 68% of online experiences begin with a search engine!
3. Streamline the Catering Process
Catering is a great way to let your guests enjoy what they want and when they want. But catering can also be time-consuming and challenging to manage, especially if you don't have the right tools.
A website can make your life easier by streamlining the process. For example, it reduces the number of steps your employees must take to receive an order. Besides, by integrating your website with a restaurant food ordering system, you can track real-time updates of the order and ensure everything is going smoothly.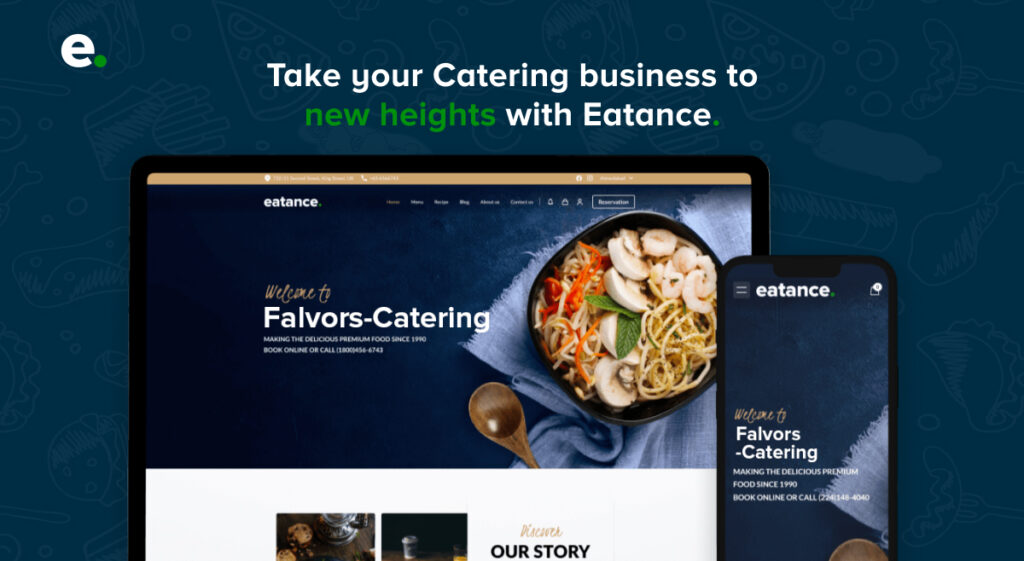 This will allow you to streamline the ordering process and reduce errors. In addition, online ordering removes the need to fill out a paper order form and allows customers to place their order at the click of a button. This is especially helpful if you're catering an event and don't have time to sit at a computer and take orders verbally.
Wrapping Up
This takeaway is pretty clear: if you operate a catering business and haven't considered using an online food ordering website, now's the time to give it a second look. By setting up an online food delivery website and offering bonus perks, your catering business can quickly reach new heights!
However, building a website doesn't have to be expensive. With the Eatance restaurant website builder, you can create your catering business's website for free and attract more customers. Ready to get started?