Divided by boundaries, united by food! No wonder food has faded the political boundaries of the world. While Dominos and Pizza Hut bring Italy to your dining room, there is hardly any cuisine around the world that cannot be accessed from the comfort of your home. All credit goes to the Food Delivery Business. The business is not just fulfilling but beneficial too as the increased food delivery demand in the millennial scenario makes a big room for the food delivery companies to play in.
Though a systematically driven food delivery business is great anywhere, Canada has its own perks because of the huge demand for delivered food. Are you planning to start a food delivery business in Canada? If yes then you are welcome for a detailed reading of what you need to have and do to successfully start your food delivery services. If not, so what? Knowledge is never enough.
The Types of Food Delivery Business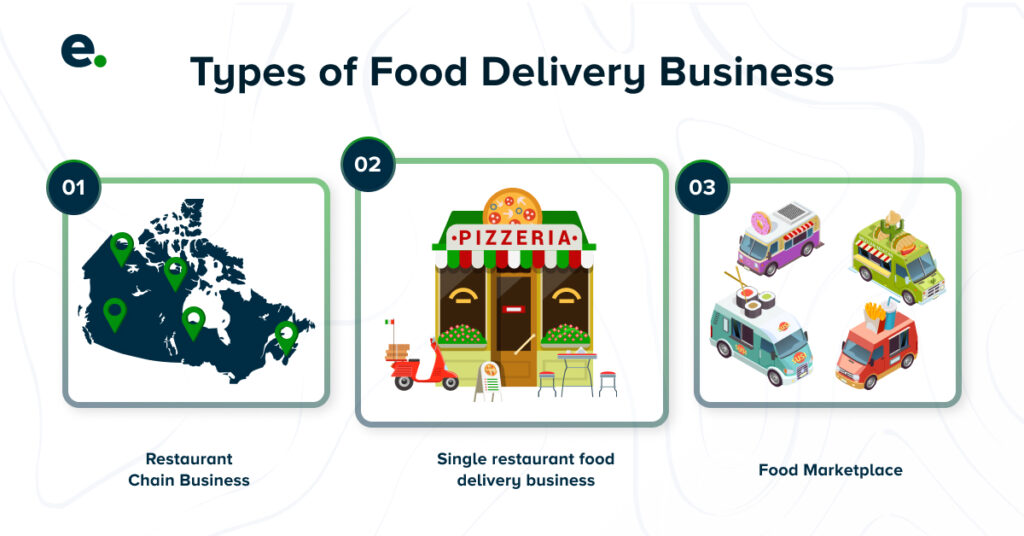 After the pandemic reeled the food industry, a beacon of light dished out from the food delivery business in Canada. The Canadian food delivery industry is expected to hit $98 billion in 2027 and that verifies that your idea of investing in this sector is not at all a bad idea. So, now you are supposed to work on this idea very judiciously.
First of all, choose the food delivery business type that suits you best. The three main types of delivery businesses are:
1. Restaurant Chain Business
A restaurant Chain Business is one where you open a chain of restaurants. In this model, you will serve at the sight and will be open to deliveries too. Brands like Domino's, Pizza Hut, Subway, etc. are an example of such business types. It can be costly and needs very robust planning and a huge pocket.
2. Single restaurant food delivery business
A single restaurant business is one where you have a single restaurant and carry dine-in and deliveries from one location. Hawks Worth restaurant is a great example of such a restaurant and it has added a lot to its revenue due to online food delivery.
3. Food Marketplace
One of the fastest-developing food delivery businesses in Canada is the food marketplace. In this type, you don't own a restaurant but deliver food from different restaurants through a single app platform. Skip The Dishes, UberEats, DoorDash, etc. are fine examples of how great the food marketplaces can do. This business type is not as costly as the previous two as you don't need to set up a physical kitchen and all. Check how much a food delivery app can cost.
Steps to Start online food delivery business in Canada
Now that you have decided on the type of food delivery business that you would venture out then here are the steps that you must follow for kickstarting the business.
1. Come up with a good business plan
The plan always comes first and your entire journey of opening the food delivery business depends on how tight and crisp is your restaurant business plan. Study and analyze your target audience and the prerequisites to cater to that segment. The planning segment must also include your budget and essential elements like workspace, equipment, technology, staff, logistics, etc.
Set time goals that are realistic and budget-friendly so that you don't have to change your strategy mid-journey. For any business type, your workspace must be at a location that is under budget but near the highest order density area to reduce future logistic charges and time. Right decisions during the planning will bear the sweetest fruits after the execution.
2. Select a catchy name for your food delivery business
Though it is just a name, your restaurant's title must be very catchy and resonating your brand's ideology. Keep it simple yet fantastic.
You have to get your business name registered too and many provinces have certain guidelines regarding the name. So, do keep that into consideration before signing up for a name.
3. Finish your legal and financial requirements
One of the most important parts of almost all businesses is to be legally sound and prepared. In the food delivery business in Canada too, you require to have licenses based on the area you are running your business in. Get your business registered with Canada Revenue Agency and the local province. Many areas like Ontario require a final inspection by a food inspector, so need to be well prepared for the same. There are many other legal walks like:
4. Business Permit
Get your business permit as per local and federal laws before starting your venture. If you are opening a business in Toronto, then you can get your business license at the following address-
Toronto Licensing & Standards @ www.toronto.ca/licensing/index.htm
STATIONARY, TRADE, FOOD & OTHER PROFESSIONAL BUSINESS
112 Elizabeth St., Toronto, ON
Tel: +1 (416) 392-3051

VEHICULAR BUSINESSES
East York Civic Centre
850 Coxwell Ave., 3rd Floor
Toronto, ON
Tel: (416) 392-3082
5. Register for Tax
Get your employer identification number issued from IRS Website and register your business for tax according to state laws.
6. Bank Account
Open a bank account for your business separately so that you can separate your personal assets and also it becomes easier to automate tax payments and other credit lines.
7. Insurance
There are some insurance requirements too, to start a food business in Canada. You need to have business insurance, employer insurance, etc. to protect your business from unforeseen circumstances.
8. Get a Robust food delivery application
Getting started with a food delivery business in Canada can be the most minting. You must reach the maximum audience to compete with high-end brands if you care enough to have a food delivery application for your business. Moreover, having an application makes your operations very convenient and systematic. Your customers can order directly from the app, and you can process the deliveries faster and better.
Ensure that you get the app developed by professional developers only that carries a good experience in food delivery app development. It must have all the premium features like real-time delivery tracking, payment gateways, detailed menu description, grievance redressal, smooth user experience, front-to-end user connectivity, etc.
Food delivery apps like Dominos and Pizza hut are examples of great apps. Here is how to get app Like Dominos and Pizza Hut.
9. Staffing according to the type of delivery business
Restaurant staff will play a very critical role in the success of your business. Hire expert chefs who are experienced in handling the cuisine you are dealing in. Hire delivery agents that are licensed and efficient at their job. Based on your business type, you will need to hire waiters, cleaning staff, guards, etc. too.
Conclusion
If you need the most innovative and agile digital solutions for your food delivery business, then Eatance App can be your best pick. The expert developers can build an impeccable multi-restaurant food delivery app or a single restaurant food delivery website so that you can easily cater to your online orders with the utmost efficiency.