Running a business is a consistent journey that asks for continuous and dire efforts to maintain the sustainability of success. When it comes to a restaurant business, you must become extra persistent as the industry is vulnerable to technical and trend changes. Catering to the ever-evolving nature of the restaurant industry, you need to be avant-garde and compatible with the latest technologies.
All the widely accepted and efficient technologies that have the potential to leverage revolutionary changes in any business are directly or indirectly linked to smartphones. 82% of shoppers will use their mobile devices to read product review and finds better deal before talking to a sales associate. The reason is quite evident as smartphones are the most feasible way to connect with customers.
The recently ringing technology beeping in smartphones nowadays is Phygital Marketing. You read it right, and it is not a typo. Carry on reading about Phygital Marketing and how it can revolutionize customer experience and engagement in your restaurant.
What is Phygital Marketing?
This seemingly typo word is a collaboration of Physical and Digital. Diving into the true meaning of phygital marketing, it refers to the corridor of marketing that combines the physical attributes of a service or product and digital marketing measures.
The main aim of Phygital marketing is to get the best of both worlds, Online and physical. To prevent you from juggling between physical and virtual features of your product and service, this slicey technology catches you with a more vivid and amplified customer base.
IKEA: phygital marketing that celebrates the brand's DNA https://t.co/e6oftFjyTd

— Amin Boutabet (@Amin_Boutabet) September 15, 2022
It provides a wholesome and best experience of your services for the consumers while highly beneficial to the businesses.
Restaurants, Phygital Marketing, and the I Factor
Now the main concern is how Phygital marketing can help you in your restaurant business. There are many ways that a restaurant business can benefit from this new buzz in the marketing lanes. Three main factors that play a major role in leveraging fruits from it are: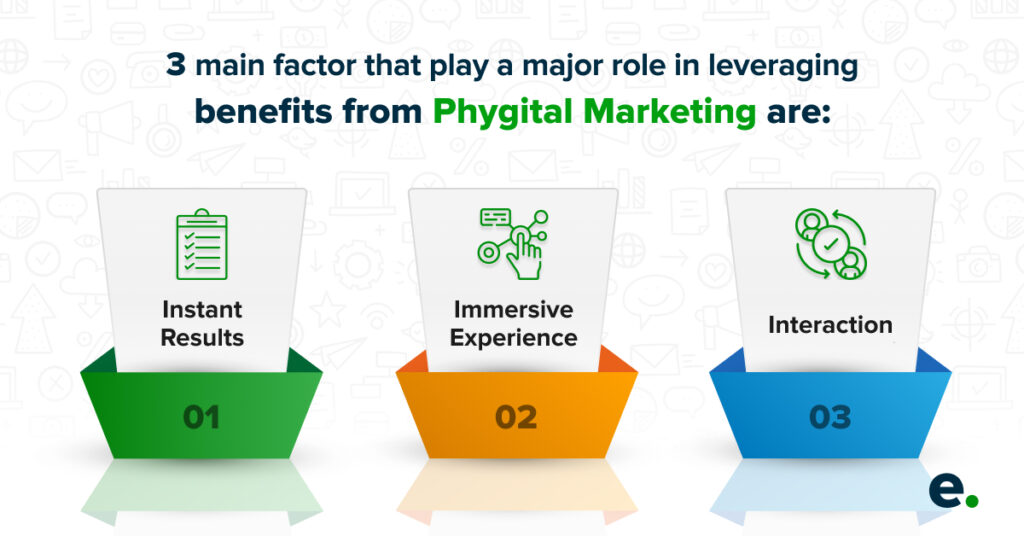 Instant Results- Keeping up the pace with millennials' phygital marketing helps in instant notifications and making choices instantly along the line. Customers don't have to wait for their favorite food or book their table in their favorite restaurant. Instant results are a boon for increasing restaurant sales.
Immersive Experience- In today's era, when your competition is not just with the restaurant in the next lane or two streets away but with every restaurant neighboring you virtually. You need to have a powerful impression in your promotional content.
Interaction- Customer engagement hails from customer interaction with your restaurant through your app, website, emails, etc. These provide scope for personalized and direct messages and notification services to create brand awareness. Thus, making your restaurant reach maximum ears and eyes. Phygital marketing makes it feasible to get real service and product experience.
Benefits of Phygital Marketing
It is not easy to decide when we have a lot of money and brand reputation at stake. If you want to be convinced with phygitalising your restaurant business, then here are some benefits that can push you more towards this new age restaurant marketing strategy:
1. Building brand reputation and awareness- Phygitalising has the power to make your business stand out from the rest and will spread your brand's vision, name, reputation, and uniqueness. It will help you gather more value and profits and get the restaurant management airtight.
2. Personalized services- By using the digital approach for your service and deliveries, you can offer your customer, the possibility to customize and personalize their products. It will shorten the gap between customers' expectations from you and what you deliver to them. It eventually counts in your success, thus adding loyal and satisfied customers to your customer base. Personalized services will make your dining restaurant the first choice for its visitors.
3. Improve Customer Experience– By uniting the digital worlds of an app or website with the physical environment of a restaurant or a cafe, the customer is more deeply ensnared in the experience that you offer. The ability to interact both physically and digitally with your service leaves a lasting impression that could transform them into loyal customers.
4. Better Brand Loyalty– Even when a client is already loyal to your restaurant due to fantastic food and service, improving your business experience with a Phygital Process will help to improve brand loyalty more as it will touch your customer's conscience more deeply.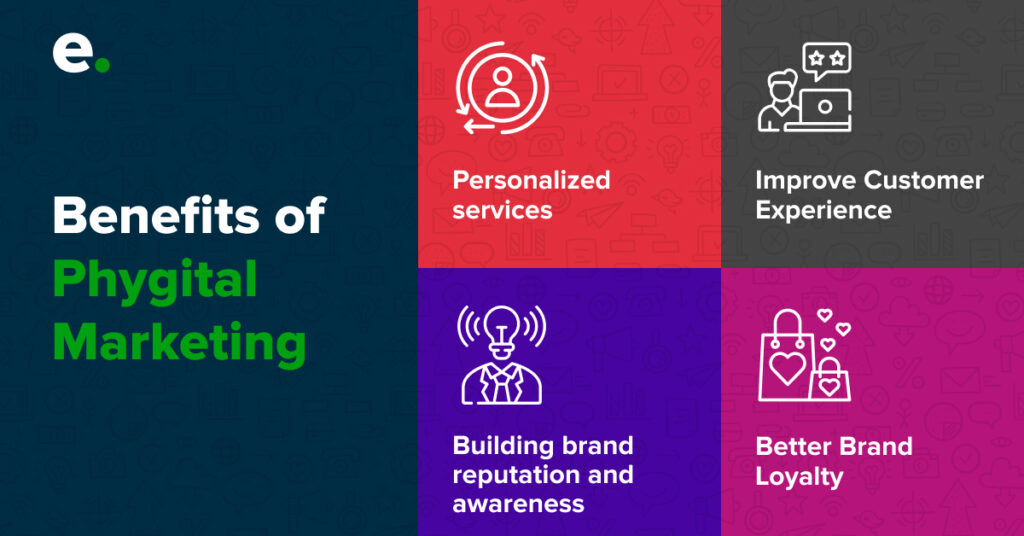 Examples of Implementing Phygital Marketing in your restaurant management
Immersive waiting time- Waiting time while your customer's order is getting prepared can help you significantly if you go wise with your strategies. It is great to make fast deliveries but even great is to make their waiting time immersive. Provide free wifi and or keep some books for your customers to read while waiting for their order.
QR Code- Many restaurants have already opted for this feature, and if you still not have then don't wait for more. Place QR codes on the tables that open a virtual menu of your place.
Anywhere Ordering- How great it would be if your customer could order from the parking and can get the food ready while they reach their table. That sounds really progressive. Providing a table or event booking feature for dining-in options provides a seamless customer experience. Thus, adding to your business's growth and customer happiness.
Multiple payment Options- The fight for change and forgotten wallets seems to be more than outdated with online payment options. But, to be ahead of time, you need to be more updated with the fashions of payment running around. You can add in-app payment options where your customer can make their payment online on their personalized app account. You can add the feature of rewards and points with each transaction that can be used during further payments. An e-wallet option for each customer can also be a great option, just like the latest e-commerce websites have.
Targeted promotions- You cannot sell combs to bald. This means that you must know what to sell to which customer. Phygital marketing enables you to channel and streamline your promotional content as per the needs of a customer. It can help you target your customers with custom content of restaurant marketing through location-based notifications and offers.

Phygital marketing establishes a strong long-lasting relationship between a customer and the service provider if executed accurately. It enables more vibrant customer interaction and helps the brands to analyze their customer experience with robust data analytics. So, if you want to alleviate your restaurant's customer experience and want it to stand powerfully unconventional, then Phygital marketing must be your next strategy.