Restaurant promotions can involve everything from happy hour deals and showcasing signature dishes to running day-based deals and creating loyalty programs. These promotions are a great way to drive new guests and convert first-time visitors into regulars.
However, with hundreds of restaurant promotion ideas out there, choosing the ones that work could be overwhelming. To make things easier for you, we have curated a list of strategies that work wonders irrespective of the size or cuisine of your restaurant.
So, without further ado, let's get started!
1. Leverage Local Events
Plan a promotion around big events in your locality. For example, if your restaurant is located in an area where people follow football more than any other sport, you can run promotions on match nights. Make sure to install a projector and a big screen so your customers can enjoy the match at your restaurant.
Since they will be watching the match, the chances are they will order more than regular customers just to sit and enjoy the game on a big screen.
This experience will encourage them to visit your restaurant more often, especially on match nights, driving more sales and increasing loyalty.
2. Holiday Promotions
No one likes to cook food during holidays. By running promotions on special occasions, you can see a significant lift in your sales.
In fact, it's quite easy to drive customers to your restaurants during holidays. All you need to do is create a theme and design special menus for a holiday. Also, make sure to offer customers some great discounts or complimentary dishes.
For example, you can create a special Christmas menu during Christmas week that lasts for 10 days. This will intrigue curiosity and tap into customers' FOMO, encouraging them to visit your restaurant.
However, it is crucial to create holiday promotions at least a fortnight before and advertise them on various channels (social media, emails, offline marketing, etc.) to ensure your potential customers know about them. Thankfully online food ordering Restaurant Website like Eatance allow you to run promotional offers for free.
You can also consider offering additional discounts to customers who visit your restaurant during the holiday season more than once to encourage repeat sales.
3. Everything At $$ This Friday
Use your Restaurant POS System to identify the days when you receive the least orders/footfalls.
Then, create a special menu and offer everything at a fixed price on that day. Friday is a good day to run those promotions as most people are in a mood to enjoy the weekend and are highly likely to order/visit regularly.
However, it is essential to know the margins of every item in your menu. Generally speaking, it's best to incorporate more high-margin dishes and low-margin but high-selling items.
Understanding your margins will help you make an informed pricing decision while driving loyalty to your restaurant.
4. Loyalty Programs
Loyalty programs are known to drive repeat sales and considered to be one of the best restaurant promotion ideas to increase loyalty in restaurants. Starbucks is one of the most prominent examples of a brand leveraging loyalty programs to drive repeat sales. Starbucks Rewards Members now represent 51% of all US transactions, 8% more than pre-pandemic levels. Besides, 47% of diners use at least one loyalty program.
Offer your customers rewards for repeatedly dining in your restaurant and encourage them to visit more often. If you find that the loyalty program is eating away your margin, you can put a cap on how much a customer can redeem in a single order or try setting an expiry date for the points.
5. Offer Discounts on Subsequent Orders
Probably one of the best restaurant promotion ideas is offering discounts or flat $ off on subsequent orders. For instance, spend $50 and get $10 off your next order.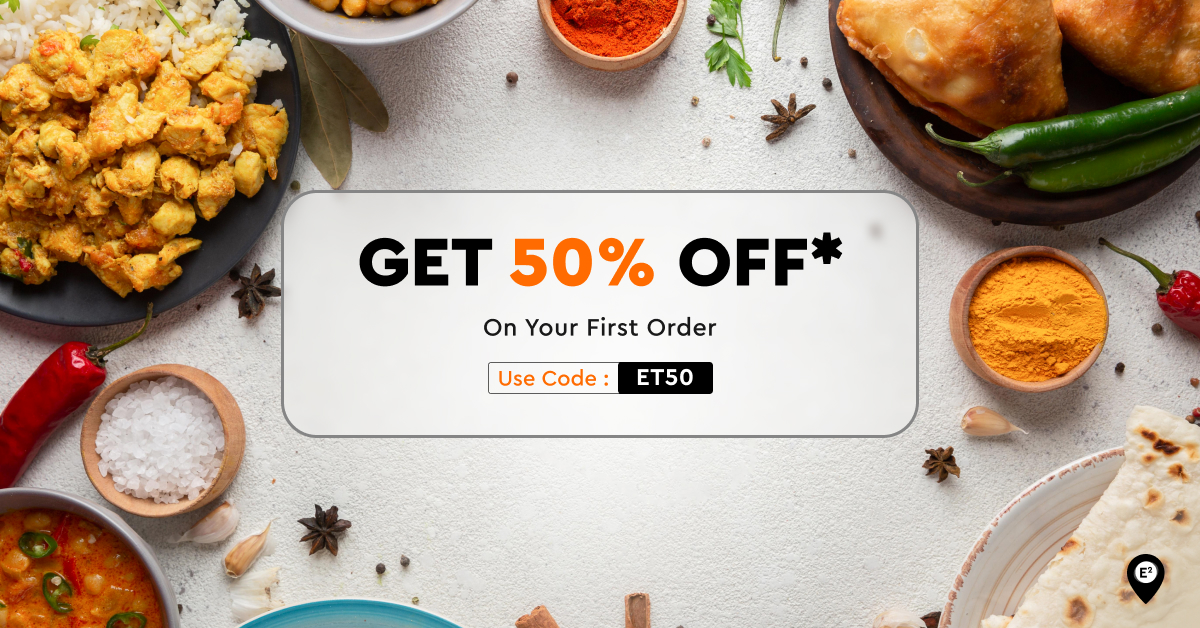 This will encourage customers to spend more on your restaurant, increasing the average revenue per user. Plus, they will visit your restaurant more often (to redeem the benefits).
You can also consider setting a time for redeeming the discount. For example, customers can only get a deal if they order again within a month. This sense of urgency can be good for your business.

6. New Item Offer
Whenever you launch something new in your restaurant, give some offers to early birds. This will make them feel valued and create a set of loyal customers.
For example, you can offer the new dish at a lower price to the first 50 customers. If they like it, they will not only return for more, but they will also likely recommend it to their friends.
7. Encourage Online Ordering
The demand for food delivery has grown rapidly in the last few years. People who live far away from your restaurant or are busy are highly likely to order from you if you tap them with the right offers.
However, you will need a robust online Food ordering Restaurant website. You can build your restaurant website from Eatance.
Eatance enables you to manage orders, capture customer information (like email and phone numbers so you can target them with personalized marketing campaigns), and run promotions.
With that, here are some ways to get more orders from existing customers:
Offer free delivery above a certain order value. 

Give discounts to customers who order more often (you can find them on your online food ordering system). 

Showcase attractive meal deals and best-selling items. 

Make your menu visually appealing by adding  high-quality, mouth-watering pictures. 

Make reordering a seamless process. 
8. Try Pop-Ups
A pop-up or a food truck parked in an area with a high footfall allows people to taste your menu in non-traditional settings. While billing, you can inform them about your restaurant and even offer a unique discount card to encourage them to visit.
The good thing is, you don't have to take your entire menu to the food truck - only the best-selling items. This way, you won't need many staff or a high budget to manage the pop-up while still getting the maximum benefit.
9. Social Media Contests
Social media contests are yet another great restaurant promotion idea that can boost engagement and increase loyalty. They also enable you to build long-lasting relationships with customers.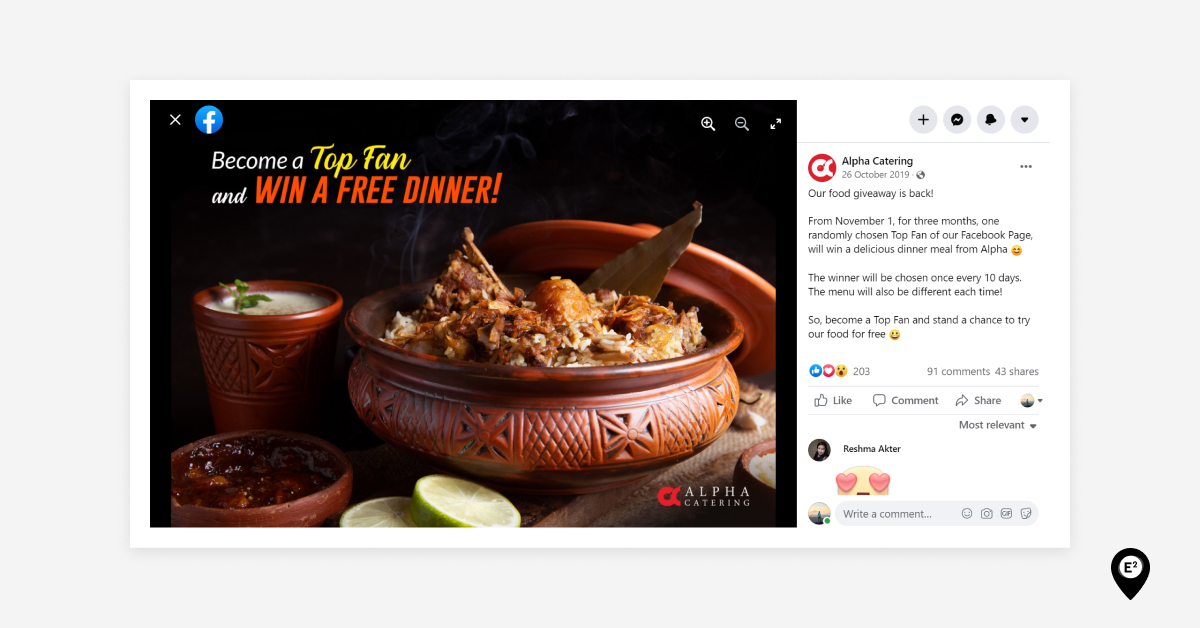 For example, sending an invitation to your customers via email shows that you haven't forgotten them. This will entice them to join the contest, thereby boosting engagement.
Here are some social media contest ideas for your restaurant promotion.
Share to win:

Ask your followers to share pictures of them eating at your restaurant or of the dishes and tag you to get a chance to win. You can then reward the person with the maximum engagement in their post. 

Leave a review:

Social proof acts wonders in driving new visitors to your restaurant. Since people look for reviews before visiting or ordering from a restaurant, you can leverage this to your advantage. Ask your customers to leave a review and stand a chance to win a prize. 

Celebrate a loved one:

When running contests during holidays, you can host a free dinner for the winner, and their loved one would be a great idea. Ask people why they want to win a prize for their loved ones. This will increase engagement and reach a bigger audience. 
10. Fish Bowl Technique
The last one in our restaurant promotion ideas list is the "fish bowl technique."
It involves collecting customers' contact details but with a twist. When someone visits your restaurant, ask them for their business card and put them in a round bowl. If they don't have their card with them, you can note down their name on a piece of paper and put it in the bowl.
One of the lucky people will get the chance to have a free meal at the restaurant. It entices more people to give their business cards to try their luck. You can then use the information to send promotional emails and drive them to your restaurant again.
PS- This works best when your restaurant is the busiest. That's because more people will know and participate in your promotion.
Streamline Your Operations With a Restaurant Ordering System
Customers notice when you have your act together, and smooth operations like this make them feel you're reliable and are highly likely to make them loyal. That's why more and more restaurants are adopting an ordering system that makes everything seamless.
Eatance is an Online Food ordering system that allows customers to order from your restaurant and get doorstep delivery, Also its in-built POS system helps to manage and streamline all type of orders. You can also Create/Manage orders for dine-in customers and save their contact information to reach them with a promotion later.
Eatance offers all the features you need to increase customer loyalty:
Mobile-friendly website

Easy billing POS System

Promotional offers creation at no cost

Digital menu for Facebook and Instagram

Contactless table reservation and event booking

Effective and customizable menu

Analytical and robust dashboard
The best part? You can get upto 100% off on the Eatance Pro license and get a free food ordering system valid until December 2021.
Check out the recent achievement of delivering 45 FREE Restaurant websites in a week.What are you waiting for? Get your feature-packed online food ordering system for free today! Contact Us.