Contests are an exciting way to ramp up engagement and generate interest in your restaurant. Thanks to social networks like Facebook and Instagram, you don't even have to step out of your restaurant to run contests, and they don't cost a dime to set up.
However, you need to ensure that the contests are fun and engaging. If not, all your efforts will likely go into vain. Therefore, in this article, we've handpicked the ten best contest ideas and themes for your restaurant.
But before we dig deeper, let's understand their importance.
Benefits of Running Contests in Your Restaurant
With the right contests in place, you can quickly become the talk of the town.
In fact, running contests and online promotions help reach potential customers who otherwise might not have discovered your restaurant. It also helps generate excitement and increase engagement, ultimately leading to more sales.
Research shows that when brands run social media contests, they gain an average of 17,500 social media fans and 34% new customers.
Contests also help nurture your relationship with existing customers. For instance, you can send a link to customers to join the competition and stand a chance to win a prize. This shows you haven't forgotten them and helps create a two-way relationship with them. This, in turn, will do wonders for your restaurant's reputation and sales.
10 Restaurant Contest Ideas
1- Share to Win
This is one of the most popular and effective restaurant contest ideas. Ask your customers to share photos of themselves dining at your restaurant or your dishes (in case of online ordering).
Ask them to tag you and use a unique hashtag (highlighting so you can easily find their photos. You can then reward the person whose post has the maximum engagement.
You can even consider rewarding the top five contestants with a discount on their next order.
P.S- Don't forget to repost customers' posts on your social handles (via stories). This will further encourage others to share it for a shoutout. You can even consider adding them to your story highlights.
2- Engage to Win
Yet another popular contest strategy, engage to win, involves asking users to like the post, follow your account, and tag their friends in the comment section to win a prize. The prize could be a gift card, free meal, or another deal that can entice them to participate.
Here's an example of a restaurant offering a free dinner to its top fans on Facebook.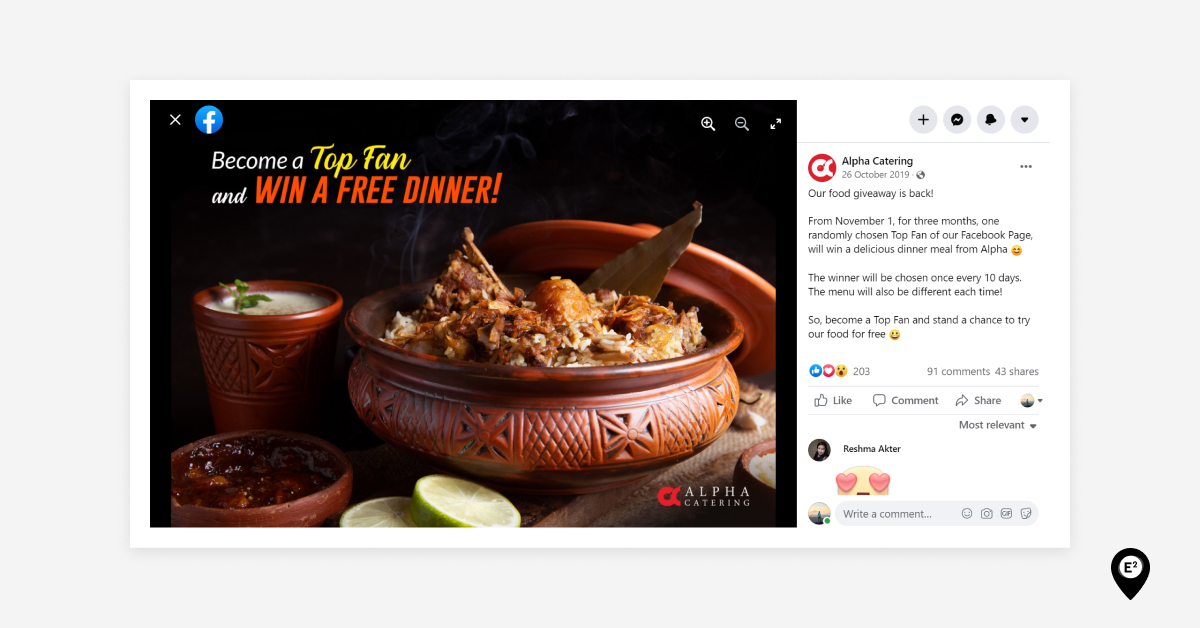 You can run these contests on different platforms to increase your followers on every social handle. Just make sure to choose an enticing gift to increase the engagement.
3- Gift Cards
When you have given free meals and discounts in previous contests, you would want to do something different. That's where gift cards come in. Gift cards allow customers to dine-in or order food from you any time. They can even give it to their loved ones.
Don't just take my word for it. Take a look at these statistics:
56% of customers say they want a gift card from their favorite restaurant.

65% of customers spend 38% more than the face value of the gift card. 

44% of customers say gift cards encourage them to try a new restaurant that they would not have visited otherwise. 
You can use the above strategy (like, follow, and tag) to run gift cards contests. When it comes to the dollar value of the gift card you should giveaway, it is best to keep the number close to your restaurant's average order value.
You can easily track the average order value of your restaurant in Eatance online food ordering system. It allows you to get a birds-eye view of your orders (day, week, and month). This will ensure your customers get the most out of their gift cards and participate in other contests (of course, you don't want to let them go).
4- Restaurant Memories
This is where things get interesting. Every one of us has stories of restaurants and places we enjoyed. All you have to do is encourage your customers to share their stories of your restaurant.
This contest will make your customers think about when they visited your restaurant, remember their experience, and promote loyalty. Here's how Cactus Club Cafe did it.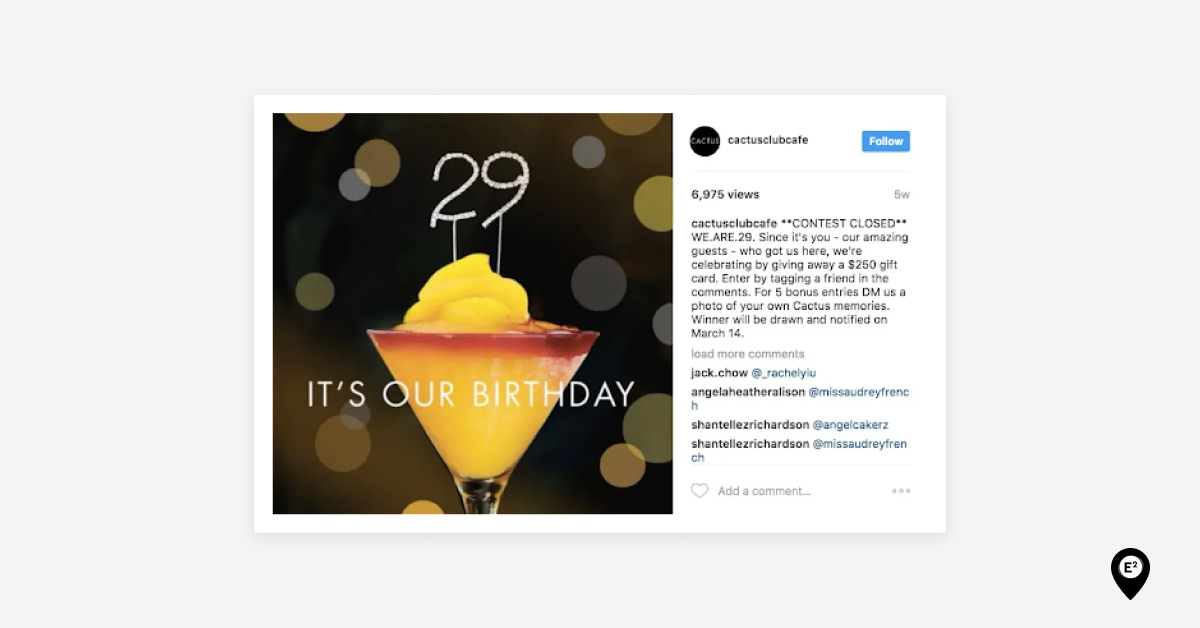 Apart from increasing engagement, it will act as a great source of social proof and user-generated content. You can even use this in your marketing campaigns to highlight how much people love your restaurant.
5- Leave a Review
Reviews are crucial for every restaurant. It helps showcase your food and service is of top-notch quality, attracting potential customers. In fact, most people look at reviews before visiting a restaurant.
Therefore, encourage your customers to leave an honest review on social media or third-party review sites (TripAdvisor, Yelp, etc.).
However, social media is not the right place to run this contest. Instead, you will need to run this contest via email marketing. Send an email to your customers asking them to leave a review and stand a chance to win a prize.
Eatance restaurant ordering system allows you to capture customers' email addresses. You can even manage your emails using Eatance. This will help keep everything in one place while increasing restaurant engagement.
Note: Don't forget to send the link for the review so your customers won't have to go through the trouble of searching your restaurant on different sites.
6- Food Photography Contest
Clicking pictures of food has become a trend. For instance, if you go to Instagram and search for #food, you will find 463,915,738 posts (as of writing this article). This indicates how much people are interested in clicking pictures of food.
For you, this means all the followers of the participants will see the pictures of the dishes, increasing the interest in your restaurant.
However, there's a catch. You can run two types of photography contests:
Offer customers a discount when they upload pictures of dishes from your restaurant. 

Invite people over a free meal where the one with the best photo wins a coupon or a gift card.  
7- Caption This Photo
One of the easiest competitions to run is "caption this photo.
" However, you need to post something eye-catching (this means no food pictures). This will increase the chances of more people commenting on your photo.
For instance, you can share your chef making dishes and ask customers to caption the photo.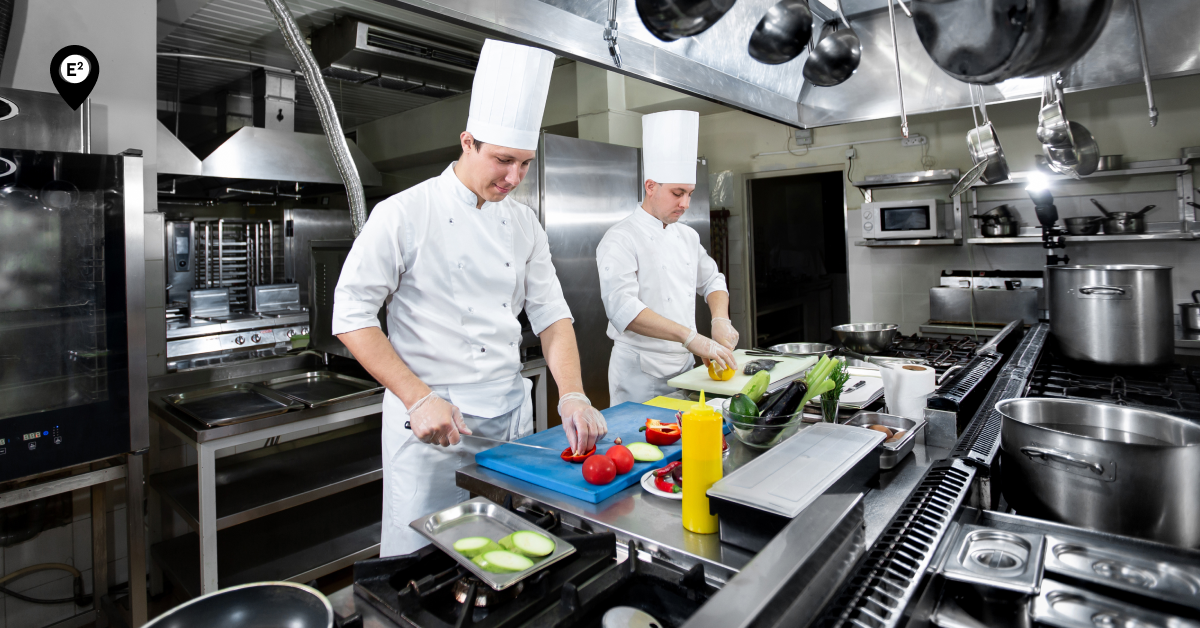 You will also get more extra engagement as the person winning the contest might even want to share that they won and tag you.
8- Time-Sensitive Contests
Nothing can increase engagement like the element of scarcity and urgency. Run contests that require people to order a meal at certain hours or on a specific day to stand a chance to win.
For example, you can run the contest during a slow period to increase traffic. Eatance can show when your restaurant's footfall is slow, so you can run contests at those times to get more orders.
You can even consider running the contest during festive seasons or game time (Football, Cricket, etc.). This will keep users hooked in the game while they enjoy your dishes at a discount (while standing a chance to win a prize themselves).
Conclusion
Contests are a great way to drive excitement towards your restaurant and encourage people to engage. When done right, it can also help increase sales and footfall in your restaurant.
However, for most contests, you will need input from your restaurant ordering system (data can help run contests that work wonders). Eatance food ordering system can equip you with all the information you need. Plus, Eatance helps you build a robust digital presence, further increasing engagement and sales.