All restaurants, fitness centres, and indoor entertainment venues in New York City will require proof of vaccination. Beginning in September, the People of New York City will be required to provide proof of receiving at least one Covid-19 vaccine dose before eating indoors, entering gyms, or going to theatres. The new initiative, entitled "Key to NYC Pass," does not require developing a new application or a vaccination passport. Consumers can use a physical CDC vaccine card or an existing vaccine passport app to verify their vaccination status as indoor dining vaccinated in New York.
The vaccine mandate opens a new chapter in the fight against coronavirus in a city. It was once the hub of the pandemic and has seen over 33,000 people die due to it. With the spreading of the contagious Delta form, the average number of overall cases has risen to over 1,300, about six times in June.
The new program's details aren't entirely known. The program will start on August 16, according to Mayor de Blasio, and further information about the plan will be released in the coming weeks. The system will go operational voluntarily on August 16. After Labor Day, the city will begin enforcing the new rules on September 13 for vaccination in NYC, when government authorities anticipate increasing indoor activities. Recode was notified by City Hall that it planned to reach out to the affected industries regarding the new laws' enforcement, but no other information has been given.
Sign up for your Free Restaurant website Demo.
How can restaurants still serve those who do not have the vaccination certificate?
With the current strict regulatory rules for restaurant indoor dining NYC to combat Covid-19, our society has understood just how reliant we are on restaurants to feed us. However, since the release of Covid-19 vaccines, there has been some uncertainty over how customers may verify that they've had the vaccine, primarily since more restaurants and other businesses have implemented their vaccination guidelines. At the same time, a slew of competing applications has been released by several restaurants to survive in this challenging time.
If you're a restaurant owner, there are a few things you can do to make sure your restaurant survives and thrives.
Takeaway Food Services:
Much of the instructions above still applies if you plan on selling food that customers can pick up from your place. Encourage non-cash payments via smartphone and contactless payments. Ensure the 2-meter distance zone between customers and employees is followed. Suggest asking customers to wait in their vehicle in the parking lot for their food and call when they arrive.
If this isn't possible, establish a low-risk place where food can be handed over. It should be located as far away from the kitchen as possible. The person delivering the food should set it down and maintain a safe distance from the customer. During the day, the area should sanitize, and employees must wash their hands after each delivery.
Online Food Delivery:
Eatance Restaurant Website builder and contactless home delivery have come to the rescue for New York restaurant indoor dining as restaurants face enforced restrictions, strict sanitary standards, and even closures. And when diners become accustomed to obtaining the food they want when, where, and how they want it, this service is here to stay.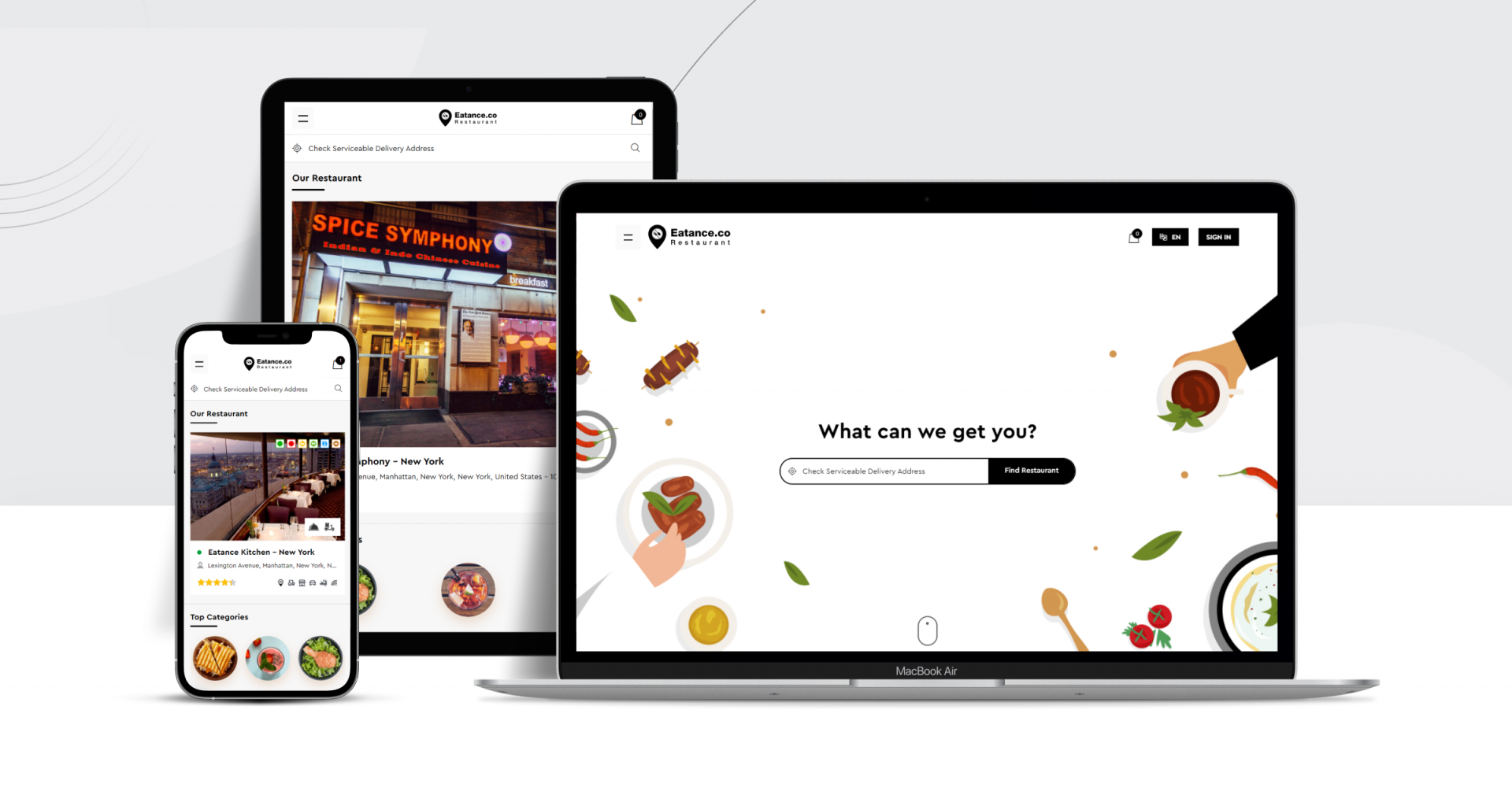 Food delivery apps will continue to be a practical option for those unable to provide in-house ordering and delivery services. However, since many guests prefer to order directly from restaurants, we may expect restaurants and cafes to follow the trend of major fast-food chains in building their integrated web platforms and apps. Despite the ''distance,'' this digital contact allows restaurants to maintain a strong relationship with their customers.
Switch To Contactless Dining:
Some restaurants have begun operations while adhering to safety and social distancing measures. Contactless Dining with Restaurant POS system is one of the most talked-about features that almost every restaurant considers. Said, it is a new dining experience. Any points of contact that entail direct or indirect human interaction are avoided in contactless Dining. It improves hygiene and the overall dining experience for both diners and restaurant workers.
Scanning a QR code allows customers to browse the menu, place their order, and pay for their food all on their own. Customers that use contactless Dining do not have to wait to place an order or pay their bills. As a result, the customer's experience will be far more pleasant and peaceful.
Final Words
There is a silver lining to every darkness. The COVID-19 pandemic may have interrupted ''business as usual'' and caused significant restaurant industry changes. Still, it has also roused many F&B professionals to an opportunity to accelerate technological advances.
Restaurants may use technology to differentiate themselves, and owners can use it to run their operations more efficiently. As a result, more energy and time can be devoted to delighting guests with excellent food and new memorable dining experiences, whether on-site or offsite.
Adopting recent trends would be an intelligent move for restaurants. Regardless of unexpected situations, it is necessary to be innovative and service better for increasing restaurant sales & profitability