Running a restaurant sounds exciting, but it comes with its own set of challenges. During these unprecedented times, staffing is the biggest challenge for restaurant owners. Some have less staff; some find it difficult to cut operational costs, while some feel their team is demotivated (due to the outside situation).
Whatever be the reason, if you don't have qualified and engaged workers, your restaurant business will likely suffer (even when you offer the best food in town). Thankfully, there are several ways to overcome staffing issues in a restaurant.
In this article, we will discuss the ten common restaurant staffing problems and how to overcome them. Let's get started!
1. Communication
Communication is the key to success in the restaurant business. It helps build a long-lasting relationship with customers and encourages them to come back. So train your staff to communicate with customers (even with the angry ones) to ensure they treat all your consumers equally.
At the same time, clear communication is vital between the management and the staff. During the pandemic, many restaurants have laid off their staff to cut operational costs. Even today, workers worry about their future as the pandemic continues to prevail. Make them feel confident that their career is secure so they can focus on their work.
Also, the management team should never make the staff feel inferior and dispensable. This will go a long way, affecting the customer experience.
You should also look for lapses in teamwork to identify conflicts between the staff themselves.
2. Lack of Motivation
The pandemic has already made us mentally tired. Combined with work, it can quickly become physically taxing, leading to demotivation and poor customer service.
If you see any of your employees struggling, make efforts to solve their problems and motivate them. For instance, you can conduct an open forum that lets your staff share their concerns. If possible, go well and beyond to solve their issues.
Minor changes in the workplace like this can go a long way. It encourages them to give their best rather than fearing the management. Also, recognize your best employee and reward them. This will inspire others to work harder (without getting demotivated).
3. Workplace Safety
Safety is one of the biggest concerns in the workplace. First, you need to always be on the lookout for signs of harassment within your team. You should also ensure no customer misbehaves with your staff.
Investing in a comprehensive workplace training program, including sexual harassment training, can help your staff identify and take action quickly.
Second, ensure your kitchen has all the necessary equipment and preventive measures to minimize the chances of accidents. Discuss the safety measures you've implemented in the kitchen with your staff so they can take necessary actions as and when required.
Third, you need to ensure the health safety of all your employees. You can do that with regular temperature checkups and looking for signs of illness. Also, encourage your staff to take leaves if they feel unwell.
4. Turning Digital
The abrupt shift of consumer behavior following strict social distancing measures has made restaurants think of alternatives to run their business smoothly. This has led to an increase in online food delivery.
Whether you're a QSR with limited staff or a Fine dine restaurant, you can benefit from a Restaurant food ordering website that helps accept and manage online orders. In addition, you can easily reassign tasks and train your staff to manage online orders efficiently.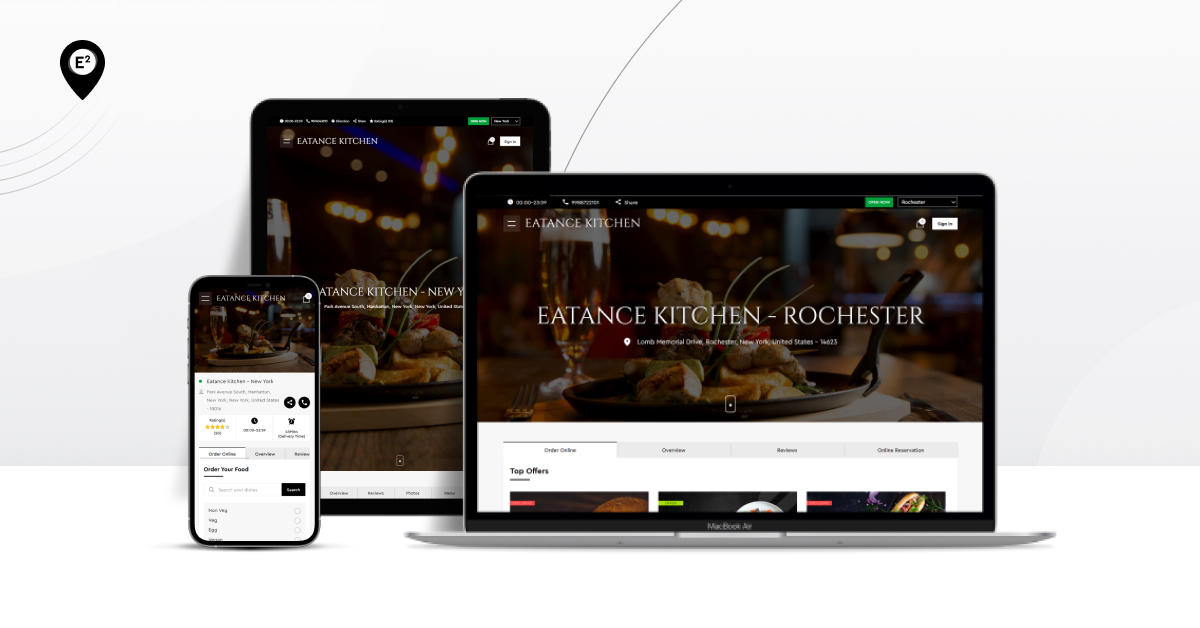 Eatance is one of the best online food ordering systems that help you create a mobile app and website  for your restaurant. Your customers can then place orders effortlessly.
It also provides various features that can help you offer the best possible experience while serving customers. It includes Online POS, table booking, order & delivery management, blog/food recipe section, promotions & discounts, and robust analytics.
Even when things get back to normal, having an online food delivery system can help generate additional revenue for your restaurant.
5. Administrative Works
Administrative work is just as important as preparing food and serving customers. It includes managing finances, checking the inventory, projecting the number of orders, and identifying items that sell the most and the least.
Things will get complicated and overwhelming as your business grows, especially if you handle them all alone. Some tasks might even be out of your expertise. Therefore, it is crucial to hire an expert to help you with them.
You can hire an accountant to manage your finances and file taxes on time. You can even consider recruiting an experienced manager to assist you. Though it will increase your operational cost, they can help streamline your processes.
6. Time-consuming Restaurant Marketing Tactics
Promoting your restaurant can be a time-consuming task. However, it's something that you cannot even ignore. Marketing is what gets you in front of potential customers and drives sales.
The best way here is to create a marketing strategy and optimize it based on the results. Given the current scenario, you can begin with social media and email marketing (if you haven't already).
Here are some tips to get restaurant marketing right.
Create a business account on Facebook and Instagram. Add all the details, including phone number, address, and menu.
Post mouth-watering pictures of your food to attract potential customers.
Interact with customers on your posts.
Monitor and respond to reviews (both positive and negative).
Run social media ads to widen your reach.
Share promotional updates to encourage users to download and order via your app.
Send promotional and weekly emails to your customers to stay on top of their minds. But don't overdo it.
Personalize your emails based on the user's interests and past orders.
7. Service Eating Away Profits
Minimizing operational costs is the key to generating more profits and building a sustainable business. Audit your current expenses and look where you can cut costs. For instance, consider the fees you pay monthly for software (like third-party platforms, etc.).
That said, here is an example of a major service that eats away restaurants' profits and how you can minimize them:
POS software: It is one of the essential software for any restaurant that helps to accept orders and generate bills. which in turn adds up to your restaurant operation expenses. However, consider switching to a more pocket-friendly option like Eatance restaurant ordering website with POS features which means you don't have to pay separately for a website and a POS.

8. Meeting Diverse Training Needs
Training is more than letting your staff know about the dos and don'ts at the restaurant. Practical training on the floor or kitchen is vital for your employees to understand and address restaurant-specific challenges.
Let's suppose you hired a waiter for your restaurant who is from a different city or state. They will need to understand the etiquettes of your city and treat customers accordingly. The same goes for chefs.
Therefore, it is crucial to create your unique training program, so your employees work as you expect them to (irrespective of whether they're new or experienced).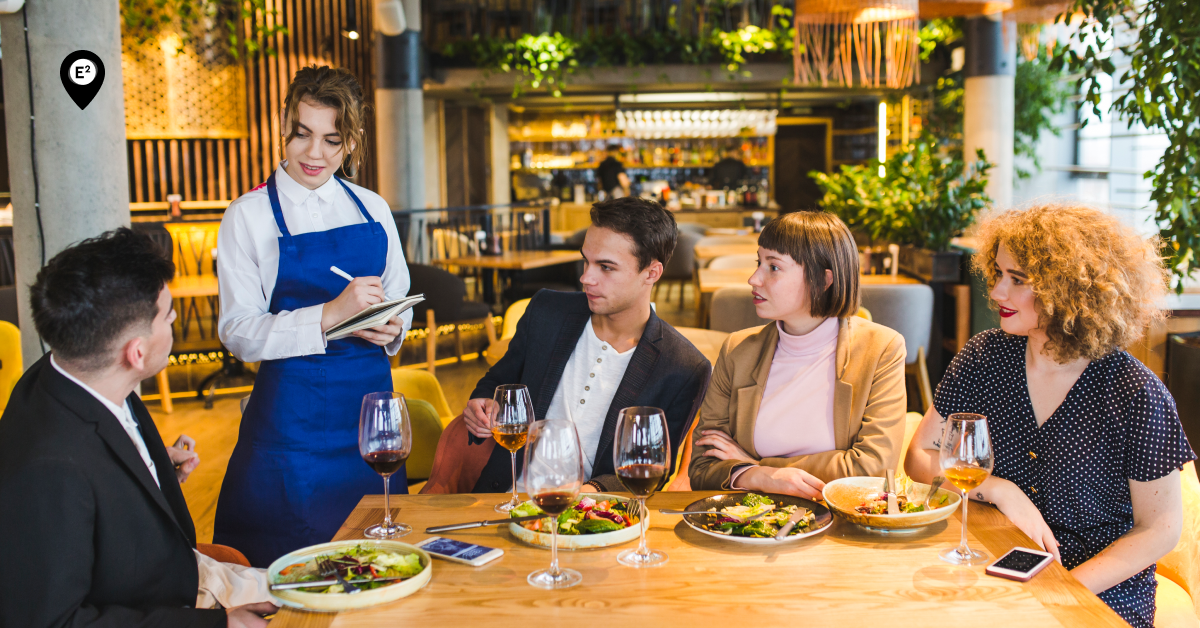 For tools that you use, contact your vendor to provide training or resources to help you get the most out of your investment. You can then turn your existing training guides into short videos or mobile-accessible materials for your staff.
9. Ineffective Management
Juggling between managing operations, customers, and ensuring profitability can be a tough job. Moreover, it can quickly lead to burnout, which will, in turn, affect your work.
Invest in your managers to ensure they're as effective as you want, all the time.
Empower management: Give them the tools and freedom they need to do their work efficiently. Allow them to make certain decisions without worrying that they're overstepping.
Set goals: Motivate your managers by setting goals and incentivize them accordingly.
Set communication guidelines: Work with your manager to understand their challenges and create strategies to overcome them
10. Unengaged Customers
Retaining customers is as important as acquiring new ones. Providing great food and customer service might just not be enough. You need engaged customers who read your emails, talk about your brand, and use your coupons.
To engage customers, you can:
Create a referral program.
Personalize your communications.
Engage with customers online.
Reward customers who talk positively about your restaurant on social media.
A good online food ordering website can help you find loyal customers easily so you can create strategies to retain them.
Wrapping Up
Regardless of your restaurant's size, staffing issues can quickly become a thing of concern. Navigate your business challenges by hiring experts or upgrading your current systems.
Eatance is the leading restaurant ordering system that can help you reduce operational costs and generate more sales. Contact us today to know how we can help you!