The Restaurant industry is an enormous part of the global economy, valued at $80 billion in Canada alone. It is also a very competitive environment, with many businesses trying to get a piece of the action.
Restaurants need to upsell their customers as much as possible. Upselling helps increase restaurant sales, promote customer loyalty, and enhance word-of-mouth marketing simultaneously.
Don't believe me? McDonald's increased their annual revenue by $28 million with a simple question, "would you like fries with that?" That's what upselling is about: simple, conversational, and effective!
But how can you offer food sales ideas in your restaurant without being obvious? In this article, we've covered innovative strategies that would boost your restaurant revenues! Let's get started.
What is Upselling?
Upselling is persuading customers to purchase a more expensive dish or drink than they originally intended. It's an effective way to increase restaurant sales and profits, but it's not always easy.
Unfortunately, the word "upsell" has a negative connotation in the restaurant industry, It's often associated with waiters and waitresses aggressively pushing unwanted items on diners. But when done correctly, upselling can be a valuable tool to increase your restaurant revenue and boost customer satisfaction.
Here are two examples of food sales ideas in a restaurant:
Offer complementary products that are related to what they ordered but more expensive. For example, if someone orders a salad, suggest adding chicken or shrimp on top of it, so they get more protein.
Suggest add-ons like cheese or bacon to make their meals tastier and more filling (e.g., offer extra cheese on pizza). You can also suggest add-ons for desserts (e.g., ask about adding ice cream or whipped cream to their cake).
When you suggest add-ons or encourage diners to order related products, it increases your overall restaurant revenue and enhances their experience (as they get a good combination of foods).
Why Is Upselling Important in Restaurants?
Upselling is an integral part of restaurant management because it helps increase the average sales value of a customer. This is especially important during slow times when restaurants need to keep their sales up while keeping prices low enough that customers will still come in.
Here are some benefits of upselling:

1. Increases Revenue and Profit
As mentioned above, the most significant benefit of upselling is that it increases restaurant revenue and average check size, which means you're making more money per table. In fact, customers will buy more if they feel like they're getting a good deal and are likely to spend more on their meals than they would otherwise.
For example, a regular chocolate milkshake might generate only $2 in profit. But if you get customers to add vanilla ice cream to it, your profit might increase to $5 (actuals might vary). And since chocolate milkshakes with vanilla ice cream taste better, they'd enjoy their order.
2. Increases Customer Satisfaction
If guests enjoy their meal, they will likely return in the future — especially if they relish their experience after trying an upgraded version of their favorite meal.
According to a study, when waitstaff offers menu suggestions to diners, they feel like they're getting exceptional service, increasing their chances of recommending your restaurant. Thus, incorporate more and more food sales ideas in your restaurant.
3. Personalizes the Customer Experience
Upselling is a great way to personalize the guest experience. It's an opportunity to create a unique connection between you and your guests by offering them something extra they might not have expected or sought out on their own. This can make them feel special because you took the time and effort to give it to them.
This approach helps build trust between you and your customers as well because it shows that you're paying attention to their preferences rather than just trying to sell them something blindly.
How Do You Upsell in a Restaurant?
As a restaurant owner, upselling significantly increases restaurant revenue and customer satisfaction. But how can you upsell without coming across as pushy?
Here are five proven upselling techniques in restaurants.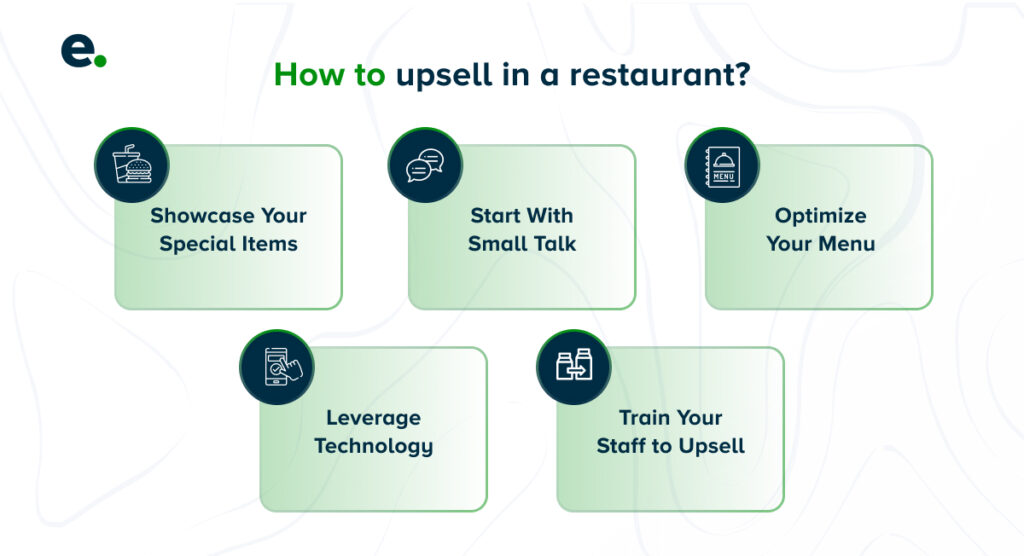 1. Train Your Staff to Upsell
The first step to upselling is ensuring your staff knows what they're selling and how much it costs. That way, when customers walk in the door and ask about a particular product or service, they know exactly what they're talking about.
Additionally, let the server know the best time to upsell. The easiest way to do this is by creating a script they can use when they see a customer ready and willing to spend more money.
"I hope you're enjoying your meal! We have a new menu item that pairs perfectly with our signature steak dish, I'd love to give you a sample."
Remember, the tone should always be friendly, not aggressive or pushy. If the customer isn't interested, then there's no need for further discussion.
2. Start With Small Talk
Before you even suggest anything, talk to the customer. It could be a simple, "hi, how are you? How can I help you today?" This helps begin the conversation on a good note and increases the chances of the customer listening to you more carefully.
Then, ask questions to find out what the customer wants:
Is this your first time here? If they say yes, ask, would you like me to tell you more about our specials? If they say no, ask, how were things last time?
What kind of cuisine would you prefer today?
Can I recommend something else instead?
This will help you suggest an upgrade or a different (but better) dish that is also highly profitable to the restaurant without coming across as pushy.
You can also consider offering extras that complete a meal. For example, if someone orders a side dish, ask if they'd like mashed potatoes instead of fries. Likewise, if someone orders a burger, ask if they'd like cheese.
The goal is to make them feel like they're getting more than what they ordered — even if it's only an extra dollar.
Additionally, train your staff to be friendly and welcoming at all times — even when it's busy. This will help them build rapport with customers so they feel comfortable when it comes time to suggest add-ons or other items on the menu they might like.
3. Optimize Your Menu
One of the best upselling strategies in restaurants is creating a well-designed digital menu. In addition, it should be designed so that your high-profit margin items are always visible. In fact, menu positioning is one of the critical upselling techniques in restaurants.
For instance, most diners scan the menu from the top-right corner. Therefore, placing your high-margin, high-selling items there is a good idea. You can also add eye-catching images of those items.
It is also worth noting that menu descriptions play a vital role in upselling food items. Therefore, your descriptions should be clear, short, and self-explanatory to evoke temptations.
Some restaurants use elite words in their menu to highlight how good their dish is, but most of the time, diners end up googling them or asking the staff. So, try avoiding using words that aren't used often.
4. Showcase Your Special Items
It can be confusing for customers to choose a dish, especially if they have visited your restaurant for the first time or have never had the item before. This is where showcasing your food items can help.
There are two ways to do that:
Install high-end LED screens to display compelling pictures and videos of your items.
Give free, small samples to customers at the register to give them tasty bites of your best sellers.
5. Leverage Technology
As you'd have already heard, "data is the new oil." Restaurants deal with loads of customer data daily, such as customer details and ordering preferences.
And technology helps you take advantage of the "new oil." For example, a restaurant food ordering website helps you identify your highest-selling items and profitable items so you can analyze the data to find opportunities.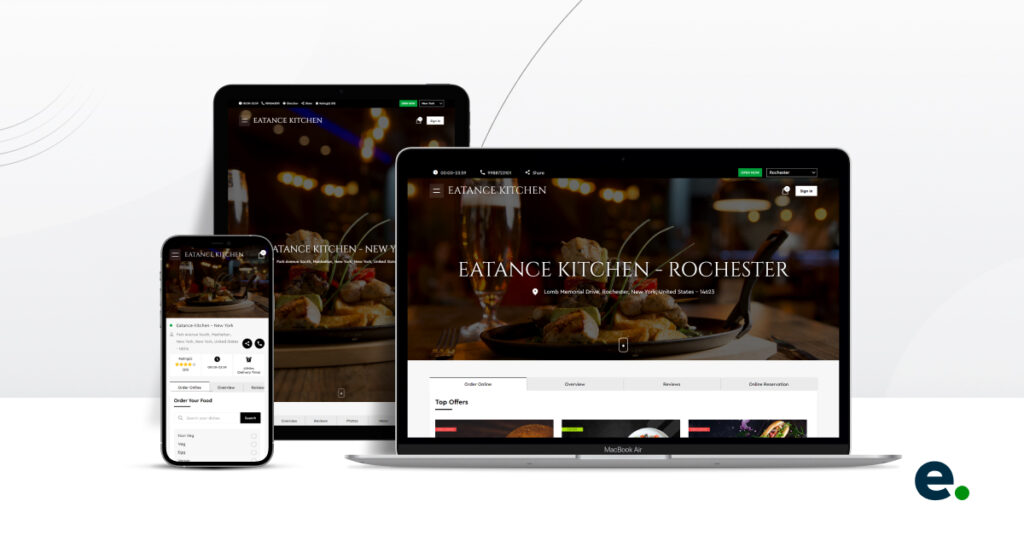 It is also helpful for online orders. For example, when someone adds items to their cart, you can promote other items by mentioning, "customers that ordered this, also ordered…." This will help you tap into their social emotion and increase the average order value.
What Is the Example of Upselling in a Restaurant?
Now that you know what upselling is and the best upselling strategies for restaurants, let's look at some examples.
1. Upselling Drinks
Ask customers what wine they prefer and recommend a higher-priced bottle from the same winery. This can work with beer, too — if someone orders Coors Light, offer them a better microbrew like Lagunitas IPA or Firestone Walker DBA.
2. Offering Add-ons
Offer a side item with a meal order. For example, if someone orders a steak, offer the option of ordering roasted vegetables on the side. This will help them feel like they're getting more food for their money and even get them to eat healthier!
3. Selling Specialty Cocktails and Mixed Drinks
Another way to upsell menu items is by offering specialty cocktails and mixed drinks. These are usually more expensive than regular drinks, but they can add value to your restaurant if you offer them at a reasonable price (around $8-$10).
For instance, when someone orders a regular drink, ask if they'd like to try the bar special that costs just $5 or $8 more.
Conclusion
Upselling is a tricky business. You need to approach the customer in a manner that doesn't make them feel like you're pushy or rude. It's sort of like sleight of hand; you have to do it without any obstructive motions or gestures and in a way that makes the customer feel comfortable!