Instagram is the second most popular social network, with over 500 million daily active users The high reach, combined with the platform's unique value proposition (highly visual, advanced metrics, and geo-targeting options), make Instagram a powerful asset for restaurants.
Research has shown that 38% of Instagram users view food content, and 27% share food content. Besides, 30% of millennial diners actively avoid restaurants with a weak Instagram presence, making it even more important to develop a marketing strategy.
In this article, we will discuss exactly that. We have curated a list of restaurant Instagram marketing hacks to get you noticed.
Whether you've just created an Instagram account or have been using it already, these marketing ideas can help you get more followers and drive food lovers through the door.
Let's get started!
1. Partner With Local Food Bloggers
We'll start with the most obvious restaurant Instagram marketing hack - partnering with food bloggers. When a food blogger with a large following posts about your restaurant, you will benefit from a wide exposure to an already interested audience.
You can easily find popular food bloggers in your city by searching "food + your city name" on Instagram. Your potential partners would be bloggers with 10k-50k followers, as they have mastered the art of food blogging and have gained a loyal following because of it.
The good thing is, food bloggers are not very expensive and can promote your restaurant for a nominal amount. Some even work on the barter system, i.e., a free meal for a shoutout.
Depending on your budget, you can partner with multiple food bloggers to create a buzz about your restaurant and build curiosity among their followers.
2. Show the Most Popular Dishes and Drinks
Post mouth-watering pictures of your best and most popular dishes regularly. This will encourage your followers to share them with their friends, especially if they have eaten the dish.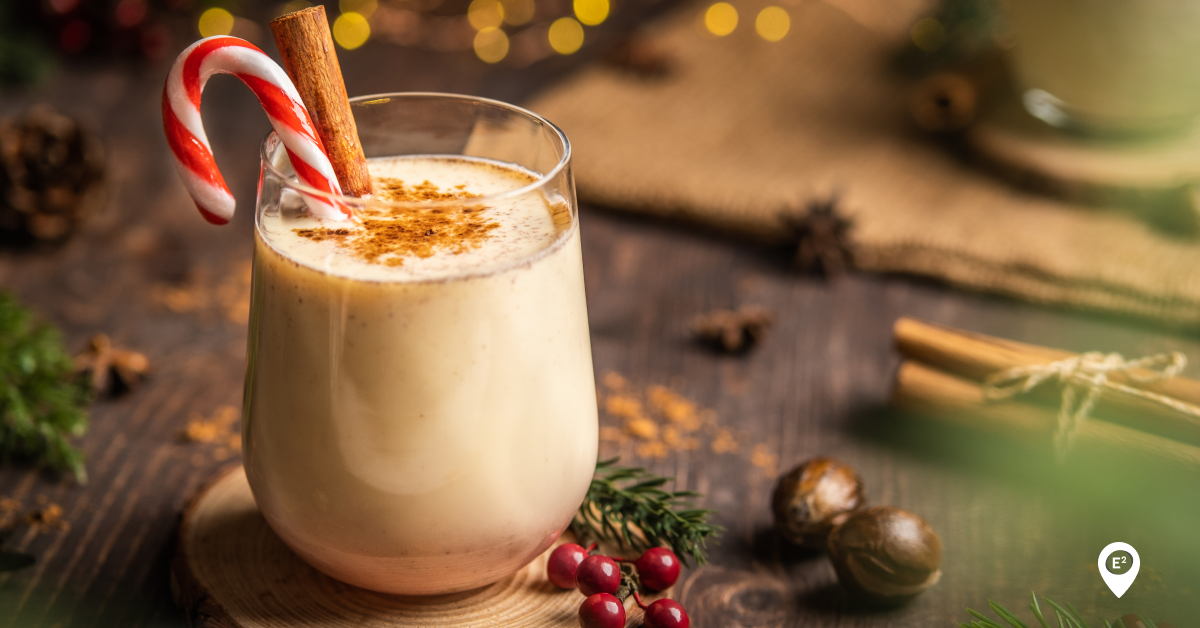 Besides, posting the most popular dishes and drinks of your restaurant reminds customers about the great experience they had. It also shows new customers what you are known for, encouraging them to visit your outlet. You can utilize Eatance lucrative Restaurant Digital Menu that helps you showcase your dishes' in an enticing manner.

You should also share visually-appealing pictures of new items in your restaurant. This will help draw people who are interested in that dish but were unaware that you've added it to your menu.
At the same time, add a caption to the photo to enhance its impact. The caption could include the dish name, fun facts, emojis, or anything you want to share.
3. Make the Most of Instagram Stories
Instagram Stories are a surefire way of capturing your followers' attention. Since it appears at the top of the homepage, people are less likely to miss it.
Here are some ways to leverage Instagram Stories to your advantage:
Use Stories to intrigue interest and drive more customers. For example, if you have a holiday special or time-sensitive offer, you can create a story to tell your followers to grab them while they last. 

Do polls to increase engagement. For instance, you can ask them to vote for their favorite dish at your restaurant or what they would like you to add to the menu. 

Leverage the "Order" sticker to redirect customers to your website where they can order the dish. You can find the Order sticker in the "stickers section" on the top right corner of the screen.
Share behind-the-scenes of your restaurant, showcasing happy employees or what goes in the kitchen to build trust with customers.
4. Run Instagram Contests
Social media contests are among the most popular and effective restaurant marketing ideas. You can create a contest or giveaway exclusive to Instagram to increase your followers and eventually get more sales.
For example, during the Christmas season, you can do a giveaway for a gift card that can be redeemed at your restaurant in any of the 12 days of Christmas.
Celebrating the last few weeks of the NFL? Hold a contest where people share their favorite thing about the NFL, using the hashtag #[your restaurant name]NFL. The user that gets the maximum engagement wins a free meal at your restaurant.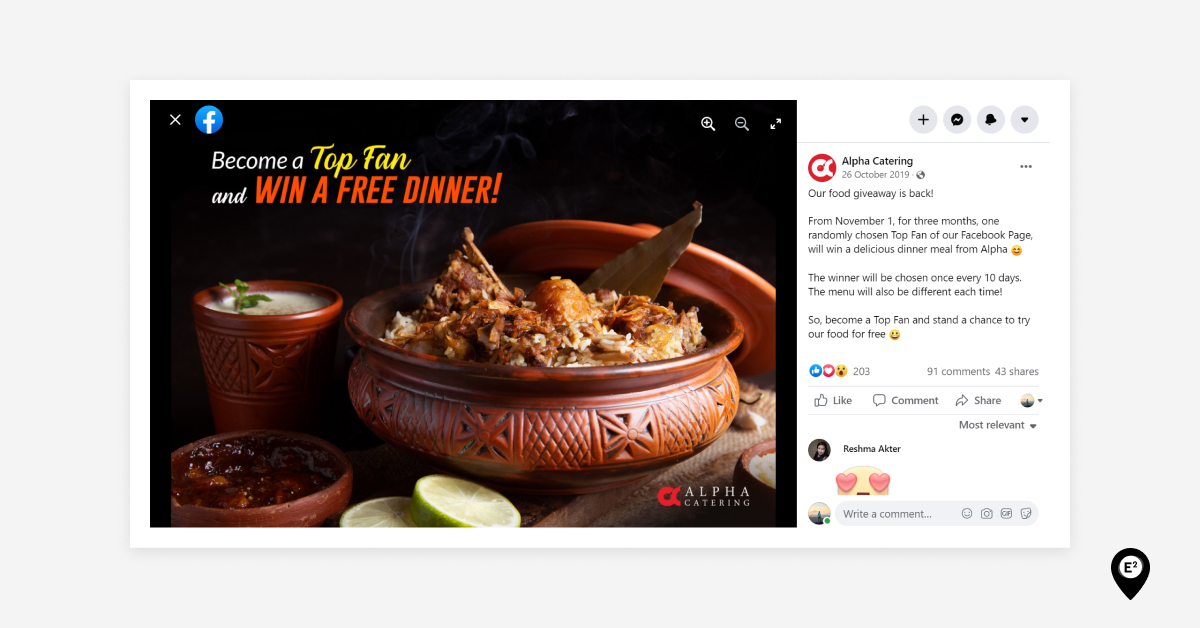 Check out our social media contests page for more Instagram contest ideas.
5. Leverage User-generated Content
User-generated content (UGC) is one of the best types of content that you can use to boost your sales. UGC acts as social proof highlighting your restaurant is worth dining in.
When someone shares a post of your restaurant, reshare it from your account while tagging the customer. This will help you create quality posts with little effort. Plus, it will make the customer feel like they are a part of your restaurant family, making them loyal to your business.
You can consider sharing their posts on your stories and then create a highlight after 24hrs. This way, whenever someone visits your Instagram profile, they can see all the posts shared by your customers.
6. Use the Right Hashtags
A restaurant Instagram marketing strategy must include #hashtags. However, you need to use the right hashtags to reach more customers and increase your sales.
Here are some hashtags that you can use to gain more engagement:
#foodporn

#foodie

#food

#foodstagram

#instafood

#foodlover

#foodphotography

#yummy

#happyhour

#hungry
While these are general hashtags, you should also include hashtags specific to your location, restaurant, and the dish you're posting.
For instance, if your restaurant is located in New York and you're posting a picture of taco on Instagram, you can use these hashtags:
#NewYork

#NYC

#NewYorkCity

#Taco

#BestTacoInNYC

#BestTacoInNewYork

#Tacoshop
Tip: Publish all of your hashtags in the comment section. This will make your post look cleaner and better.
7. Emphasize the Quality of Your Ingredients
People have become very conscious of what they are eating and from where. They will skip your restaurant even at the slightest feeling that your kitchen is not very hygienic or you're not using the best quality ingredients.
Therefore, make sure to share pictures of your kitchen, videos of your chef cooking, and the ingredients you use. Additionally, if you source vegetables from local farmers or get them from your own farm, highlight that as well.
This will also enable you to show your priorities. For instance, when you let people know that you source your raw materials from local vendors, it highlights you're buying chemical-free items, and you care for the community.
8. Engage With Your Followers
Social media is all about engaging with your target audience. The most successful restaurant marketing strategies include interacting with the audience.
However, most of the time, when people on Instagram tag you on their posts, they do not expect a response. They tag you so their followers can know where they took the picture or where to get that dish from. If you take time to comment on their post, the customer will not only be surprised but also feel valued.
At the same time, don't ignore people commenting on your posts. Take time to respond to as many comments as possible. Also, make sure to reply to customers who send you a direct message on Instagram.
Tip: Check your tab often, as messages from people you don't follow usually appear there.
Another way to engage with your followers is by leveraging the Livefeature. Going live lets you broadcast to your Instagram followers in real-time. You can go live when there's an event in your restaurant to encourage them to be a part of it.
9. Promote Direct Ordering
Online ordering has become a must for every restaurant. Restaurant website help attract customers who would not otherwise order from you. However, the key to success is making it easy for customers to order food from you. Since they're already on Instagram, why not use it to your advantage?
For instance, with Eatance Restaurant Website Builder, you can add a direct ordering link to your Instagram bio. This means customers visiting your Instagram profile don't have to spend time searching your website. All they need to do is click the link to place an order.
Final Thoughts
Instagram is one of the most popular social networks. With the right marketing tactics like the one mentioned in this article, you can easily attract and convert more customers. However, track their performance and optimize the ones that bring great results.
Also, don't forget to take advantage of the Eatance restaurant food ordering system. Eatance allows you to create a Restaurant digital menu for Instagram which you can share with your followers and promote direct ordering.