The holidays are an excellent opportunity to capitalize on increased consumer spending and move businesses ahead to meet marketing goals and reach new heights. While many restaurants have seen an increase in sales during the holiday season in Canada, you can do a lot this time of year to attract eaters to your restaurant.
According to new data, Canadian restaurant sales increased 6.5 per cent monthly in March to $6.8 billion. Year-over-year, sales were up 35 per cent compared with March 2021.
Christmas and New Year are near. People often go out shopping and work a lot in decorating their homes. they simply don't have enough time to prepare dinner, so they are highly likely to dine out.
As a restaurant owner, you should take advantage of this and boost your restaurant sales. However, with so many options for diners, it is essential to put in the right marketing tactics to get them through your door.
We have curated a list of Christmas ideas that you can implement today to increase your restaurant sales this holiday season. Let's get started!.
1. Let People Know You're Open On Christmas
Many restaurants are closed on Christmas, and if you're open, it's your chance to stand out. Spread the word that you will be serving your customers on Christmas in every way possible.
Highlight it on your website:

When customers visit your website, they should see that you're open on Christmas and taking orders. To drive attention, you can consider adding a banner featuring traditional Christmas colors (red, green, and gold). 

Send emails:

Reach out to your existing customers via emails or SMS to inform them that they can spend time at your restaurant on Christmas eve. Thus, increasing your chances to boost restaurant sales. 

Leverage social media:

Facebook, twitter and Instagram  can help you reach a wider audience, so don't forget to update your followers about the same.

Check out the below example on how Vancouver's only European-style Christmas Market has over 90 huts featuring traditional Christmas canadian food and drinks is promoting their discount coupons.

2022 Vancouver Christmas Market

Vancouver's only European-style Christmas Market has over 90 huts featuring traditional Christmas food and drinks and more!

Info/discounts here:-> https://t.co/4ZHmb3uBO6#Christmas #Vancouver #Canada pic.twitter.com/hZk7RsbLT5

— StanleyParkVan.com (@StanleyParkVan) November 8, 2022
Don't forget traditional marketing:

Traditional marketing can deliver tangible business results even in this digital world. Give out flyers and put up posters throughout the neighborhood to reach as many people as possible. 
2. Encourage People to Book a Table
By allowing people to book a table in advance, you can assure them that they won't have to worry about rush hours or wait in the queue. They can come at any time and have a table reserved for them.
For you, this makes it easier to determine how many people to expect so you can prepare accordingly. However, don't forget to follow the social distancing regulations while arranging tables for them to sit. 
To get more people to book in advance and minimize walk-ins, you can offer a 10% discount, at least for this holiday season.
A restaurant food ordering website like Eatance allows your customers to book tables without even visiting your restaurant. Additionally, they can use the contactless dine-in feature to scan the menu and order their favorite food directly while Dining. This reduces the need for additional staff during Christmas while ensuring you get enough restaurant sales.
3. Create a Christmas themed Menu
Most restaurants offer special Christmas Canadian dishes during the entire week. To draw as many customers as possible, you need to create a unique Restaurant menu Design that makes you stand out. Here are some Christmas ideas for your restaurant.
Christmas Tourtiere
Roasted Brussels Sprouts
Classic Canadian Butter Tarts
Mulled Wine
Peppermint bark
Roasted turkey with stuffing
Roasted and mashed potatoes
Pheasant
Eggnog
Roast beef tenderloin
Baked ham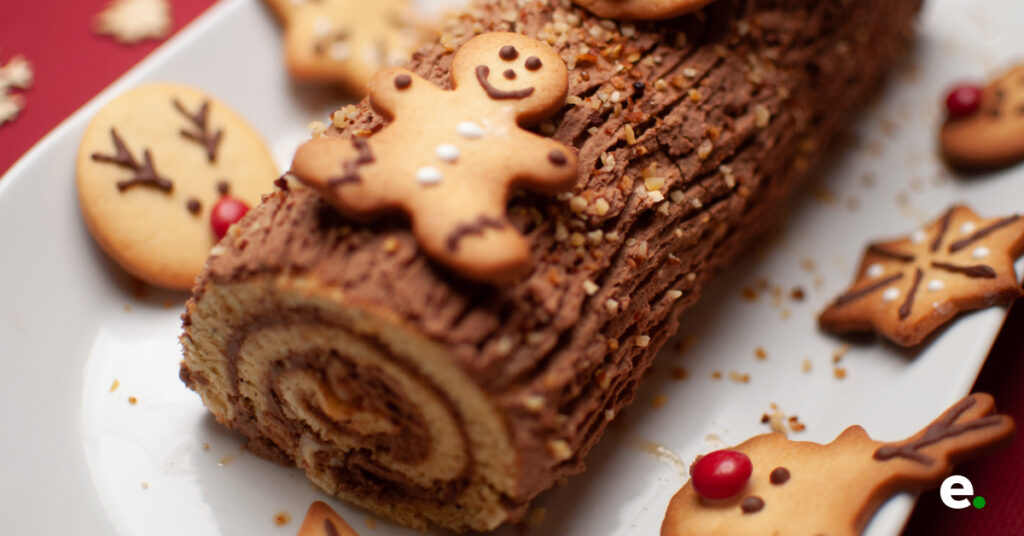 Dessert
Plum Christmas pudding

Nanaimo Bars

French Canadian  Christmas Cake

Bûche de Noël
You can also consider offering a buffet option where you can serve dishes like: 
Caramelized mushroom tartlets

Steak on sticks

Rolls (sausage, cranberry, and chestnut)

Chocolate dipped chips

Gingerbread men

Roasted carrots

Stuffing
You also need to consider the needs of vegetarian people. Some Christmas party food ideas would be:
Cranberry brie bites

Vegetarian lasagna

Stuffed mushrooms

Butternut squash ravioli

Classic latkes

4. Reward Your Regular Customers
Rewarding your regular customers for dining at your restaurant during Christmas is one of the best ways to build a long-term relationship with them and foster loyalty thereby increasing restaurant sales.
Send emails with discount coupons to all your customers and encourage them to visit your restaurant. If not a discount, you can offer a free dessert to make them happy.
The idea here is to make their experience as memorable as possible. And when they go home happy, they will most likely recommend your restaurant to their friends and colleagues (the same goes for new customers as well).
5. Run Promotions Throughout the 12-Days of Christmas
December, especially Christmas, is a time of giving. Therefore, most restaurant Christmas ideas involve gifting, charity, discounts, and other things that can spread joy to as many people as possible.
To stand out from the crowd, you can create 12 different Christmas party food ideas for 12 days. Here are some examples that you can take inspiration from.
Day 1: Complimentary dessert to everyone who posts a picture of your Christmas meal
Day 2: 20% off for everyone who shares a review of your restaurant online
Day 3: Bring a loved one, and they get a dessert of their choice for free
Day 4: Offer your entire menu for a special price
Day 5: Complimentary dessert to anyone dressed in a Christmas theme
Day 6: 50% off on Christmas-themed drinks and select items
Day 7: Every fifth drink on the house
Day 8: 15% off for people who reserve a table in advance
Day 9: Complimentary specialty cocktails to anyone who donates to a charity
Day 10: Three-for-two appetizers
Day 11: Surprise gifts for customers who spend above a specific limit (say $60)
Day 12: Free coffee voucher that can be redeemed with any purchase in the January month.
6. Don't Forget to Decorate Your Restaurant
Christmas decorations for restaurants are a must. However, you should go beyond Christmas trees.
Here are some Christmas decor ideas to help you become the talk of the town.
Hang a wreath on your door to welcome your customers.

Dress your staff in red and white colors.

Dress your restaurant's manager in Santa costumes. 

Decorate your windows using red and green ornaments to attract passersby. 

Put a bottle decorated with greenery, ornaments, and fairy lights on every table.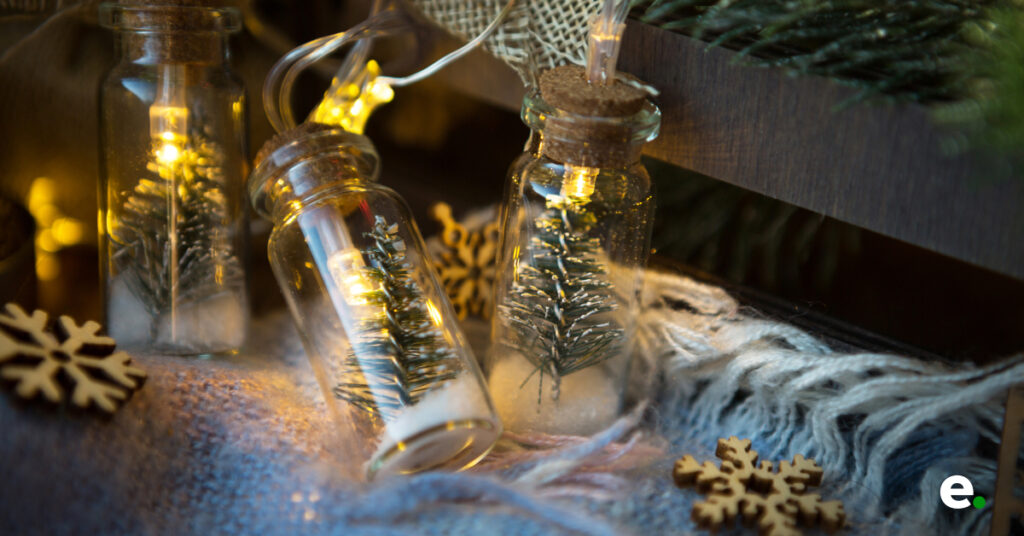 Transform a section of your restaurant into a winter wonderland where customers can take pictures. 

Last but not least, curate a playlist featuring Christmas songs. 
7. Host Christmas Parties and Events
If local regulations allow it, host Christmas parties and events at your restaurant. In light of the Coronavirus pandemic, people might be looking for restaurants with private rooms so they can safely enjoy the festival with their loved ones.
Besides, many companies throw Christmas parties for their employees to show how much they care for them. You can create a special menu for those parties to make it cost-effective for them while still generating a good profit.
While these were about private parties, you can also consider hosting a party yourself and encourage people to join.
Make sure to advertise that your restaurant is hosting a party or up for event booking to spread the word. You can do so by creating a landing page on your restaurant food ordering website, running paid ads, posting on social media, sending emails to your customers, and using flyers and posters. Additionally, allow your customers to book events on christmas day for party or corporate party from your restaurant food ordering website.
8. Ask Customers to Share Their Favorite Christmas Recipes
One of the best Christmas party food ideas is to ask your customers to share their favorite recipes. This will help boost engagement in your restaurant and increase brand awareness.
Create a social media post asking customers to share their favorite dish and recipe. Then, find the most common dishes that you can cook. Invite some of the people and surprise them with that meal in your restaurant.
This will make them feel valued, help foster loyalty, and boost your sales via word-of-mouth marketing.
9. Free Meals to Front-line Workers
Christmas is all about being kind and generous. Front-line workers have worked very hard in the last two years and helped us throughout the pandemic.
Giving free meals to them this Christmas is the least we can do. This will not only drive more people to your restaurant, but it will also enhance your restaurant's image for months and years to come.
However, if your budget doesn't allow you to give free meals to them, you can consider giving a hefty discount.
PS- Promote this deal extensively on your website, social media, give out flyers, and put up posters throughout the neighborhood to reach more people.
10. Partner With Food Influencers
Food influencers and bloggers usually have a huge social media following. Many people follow them to find the best places to eat in their area. By partnering with local Canadian food bloggers, you can promote your restaurant and drive more people this Christmas.
Depending on the influencer, you can offer them a free meal or cash incentive to promote your restaurant. You can highlight what you're planning this Christmas (e.g., festival-themed menu, parties & events, or 12-day special offer) and spread the word with their help.
Final Thoughts
Christmas is approaching, and you need to start promoting your restaurant today to maximize your sales this festival season. Leverage all the ten Christmas ideas mentioned above to get as many people to your restaurant as possible.
Also, don't forget to use Eatance's robust restaurant food ordering website that allows you to accept online orders and offer table booking options , Facebook orders, Dine in, delivery, pick up, table booking and much more.