Investing in an online food delivery has become more important than ever for restaurants. It helps accept and manage online orders efficiently. For instance, you can update customers about the real-time status of their order, encourage them to rate the food, and make reordering seamless.
63% of consumers agree that getting their food delivered is more convenient than dining out with a family. However, you'll need a robust online ordering app like Eatance to stay ahead of your competitors.
Eatance helps meet your online customers' expectations by offering customized solutions to your restaurant. As our tagline goes, "empowering entrepreneurs," we help them become self-sufficient instead of depending on third-party delivery services.
In this article, we will explore how Eatance works for restaurants and show you how it can benefit you. Let's get started!
What is Eatance?
Eatance, an on-demand mobile app marketplace is specializing in food ordering system for restaurants. Whether you have a single restaurant or multiple branches, Eatance can help manage them all from one place. Customers can place orders via your mobile app or website (something we can help develop), and you can update them with the real-time status of their orders. Eatance also allows you to track your business growth over time and optimize your strategies to boost your return on investment.
How Can Customers Place Orders via Eatance?
As mentioned above, Eatance helps build your restaurant's website and mobile app. This means customers can download your food delivery app from Google Play Store or App Store and place orders seamlessly. Customers can search for dishes or filter by cuisine, promotions, and more. Once the customer orders food and chooses the mode of payment (online or COD), they will get an expected delivery time. The ease and convenience of reordering their favorite food, as well as the ability to track their order in real-time, will make them your loyal customers quickly.
How do Restaurants Receive Online Orders?
Depending on your Eatance platform, you can receive orders in different ways. Here's how you can manage and accept online orders:
Small restaurants and startups who choose the free Eatance package can receive the order via the website's admin panel. You can use your smartphone, tablet, or desktop for receiving orders. You can also accept payments by integrating Eatance with PayPal, GPay, Apple Pay, etc. From the admin panel, you can optimize menu items and prices in real-time. You can even run offers and provide discounts to customers to increase sales. It also lets you manage reviews and ratings posted by customers.
However, make sure you keep the admin panel tab open all the time. This will enable you (or your staff) to receive and process orders quickly, reducing the delivery time. As soon as you accept the order, you will be prompted to choose the preparation time so your customers can be notified. When you have an Eatance Pro Food Ordering System, you get access to necessary POS Features that a restaurant needs, making this a complete Solution.
The Pro version also allows you to create delivery zones over maps and associate delivery charges, mitigating billing errors. You can also manage driver commission by tracking their deliveries and status. Apart from these features, you can also use your smartphone, tablet, and desktop to access these features. Restaurants can also choose to receive orders notifications via email.
However, we don't recommend using email as your primary communication method for accepting orders. That's because it is easy to miss emails. But, your customers might not like delivery delays.
Which Eatance Plan is Perfect for My Restaurant?
Eatance offers three plans, each designed for restaurants at different stages.
Eatance
Eatance is a free food ordering system for restaurants. Perfect for food trucks, cloud kitchens, home chefs, and small restaurants that are just getting started with online delivery.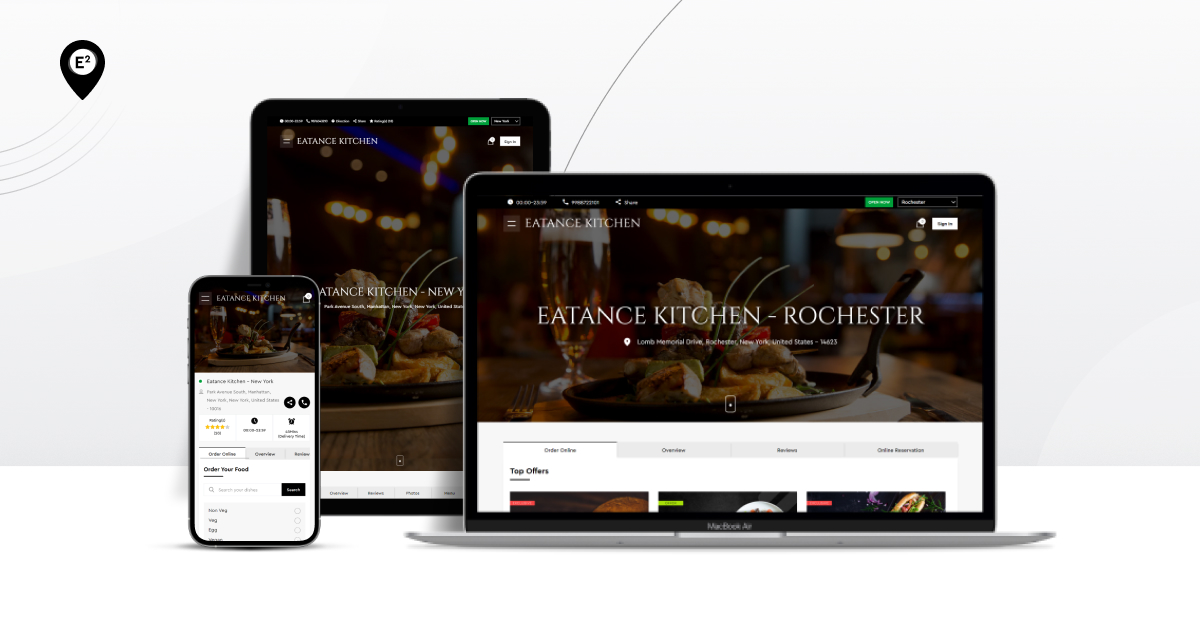 When you choose Eatance, we will create a website for your restaurant. The website will reflect your restaurant's values and culture. Here are some things you will be able to do:
Showcase your food items
Receive online orders
Create offers and promotions to increase sales
Engage your target audience with blogs
Allow customers to reorder in a single click
Manage ratings and reviews by customers
Since the website will be responsive, customers can order food from their mobiles easily. You can analyze the analytics to understand and optimize your restaurant's performance. As Eatance is a lifetime Restaurant website builder, you won't have to worry about long-term commitment. Plus, there's always an option to upgrade to higher plans for advanced features.
Eatance Restaurant Pro
Starting from $1299, Eatance Restaurant Pro is perfect for fast-growing restaurants and food trucks. It offers advanced features like quick search, live tracking, multiple addresses, multi-language support, and popular products. In addition, when you buy Eatance Restaurant Pro, you will get a mobile app for customers, a backend panel/API, and a delivery partner app.
This is great for restaurants as customers who download their app are more likely to order from you than other eateries. Plus, the delivery partner app makes it easier for drivers to accept/reject orders, manage their deliveries, and navigate to the correct location.
That's not it. You will also get technical support to implement the Food Ordering System, business consulting, and marketing (add on).
Multi Restaurant Pro
Also, starting from $1299, Eatance Multi Restaurant Food Delivery App is perfect for restaurants with multiple branches and chain restaurants & Food Aggregators. It has all the features of free and Eatance Restaurant Pro. However, Multi Restaurant Pro allows you to manage several restaurants from one dashboard. You can check orders from different Restaurants & branches, Analyze their performance.
This helps identify profitable and non-profitable restaurants. You can then use the insights to improve your performance and return on investment.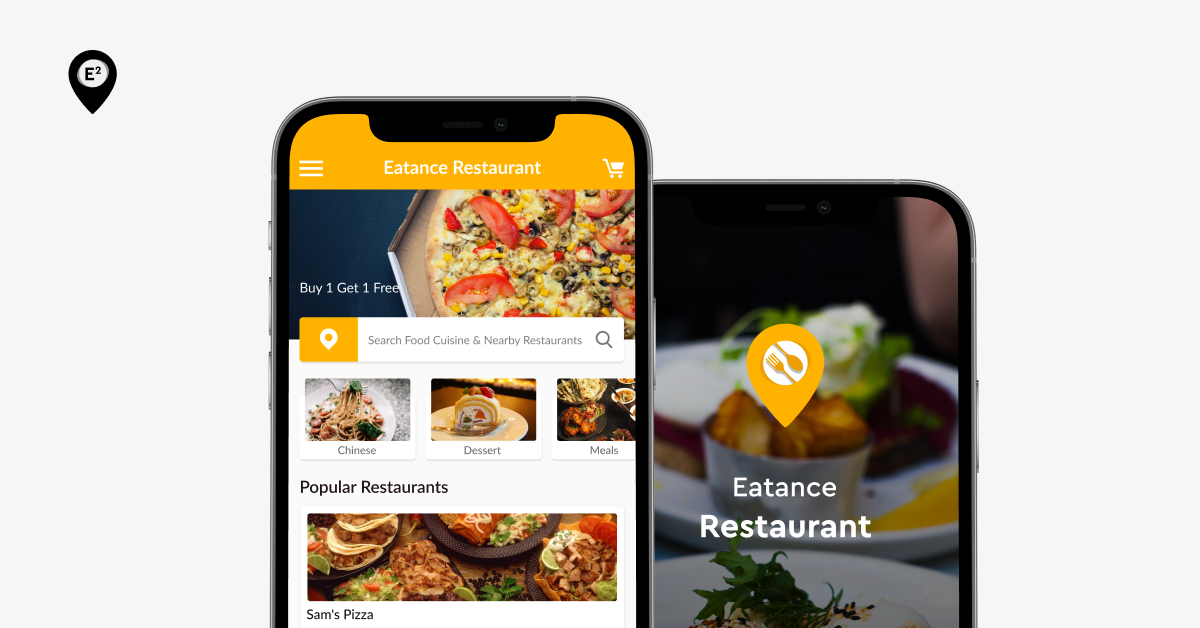 Quick Tips for Running Successful Food Delivery Business
As a restaurant, you would want your customers to receive the order in the best possible condition (i.e., without any damage). Here are some ways to ensure that:
Pack Your Foods Well
Unlike in a traditional restaurant setting, delivering food requires additional efforts to get the dishes safely and quickly to customers while maintaining quality. Here are some tips for packing your foods properly:
Invest in sturdy and temperature-controlled materials (like delivery bags) to keep food intact and delicious.
Pack sauces separately.
Place hot and cold items in separate bags.
Pierce hot containers to prevent moisture and improve ventilation.
Use small and large handbags (depending on the order size) to minimize vibration during delivery.
Design a Take Out Menu
There are huge chances that not every item in your menu can be delivered or take a lot of time to prepare. Though investing in high-end, custom packaging for specific items can solve the problem, it could be costly, reducing your profit margin.
If you're not ready for it, consider creating a take-out menu for online customers. This would prevent customers from ordering harder-to-deliver items and minimize frustration. Then, as you find new ways to package and deliver those products, you can optimize your menu.
Accept Orders Quickly
For restaurants taking online orders, it is crucial to accept them as soon as you receive them. This will assure customers that you have taken note of their order and that it will be delivered quickly. Also, the faster you accept orders, the faster you will be able to deliver them. As a result, the customer experience will improve, and you might even become their go-to choice for their favorite foods.
Give Special Attention to the Add-ons
Apart from keeping a close eye on incoming orders, you should also focus on the necessary add-ons—for instance, some people like their food spicier or sweeter than others. Whatever be the requirement, make sure you read and follow the instructions. This will increase the customer satisfaction rate and encourage repeat orders.
Wrapping Up
The online food delivery website plays a crucial role in ensuring customer satisfaction when they buy from your restaurant. Eatance allows you to use your mobile, tablet, or laptop to accept and manage orders. However, in the end, food quality matters. So make sure your food is prepared with the highest quality ingredients and pack them so that it doesn't get soggy by the time it arrives at the customers' homes. Are you ready to try the Eating App? Contact us today, and we will help you understand how we can grow your restaurant business.