Running a restaurant is one of the most challenging businesses in 2022. Many people don't want to get ready and go to a restaurant to eat. Instead, they prefer ordering food from the convenience of their home and getting it deliver to their doorstep.
At the end of 2021, the global online food market reached a value of $106.1 billion. The market is expected to reach a value of $223.7 billion by 2027, exhibiting a CAGR of 11.44% between 2022-2027.
And you can be a part of this growth by creating a restaurant website that allows you to scale your business and get more orders.
Some Restaurant owners also have restaurant Websites but they are not getting many orders since those are not sales optimized.
Benefits of a Sales Optimized Restaurant Website for Your Food Business
By creating a website that integrates with your online restaurant ordering system, you can see the following advantages.
Reach a large audience: A website helps you reach a broad and different audience segment that you might not be able to cater to otherwise. Since your restaurant will not limit to only customers nearby, you can go the extra mile to make new customers and boost sales. Besides, with a website, you can reach customers looking for restaurants on Google. Since not many restaurants have a robust online presence, this will help you get ahead of your competition.
Hassle-free management: A website integrated with a restaurant online Food ordering system enables you to manage your orders effortlessly, thereby saving time and enhancing operational efficiency.
Improved Brand Image: A well-designed website allows you to tell your restaurant's story. You can also let potential customers know what they can expect when they order from your restaurant, by adding high-quality photographs of the interiors and the most popular dishes.
Build Trust and Loyalty: 59.2% of customers read online reviews when choosing a restaurant. By adding real reviews and testimonials to your website, you can build trust with potential customers and encourage them to place orders.
Keep Guests Informed: Your restaurant website allows you to keep your guests informed about the latest offers and deals at your place. You can also let them know about new menu items, day's specials, events, and seasonal hours.
Essential Features Your Sales Optimized Website Must Have
Now that you know the importance of a Sales Optimized website for your restaurant, let's take a look at the key features your site must-have.
Online food ordering: Sounds obvious, right? The primary purpose of the website should be to allow customers to place orders. However, you should make it as seamless as possible. Customers should be able to log in so they can save their address and their details so they can check out quickly from their second orders.
A mobile-friendly interface: Since most people order food from their mobile devices, having a responsive website is more crucial than ever. Plus, Google considers mobile-friendliness as a ranking factor. By building a responsive site, you can increase your chances of ranking higher.
Customizable Digital menu: For items that could be customized, customers should be able to do that smoothly. These changes prevent users from abandoning the cart and encourage them to return more frequently.
Get Orders from Facebook & Instagram: Adding the restaurant digital menu on your social media enables your customers to place their order right away while scrolling down their social media feeds.
Promotional features: Promotions and discounts tap into the urgency factor of customers and encourages them to order food quickly. Therefore, you'll need a website that allows you to run promotions whenever you want.
Quick search: Most of the time, people already have what they want to eat in mind. Therefore, a quick search option that allows them to find their favorite dish instantly must be on your website.
Multiple payment options: The more payment options you provide, the better. Above all, you should allow customers to pay via mobile wallets safely and quickly.
Reviews & Ratings: Feedback allows customers to rate their order and experience with your restaurant. You can use their feedback to improve your services and encourage others to place orders.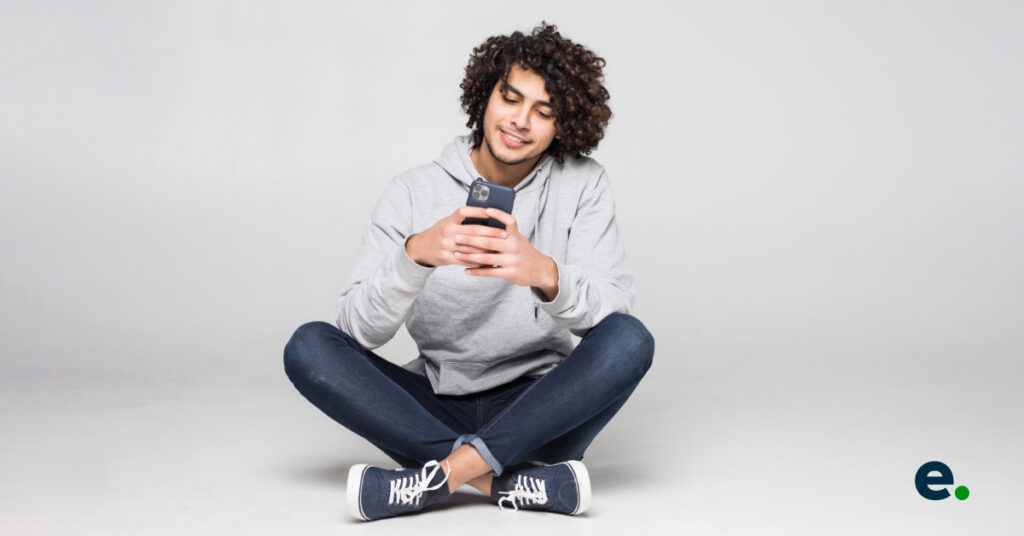 While this was about the customer-facing side of the website, the back-end or the admin panel of online restaurant ordering should have:
Order management: The admin should be able to accept/reject and manage orders. You should also be able to check pending and completed orders.
Adding Customer Orders Over a call: You should be able to enter order details received over the phone to keep track of and manage all the orders from a single dashboard.
Custom Menu Creation: Pictures have the potential to compel users into ordering. By creating an alluring menu with mouth-watering pictures and persuasive descriptions, you can increase your sales and average order value.
POS System: Your website should have A Centralized restaurant POS system that should allow you to manage Delivery, Pick up & Dine in order.
Manage customer: Your website should allow you to track user activity, including their order history, transaction, comment, reviews, etc. Additionally, you should be able to edit, delete, or deactivate their account.
Custom notifications: It is crucial to have the option to send notifications to customers to update them about deals, discounts, and offers.
Blog: Increase engagement with your customers by regularly sharing content like food recipes. When done correctly, blogs also help you improve your search engine rankings.
Manage feedback: You should be able to manage and respond to customers' feedback. This will help increase engagement and show that you are considering their opinion.
Analytics & dashboards: Performance reports and analytics allow you to determine low & high traffic days, popular items, and customer satisfaction. You can use these insights to make informed, data-backed decisions to improve sales.
The Cost of Creating a Restaurant Website
The exact cost of creating a website for your restaurant depends on a lot of factors, including the features, Restaurant Website design, User experience and functionalities you want. It also varies from country to country or product you chose.
The scratch development cost of creating a Sales Optimised restaurant website is between $10,000 to $25,000. Which is calculated by multiplying the hours by the price per hour. On an average development could take between six weeks to sixteen week time frame.
There are some Products in marketing which claim to provide Online Ordering System with subscription cost. However, many of them are not sales optimized and the user experience is very poorly designed.
And hence, Developing a Sales Optimised restaurant website could be costly, new learning and time-consuming.
However, there is a rising star called Eatance. Eatance is Providing a featured-packed Sales Optimised restaurant website with stunning User experience. Get Free Trial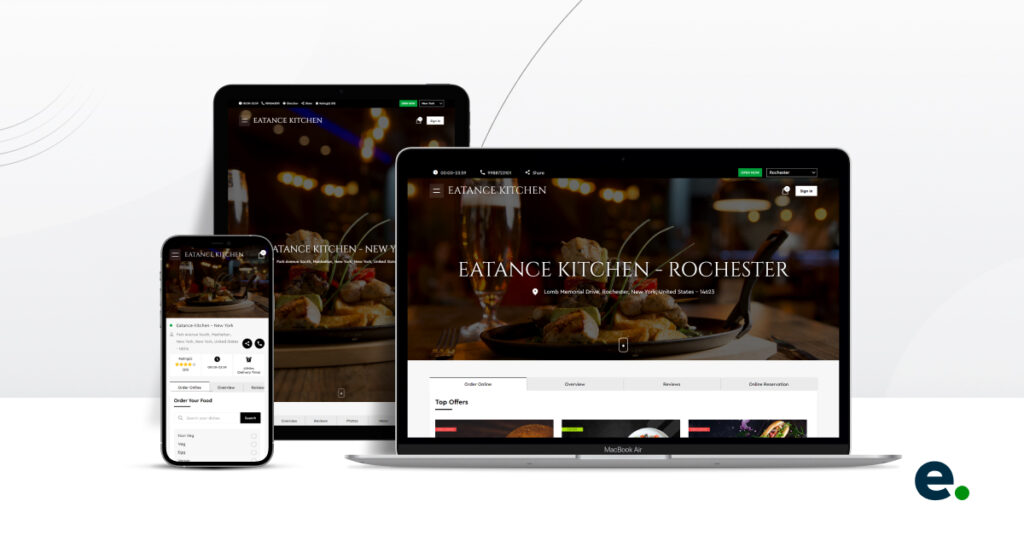 Why Choose an Eatance Restaurant Online Ordering System?
Eatance restaurant online ordering website is a robust tool for startups, small restaurants, large food businesses, meal kit providers, food trucks, and food kiosk owners.
Here is a list of what makes Eatance the best online food ordering solution.
Zero development Cost: Yes you read that correct! The solution is already developed, you just simply need to register and start using it.
Quick & Simple Implementation: One of the Best things about Eatance, the way things are handled in Admin Panel, Simple & effective. It is very much possible to setup the entire Admin Panel within a few couple of hours, if done correctly.
Hand Holding Support: Our aim is to provide you with the best possible solution for your restaurant. Therefore, we help you with Initial Support needed for successful Implementation.
Worry-free Hosting: We understand how confusing and challenging hosting a website can be. Therefore, we help restaurant owners with hosting, website and server maintenance, so you can focus on generating more revenue at your restaurant.
Separate  Database: You will be getting a separate Database and not the shared one which implies superfast website speed.
Cutting-edge technology: Your website will be built using the latest technology and industry best practices. We also make sure your website is scalable and easy to manage.

But I have a Decent website and Customer Flow, do I need Eatance?
Even if you have a stable customer flow, a website is necessary for your restaurant. Statistically speaking, food delivery is the most profitable channel for inbound leads and prospects.
Being online enables you to reach more people and has a positive impact on your business.
Imagine this. A group of tourists visits your city. Since they have little to no idea about the city, what do you think they will do to find a good restaurant nearby? Google it, right? If you don't have a Sales Optimized website with higher rank on search engines, they will likely go to your competitors who have a robust online presence.
This means even with a stable customer flow, you are highly likely to lose lots of orders every day.
However, simply creating a website isn't enough. You need to ensure it offers the best possible experience to customers, irrespective of the device they use.
Tip: Implement SEO best practices in your website to improve its rankings in search engines to reach as many customers as possible.
Wrapping Up
A restaurant website allows you to reach a wider audience, enhance your online presence, and ultimately drive more sales. Besides, online food ordering is one of the fastest-growing industries. Opting for an online restaurant ordering system like Eatance can help you scale your business without burning a hole in your pocket.