We're all looking for ways to make our lives a little bit easier, right? And when it comes to dining out, who wants to deal with the hassle of phone calls or showing up at a restaurant only to be told they're fully booked? Table reservation apps have entirely changed the game for both customers and restaurants. With just a few taps on our phones, we can now quickly secure a table at our favorite spot without any stress. Also, restaurants can use relevant information to offer their beloved customers the best possible personalized service.
This blog will give you a peek into the growing world of the reservation and food ordering software market, which will grow at a CAGR of 12.50% globally by 2027. We'll also look at how these apps have transformed the restaurant industry and will continue to shape how we, your customers, or anyone in this world dine out. In fact, according to a study by OpenTable, diners who make reservations through a restaurant's website or mobile app are three times more likely to show up and dine than those who simply walk in.
What Are Restaurant Table Reservations And Booking Apps?
Table reservation apps or booking software are designed to create a hassle-free booking experience for your customers without being physically present at the restaurant. The customer can specify the time and size of the party for the reservation. To make a reservation, the customer must select the time and number of guests attending the party. The customer can view the restaurant's location, menu, and ratings via their mobile phone to choose the best place to dine. Once the user has selected the restaurant, they can confirm the table and provide any necessary information through the app. The app also provides a brief overview of the restaurant, including its prices, hours, payment options, and parking availability, to assist the user in making an informed decision.
Why Should We Build a Restaurant Table Reservation App?
In today's technology-driven world, modern apps are increasingly being utilized to replace traditional business practices, allowing for more efficient use of resources and improving overall operations. The FnB industry is no exception to this trend, as these digital tools are being adopted to streamline processes and sweeten the customer experience.
Using an app for restaurant reservations provides business owners and customers with the benefits of an online booking system. In addition, it allows for greater efficiency and convenience in the reservation process. Let's see this in more detail.
Benefits to Customers:
Eliminates Long Wait Times: Using restaurant booking apps, customers can easily reserve tables at their preferred restaurants without waiting outside the venue or for a table to become available. The app will display the available table options with their corresponding arrival times, allowing guests to plan accordingly.
Digital Access to Your Restaurant: Customers go digital to find new places to eat and hang out through online sources like food blogs, price comparison websites, and news sites. Online reservation pages give restaurants the advantage of capturing this trend and gaining new customers, who can easily make reservations without the need to call or negotiate a time. It simplifies the process for customers.
Better Informed Decisions: Customers can consult ratings and reviews of various dining locations to gather information about the quality of food, cleanliness, hygiene, and other essential factors that can influence their decision on where to book a table. This way, they can make more informed choices and avoid unsatisfying dining experiences.
Pre-ordering on The App: Guests can also pre-order their meals. This helps to reduce wait times at the restaurant. This organized process also allows for an estimation of when the food will be ready, enabling guests to plan their arrival time more effectively.
Flexible Payment Options: Table reservation apps offer flexible payment options, allowing customers to pay for their reservations in advance or upon arrival through the app. This eliminates the need for cash or waiting for a bill. It also enables customers to use various payment methods, including credit cards, digital wallets, etc., making the process more convenient for customers and efficient for restaurants.
Benefits to Restaurant Owners: 
Streamline Waitlist: Table reservation apps can manage waitlists, allowing customers to add their names if a restaurant is fully booked and be notified when a table becomes available. This improves customer experience by reducing wait times and helps restaurants manage customer flow. It also provides customers an estimated wait time, helping them plan accordingly.
Automatic Reminders and Managing No-shows: Table reservation apps can send automatic reminders to customers, reducing the number of no-shows by reminding them of their reservation details, such as time, date, and party size, via text or email. The app may include the option to confirm or cancel the reservation. This helps restaurants plan better, avoid inconvenience due to no-shows and allot reservations to waitlisted customers in time.
Restaurant Workload Management: Table reservation apps assist restaurants in managing their workload by providing them with an overview of reservations, allowing them to plan staffing and food preparation accordingly. Apps also enable restaurants to set a maximum number of reservations per time slot, preventing overbooking and also allowing table configurations and capacities. Restaurants can also use data collected from the app to optimize operations by analyzing customer data, identifying the busiest hours, and adjusting staffing and inventory accordingly.
Reduce Human Error: Automating the process with automated confirmations and cancellations, real-time updates on table availability, and digital records of all reservations will help remove discrepancies. This minimizes the need for manual entry and prevents errors due to miscommunication. The digital records also help track reservations and resolve issues with minimal effort, resulting in a more efficient and accurate process.
Increase The Revenue:

You can

increase restaurant sales

and revenue with table reservations and booking by filling seats during slow periods, increasing the average check size through pre-ordering, and offering special deals, which leads to repeat customers and positive word of mouth.

 

Promote Loyalty Programs: Table reservation apps can help promote loyalty programs

for restaurants by integrating with them, allowing customers to earn rewards and points for reservations, making redemption easy, and tracking customer activity for targeted promotions and personalization to encourage repeat visits and boost revenue.

Enhance Customer Engagement and Satisfaction: Restaurants can use reservation and booking apps for customers to provide feedback and use it to improve service. Offering incentives and rewards through the app can also contribute to increased customer satisfaction and engagement. 
What Are The Top Features To Have In A Restaurant Table Reservation App?
Several key features are considered must-haves in a restaurant table reservation and booking app. But the top most are listed here for you:
Real-time Table Availability: This feature lets your customers see which tables are available in real time and make a reservation quickly and easily.
Multiple Booking Options: The app should allow the customers to book a table for a specific time, date, and party size, as well as offer the opportunity to make a general reservation or to be added to a waitlist.
Payment Integration: Customers can pay for their reservations in advance or upon arrival using various payment methods such as credit/debit cards, digital wallets, and more.
Customer Profile and History: The table reservation app should allow customers to create and manage their profiles, include dietary preferences, allergies, etc., view their reservation history, and make changes to their reservations easily. Also, the detailed profile should be visible to the restaurant to render a personalized dining experience. 
Automated Reminder and Confirmation: The app should allow customers to receive automatic reminders and confirmation via text message or email to help them remember their reservations and avoid no-shows. 
Customizable Table Configurations: The app should provide the option for restaurant owners to set different table configurations and capacities, making it easier to manage the flow of customers.
Reporting and Analytics: Restaurant owners should be able to view data and insights on customers and reservations, to optimize their operations and better cater to their customers.
Loyalty Program Integration: The app can integrate with a loyalty program, allowing customers to earn rewards or points for making reservations or visiting the restaurant.
Feedback Option: Customers can provide feedback, which the restaurant can use to improve their service and dishes.
Multilingual Support: The app should have the capability to support multiple languages to cater to a diverse audience.
Other features that may be helpful include menu integration, integration with social media, Google Maps integration, and more.
How Much Will It Cost To Develop An Application For Restaurant Reservations?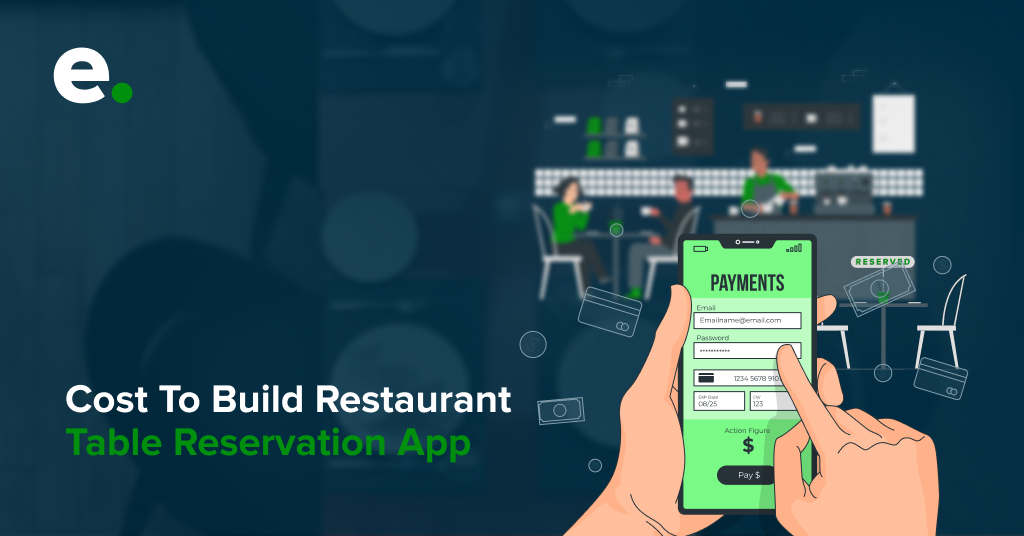 The app development cost for restaurant reservations and booking can vary widely depending on several factors, such as the app's complexity, the number of features included, the platform it is being developed for (iOS, Android, or both), and geography.
A fundamental app has basic features, such as the ability to search for and make reservations, view menus, and access customer reviews. However, more advanced apps can have additional features, such as integration with a loyalty program, real-time updates, automatic reminders, and waitlist management.
It is also important to note that ongoing costs such as maintenance, updates, and server costs also need to be considered. Therefore, it's always a good idea to consult a professional restaurant table reservation app development company to get a more detailed and accurate estimate based on your specific requirements.
Enhance Your Restaurant Reservation Management By Leveraging Cutting-edge Tech
By creating a Multi-restaurant food delivery app for your restaurant, you can expand your customer base, increase revenue, and improve the overall growth of your business. In addition, your restaurant can join the digital age by utilizing an app that allows customers to make reservations quickly and efficiently, thereby improving the management of your restaurant's reservations.
Our team is available if you are looking for a reservation booking application that will enhance your reservation management and render a better customer experience. Eatance, being a leading restaurant website builder always eager to assist with developing an online reservation system for your restaurant by discussing essential features, designing the layout, implementing the necessary technology, and bringing your concept to fruition. Contact us to learn more.